HVAC Dispatching Best Practices, Tools, and Tips
Dispatching is one of the most important jobs in the HVAC industry, but it's also one of the hardest. You have to simultaneously guide technicians, coordinate with leadership in the office, update customers and work orders, and keep everything running on schedule. It can feel like throwing darts at a constantly moving target, so you need to empower yourself with the best tools and strategies for the job.
We'll explain how to use the best practices, tools, and tips in this article to level-up your HVAC dispatching skills and motivate your team. We'll also show you how you can use OptimoRoute to see technicians in real time, update customers with minimal effort, and increase your efficiency in a big way.
To navigate to the section which interests you the most, click below:
What Is HVAC Dispatching?
HVAC dispatching is the process of planning, scheduling, and routing service requests for businesses that repair heating, ventilation, and air conditioning (HVAC) systems. HVAC dispatching includes assigning technicians or maintenance workers to specific work orders and routing that technician to customers' locations.
What Does an HVAC Dispatcher Do?
HVAC dispatchers have a very important job. They're in charge of making sure an HVAC service company's field-service operations run smoothly. Some companies choose to hire an experienced dispatcher to oversee field operations, while other companies may rely on leadership to handle dispatching responsibilities. Regardless of their official title, an HVAC dispatcher does all of the following:
Plans which customers need their systems repaired/installed and assigns individual service technicians to each of those jobs
Schedules technician shifts and assigns appointment times to each individual job
Routes the fastest way for a technician to get to a customer's house or place of business, with enough time to install/repair a system and make it to other appointments
Troubleshoots any issues that arise while technicians are in the field, such as an appointment running later than expected or a vehicle getting held up in traffic
HVAC dispatchers manage many moving parts, including vehicles, technicians, work orders, and customer notifications. It's important for a dispatcher to have strong people skills and stay calm under pressure. Great HVAC fleet dispatchers communicate effectively, are empathetic, and are highly capable of multitasking.
How OptimoRoute Simplifies HVAC Dispatching
HVAC dispatching is a complex job, but if you arm yourself with the right tools and HVAC management software, the job becomes much easier. OptimoRoute streamlines the technical part of dispatching so you can focus on your field technicians and deliver a top-tier customer experience. Using OptimoRoute field-service management software, you can accomplish the following:
Easily plan and schedule 5 weeks in advance
Adapt to seasonality easily by planning up to five weeks at a time. Many companies bring on HVAC contractors to help during their busiest seasons. OptimoRoute clearly shows you when those additional workers need to start, based on work order volume.
Routes and schedules can be modified as often as needed to accommodate new orders, and dynamic replanning lets you reroute technicians even after they're already in the field. Simply make any necessary changes, and send the updated route to the app on your technicians' phones.
Optimize technician routes in seconds
To optimize routes is to find the most efficient routes, but efficiency is different for each business. At OptimoRoute, we understand that the needs of individual HVAC service businesses vary, so our software lets dispatchers choose how routes are optimized—for lowest cost, evenly distributed workloads, or a combination of the two.
No matter how you choose to balance your technicians' assignments, OptimoRoute calculates the most efficient routes for your team in a matter of seconds.
Let technicians use their own cell phones
Letting employees use their own cell phones offers many benefits. For HVAC technicians, it makes driving from appointment to appointment less stressful. The OptimoRoute Driver app works with the preferred mapping app on each driver's device, so they don't have to learn a new system. When you send routes to technicians, they get turn-by-turn navigation through the mapping app they're already accustomed to using, whether it's Waze, Google Maps, or something similar.
Our Driver app simplifies the software-adoption process for existing technicians and makes onboarding new techs faster.
Customize technician constraints
Some HVAC jobs are as simple as cleaning an air conditioner, and any technician can do that. But other jobs, like those where a gas chamber needs to be refilled or a wall needs to be partially removed, require a technician with special skills. Dispatchers are responsible for matching qualified technicians with each job, and OptimoRoute makes this easy.
Simply enter in skill sets for each employee and then save them so all future orders requiring those skills will be assigned only to appropriate technicians. You can also input limits on working hours to avoid overtime, or you can place limits on overtime work to avoid too much. You can limit miles driven for insurance purposes and customize technician constraints for holidays or time off.
Keep customers up to date with minimal effort
OptimoRoute keeps your customers up to date for you, so you can focus on guiding techs to their next destination. Our customer notifications include real-time tracking with up-to-date ETAs. You can cut down the number of incoming customer service calls by up to 70% while increasing overall customer satisfaction. It's a win-win for you and your clients.

5 HVAC Dispatching Best Practices
Having the right HVAC software is essential, but it isn't everything. Use these best practices to get the most out of your software and guide your team in the field.
1. Know precisely what each job requires
It's essential for dispatchers to gain a deep understanding of what goes into each type of job. If you haven't worked as a technician, you may need to learn by shadowing your technicians.
For example, simple repairs or regular maintenance checks might take a technician only 20 minutes. Complex installations and repairs often require an entire day. A dispatcher needs to know not only how long each job will take but also what tools or special skills are required for each type of job. You can help your technicians and increase efficiency by scheduling similar short jobs on the same day and not overbooking or scheduling appointments too close together.
2. Make sure your technicians take breaks
Not overworking your team may seem obvious, but this is challenging for dispatchers who aren't there to see how each technician is doing firsthand. As a dispatcher, you are partially responsible for your team's safety, and there are things you must do to help them avoid fatigue.
HVAC technicians often work long days in uncomfortably hot or cold environments, and they face very real dangers. You have the power to schedule breaks in your techs' days. Look out for your techs by setting realistic schedules. That way, your techs will be less likely to make a mistake because they are tired or chronically stressed. Your technicians will also be appreciative and trust you more if they know you are looking out for their well-being.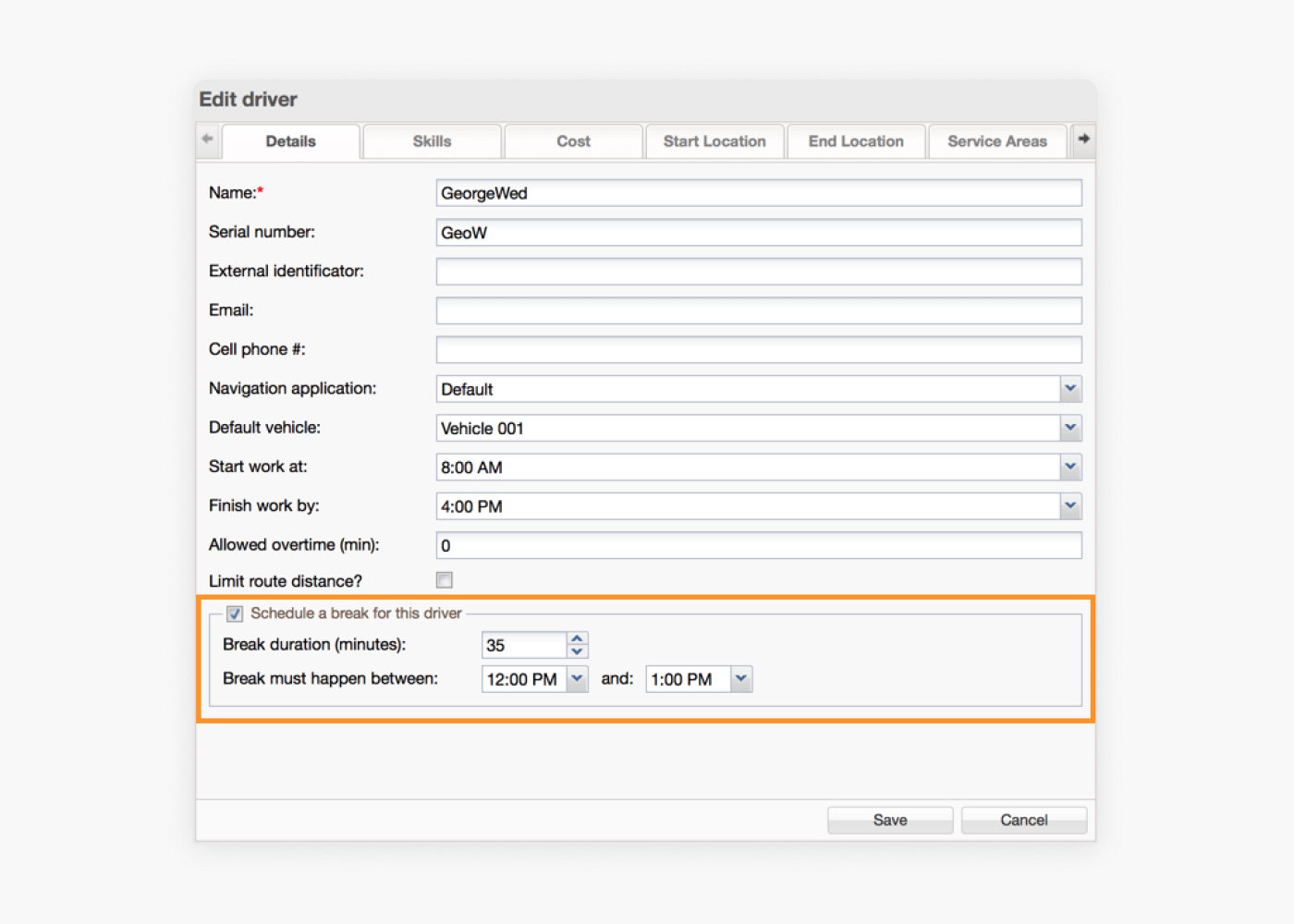 Pro Tip: Make sure you understand all state and federal rest-period guidelines. You can use OptimoRoute to schedule breaks seamlessly into service routes so your technicians are rested and their breaks have the least impact on appointments.
3. Lead with kindness
Kindness is an essential trait of a great dispatcher. Make a concerted effort to be kind and you'll be more effective, whether you're talking to a technician who is stressed about a particular service or a customer who is frustrated with a delay.
Multiple studies of human behavior have shown that when you project warmth and kindness, those around you are more likely to trust you. You want your technicians to trust you so they call you right away when something goes awry. If a technician is afraid to call in when they're running behind because they think you'll react angrily, you're going to have a hard time keeping operations running smoothly.
What's more, if you treat your techs with kindness and facilitate a positive company culture, they will be more likely to act with kindness toward your customers.
4. Set priority levels for jobs
Organize service requests into priority levels—this can be as simple as low, medium, and high priority—to ensure that customers with potentially life-threatening emergencies are serviced first.
For example, a central air conditioner that has stopped working on a 100+ degree day needs to be scheduled for repair right away. But routine semiannual maintenance for a corporate client can be fit into a service schedule after more urgent orders have been set.
Pro Tip: You can use OptimoRoute to quickly set priority levels for individual orders and let the software optimize schedules based on a number of factors, including shortest routes, order priority, and lowest cost.
5. Set goals to motivate your team
Goals are a great motivational tool. Research has shown that "group goals have a robust effect on group performance," and, as a dispatcher, you can use this to your advantage. Work with your team to set goals monthly, quarterly, or yearly. Foster a team mentality to boost performance and encourage skill-sharing between technicians.

Your Ally in Conquering HVAC Dispatching
Thinking of starting an HVAC business or optimizing an existing one?
We at OptimoRoute know that software is only as good as the team of people behind it. When you join the OptimoRoute family, our support team will always be a phone call or email away. We'll walk you through troubleshooting and provide as much guidance as you need, whether you have a question about getting started or integrating our software with your other technology. You can take OptimoRoute for a spin for free with our 30-day trial.
Try OptimoRoute
™

for Free

No installation or credit card required