Work Orders: Definition, Examples, and How to Complete Yours Faster
Maintenance, while one of the most important parts of any business, has been slow to evolve. For most companies, work orders are handled the same way they were fifty years ago.
75% of companies still use paper, spreadsheets, or nothing at all to manage maintenance tasks and work orders. In a digital business landscape, this can create a bottleneck that leads to unhappy customers and costly production downtime.
With the right software solutions, you can optimize your work order process and remove obstacles to essential maintenance which could be keeping your business from working optimally.
In this article, we'll cover what work orders are, showcase real examples, and show you how to transform your processes to improve the efficiency of your business.
To navigate to the section which interests you the most, click below:
What Is a Work Order?
A work order is a document describing an authorized task to be completed by a field service, maintenance, or inspection worker. Work orders provide basic information such as a description of the task, the estimated completion date, and the name of the individual assigned to the task.
A work order must be reviewed and accepted by the provider for a customer to receive an ETA (ETA vs ETD) and cost or time estimate.
Many industries use work orders to manage maintenance and repairs. A work order is often the result of a routine inspection or audit where the inspector finds issues. This is separate from a purchase order, which details the exact cost to be paid for the services rendered.
The outdated solution: work order pads
Before the digital revolution, many companies handled their work orders using a snap-off (tearable) work order pad.
Something like this: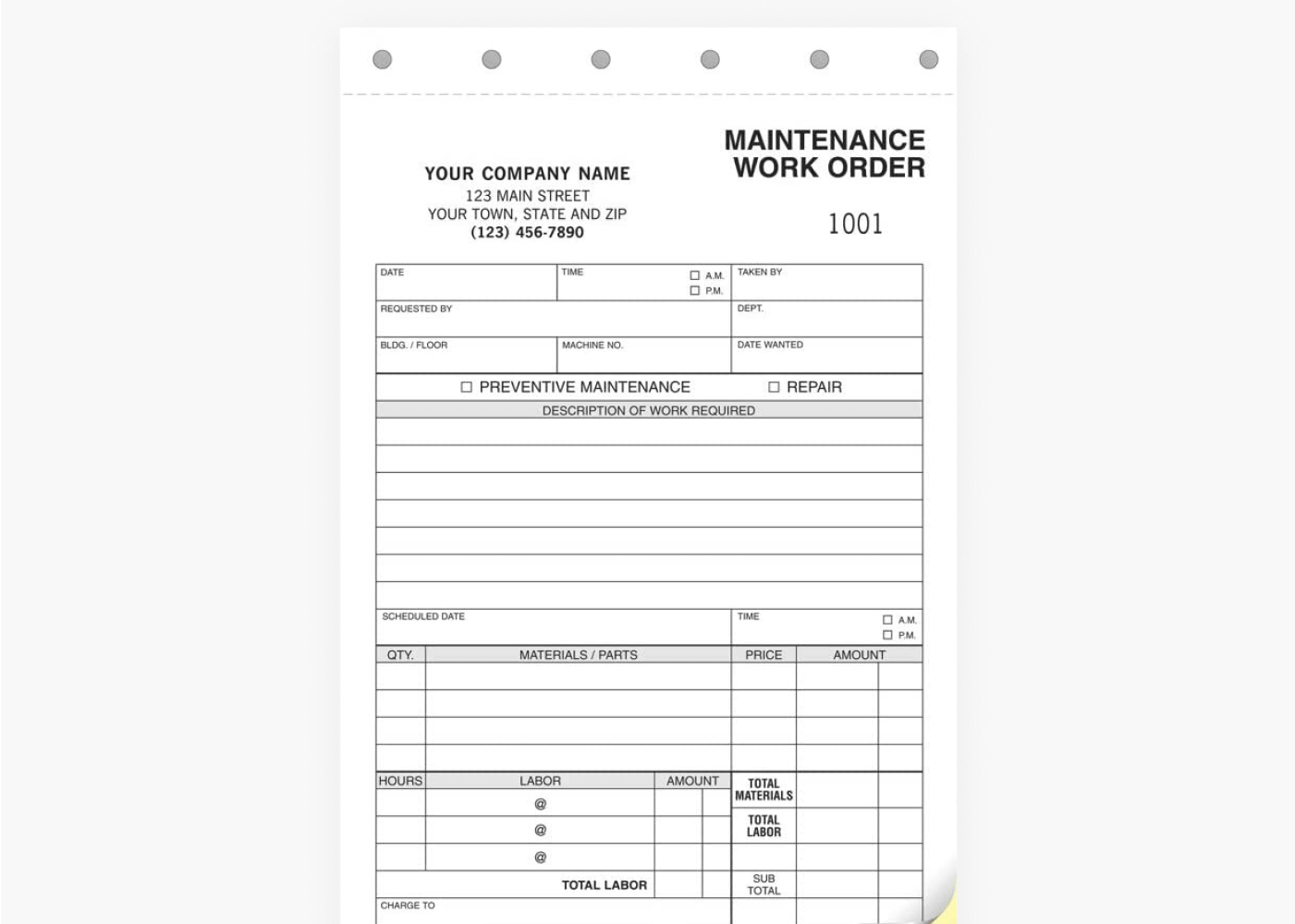 The inspector or maintenance worker would bring a pad like this one to inspections and write a work request on-site. Managers would get a copy for bookkeeping purposes.
But those days are over.
The modern solution: work order management software
Instead of a physical pad, modern companies use work order management software to handle their maintenance workflows.
With it, your business can share private request forms with external clients or internal workers as well as easily create new work orders digitally.
You can then handle the work order online and keep track of all projects in a single dashboard, making it easy to follow up on any project. Generating work orders like this also enables businesses to easily track metrics and KPIs gauging performance, such as how quickly orders are completed or how many orders are fulfilled by specific technicians.
What Does a Work Order Contain?
Here are the most important components of a work order form:
Title and description of the task
Name of the customer or business requesting the task
Name of the assigned worker and contact information
Time frame for completion
Priority
Necessary tools or support for completion
Who Uses Work Orders?
Work orders are used across a lot of industries in which ongoing maintenance or small jobs are a part of the client relationship. They're used to simplify accessibility to these services and streamline the completion of tasks.
Field service companies
Field service companies use work order requests to efficiently stay in control across a wide variety of maintenance tasks that need to be done for their clients.
Facility management companies
The maintenance department at facility management companies use work orders to track expenses related to maintaining client buildings.
Technicians
Field technicians and maintenance teams, like electricians and field engineers, use work orders for maintenance management and to track expenses and working hours for specific projects.
Manufacturers
Manufacturing companies mainly use work orders for internal service requests and to track the status of repairs and expenses.
Managed computer services
Managed computer services companies use work orders to track client issues and downtime as well as managing their computer techs and expenses.
General contractors
General contractors can use work orders to handle the expenses and workflow for every part of a building project.
Within a company, the work orders may come externally from clients or internally from technicians during an inspection.
For example, a customer of a building management company might use a work order for maintenance requests for a broken sink or AC.
In manufacturing, a plant manager might find a faulty robot arm and send in a work order to ensure the plant keeps running smoothly.
How Southern Star Handles 2,500 Work Orders Each Week
Southern Star is one of the leading transporters of natural gas in the US. Its pipeline and facilities stretch throughout seven states and over 5,800 miles.
When dealing with natural gas, even a single point of error can mean hundreds of thousands (if not millions) of dollars in lost revenue and damages.
So naturally, Southern Star takes preventive maintenance very seriously.
So seriously that they have a team of over 250 technicians working on maintenance around the clock.
As you might expect, scheduling and dispatching the Southern Star team to handle maintenance work orders was a major operational hurdle. Managers were manually looking at preventive maintenance tasks and attempting to match them with available technicians.
Verifying the location of each technician, their skillset, and the priority of tasks manually slowed the whole company down, and the cost of that slowdown was high.
That's why they chose OptimoRoute. With OptimoRoute, it's a completely different process. With qualifications, schedules, and service areas set at the technician level, OptimoRoute has eliminated most of the manual labor of scheduling.
Schedulers can simply import the work orders and OptimoRoute finds the best time for a qualified technician to do the job.
OptimoRoute even considers the priority of the orders, and with weekly planning features, the team can easily plan up to five weeks ahead in time.
This helped Southern Star's team of technicians and dispatchers handle a whopping 100% more work orders per day.
With a custom map overlay (since much of the Southern Star's pipeline area is remote desert), OptimoRoute's route optimization capabilities also helped technicians get to their maintenance locations faster.
OptimoRoute has a robust API that you can use to integrate with your current work order management system. You can automatically import thousands of orders with all necessary information (location, type of repair, required tools or expertise, etc.
You can even fetch real-time data on tasks performed if you use the OptimoRoute app to track progress.
Learn more about how OptimoRoute has helped Southern Star improve their work order management and logistical efficiencies in our complete breakdown.
Final Thoughts
For a small business with only a few customers, filing and managing work orders might not be your biggest problem to solve.
But once you hit a certain scale, any field service company is going to struggle.
Maximizing the number of work orders your existing team can handle will help you maintain healthy profit margins, keep customers happy, and drive more revenue.
OptimoRoute is designed to help maximize the productivity of your workforce by eliminating bottlenecks and optimizing dispatching and routing.
To see how we can help your business, start your free trial today.
FAQs about work orders
What are work orders used for?
Work orders are used to detail the services required by a customer or organization and assign responsibility for the completion of tasks.
How do you write a work order?
To write a work order, you need to communicate a range of specific information about the task, when it will be completed, and who is completing it. Work orders are either manually written out in a document or automatically generated by pieces of software. They typically contain the name and address of the company requesting the work, a description of the task, estimated timeframe, and the name and contact information of the worker.
How should you manage a work order?
The most efficient way to manage work orders is with some kind of work order management software or CMMS (computerized maintenance management software). This software will automate the generation of work orders using a template and allow you to view and manage all of your outstanding and upcoming work orders from a single view in your dashboard.
Try OptimoRoute
™

for Free

No installation or credit card required