Tips and Tricks From the Field: A Guide to Fleet Dispatch
If you have drivers or technicians in the field, you're already doing fleet dispatching. Much like an orchestra follows a conductor, drivers in the field follow the guidance of a dispatcher. When done well, fleet dispatching can increase your revenue and enable you to scale operations with ease. But the more vehicles and drivers you have, the more complicated it becomes to execute deliveries or service appointments on time.
You need to make sure your fleet dispatcher or fleet manager is fully equipped and prepared. Whether you're a small business owner doing fleet dispatching yourself, or you're hiring someone to do this job for you, there are proven strategies you can use to keep operations running smoothly.
So what are the basic principles of fleet management? Let's look at them using insights from real drivers and dispatchers who have firsthand experience. We'll also show you what makes OptimoRoute any fleet dispatcher's best friend. Let's get rolling.
To navigate to the section which interests you the most, click below:
What Is Fleet Dispatching and What Does a Fleet Dispatcher Do?
Fleet dispatching is the act of organizing and directing drivers and vehicles to carry out tasks. Fleet dispatching is used to manage deliveries, pickups, and in-field service teams for businesses of all sizes.
Fleet dispatchers are the point person for all of your drivers or technicians in the field. They oversee operations, make sure things are running on time, and proactively solve issues. Fleet dispatchers have many responsibilities, which can be broken down into two main categories: managing logistics and managing people.
Logistics management
Logistics management is overseeing supply chains, workflows, and the progression of tasks to achieve a goal. Dispatchers coordinate the movement of vehicles, equipment, people, and other assets through various workflows to fulfill orders or service requests. Depending on the type of fleet they manage, a dispatcher may need to:
Schedule deliveries, pickups, or service appointments
Route drivers
Help ensure drivers are following state and federal guidelines for driving hours, breaks, etc.
Manage and approve certain expenses
Make changes to work orders
Oversee fuel management and fleet maintenance
Each fleet dispatcher's specific responsibilities are unique to their industry. For example, public-transit dispatchers don't typically approve expenses for drivers, and they don't need to adjust work orders, but they do need to pay close attention to traffic patterns. HVAC dispatchers, on the other hand, often need to modify work orders and assist with vehicle maintenance scheduling.
People management
People management is overseeing workers with the goal of helping them do their job effectively. Transportation dispatchers manage drivers or technicians in the field, and to help those field workers succeed, dispatchers may need to:
Assist with onboarding new drivers or technicians
Help workers in the field troubleshoot challenges that arise
Notify leadership when drivers or technicians are facing ongoing struggles, or aren't following guidelines
Update clients when a driver is running late and assist with customer support
Dispatchers need to be able to build trust with their team and, often, with customers. Depending on the size of a company, dispatchers may share people management responsibilities with other employees. Some companies have large operations teams composed of multiple fleet dispatchers that share oversight responsibilities with driver or technician managers. Small-business owners, on the other hand, might be solely responsible for fleet dispatching, management, and a slew of other directorial tasks.

5 Tips From Veteran Fleet Dispatchers
As one veteran long-haul trucker said, "A good dispatcher is priceless." But what makes a good dispatcher? We asked the experts—veteran fleet dispatchers from an array of industries. Here's what they had to say.
1. Act with empathy and understanding
Fleet dispatchers are the point person for drivers and technicians, who often spend long days alone in the field. It's important to put yourself in the shoes of your drivers and techs, especially when you're helping them troubleshoot a stressful situation. You need to keep empathy and understanding at the forefront of every interaction.
If a driver calls to let you know they are running late because they got a flat tire, or if a technician calls because an unexpected issue arose during a service appointment, you need to be able to help them stay calm. Long-haul trucking dispatchers also need to consider drivers' human needs when accepting and assigning loads. A good dispatcher will make sure their drivers have enough time to stop and use the bathroom without running late for deliveries.
Cindy Anderson, a paratransit dispatcher in Pennsylvania, told us it is important for dispatchers to be as fair as possible and develop a good relationship with their team in the field. She said,
"People management skills are a big part of the job. You want your drivers to know that you have their back."
2. Communicate clearly and follow up
It's better to overcommunicate than to miss an update. Technicians can forget to call and let you know when they've finished a job (especially at the end of a long day). As a dispatcher, you must be proactive about checking on your team and getting status updates.
Dave Femmer, CEO of Affordable Comfort, dispatches service and installation specialists for various energy-conservation projects in Missouri and Illinois. He finds that even a couple of hours' delay in communication can negatively affect customers and overall operations. Femmer illustrated the pitfalls of under-communicating with this example:
"Say it's Tuesday, and your technician Oscar is working on the Smith job. Oscar might finish the job on Tuesday, but depending on how it goes, he could need to come back on Wednesday. The next job in Oscar's queue is a repair at the home of Mrs. Jones. If Oscar wraps up the Smith job on Tuesday, he can get to Mrs. Jones on Wednesday. But if the Smith job requires an additional day, Oscar won't be able to help Mrs. Jones until Thursday.
"Mrs. Jones is waiting for a call from the company dispatcher, Ted, to let her know which day Oscar will arrive so she can request to take a day off of work. As a good dispatcher, Ted calls Oscar at noon for a status update. He finds out that Oscar is likely to wrap up the Smith job that day and is able to give Mrs. Jones plenty of notice so she can make arrangements to be home during her repair window.
"If Ted hadn't proactively checked in, he might not have heard from Oscar until 6 p.m., when the Smith job was completed and Oscar had finished loading up his truck. In this case, Ted would have to call Mrs. Jones late in the evening the night before her repair work was slated to begin. Mrs. Jones might not have enough notice to call off work."
As the conductor of operations, it's a dispatcher's responsibility to make sure they have the most up-to-date information. You can keep operations running smoothly, increase customer satisfaction, and boost revenue all by proactively communicating with your team.
3. Know the fundamentals
You can't dispatch effectively if you don't know the nature of your field workers' jobs. For example, an HVAC dispatcher needs to know how many people and work hours are required for each type of heating and cooling repair request. They also need to know what equipment is required and whether a technician needs a particular set of skills.
"Whether you're building a rocket ship or installing a door, you need to know the fundamentals of the job,"
Femmer said. This is true for dispatchers, too.
Cindy Anderson reiterated this point. She told us that her experience of working as a driver before becoming a dispatcher helped her be more empathetic toward the employees she oversees when they call in with a problem. As a driver, Anderson also gained firsthand knowledge about traffic patterns, which she relies on to spot where manual modifications need to be made to routes.
You don't necessarily have to be a driver or a technician before becoming a dispatcher, but it certainly helps. And if you don't do the job of your field team first, you will need to gain a deep understanding of what their job entails.
4. Schedule in advance
If you want to succeed at dispatching, you need to plan routes and schedules in advance. Anderson, for example, plans routes up to two weeks ahead of time. She explained to us that early planning helps dispatchers identify when they need to bring on another driver to cover a shift. Advance planning is essential for making sure you have enough people working to meet demand.
Dispatchers might need to spread out jobs that require specialized or heavy equipment. For example, lawn care companies can schedule only as many jobs as they have mowers at any given time, and they have to allow time for loading and unloading mowers and for driving between appointments. Vehicle maintenance and tool repairs also need to be factored in to make sure jobs can be completed on time.
5. Embrace technology
Every dispatcher we spoke to touted the importance of technology. Cindy Anderson monitors the status of her drivers from multiple computer screens, and Dave Femmer is regularly in contact with his team via cell phone. From hardware to software, each dispatcher utilizes modern technology to streamline their process, and for good reason.
Imagine trying to run a modern pizza-delivery business with no internet, Wi-Fi, or cell phones—just a landline and a fax machine. This is an extreme example, but it clearly illustrates how imperative it is for any business to embrace technological innovation. As landlines gave way to cell phones and beepers were replaced with text messaging, businesses that failed to upgrade were crushed by competitors that were early adopters of technological advances.
Streamline Fleet Dispatching With OptimoRoute
Many of the tips shared above can be implemented quickly and easily using OptimoRoute. Our route optimization software is packed with advanced features that help fleet dispatchers do all of the following:
Optimize routes. Simply click "Plan routes" and let OptimoRoute calculate the most efficient routes for hundreds of drivers and thousands of stops in seconds. Companies that switched from manual planning to OptimoRoute have seen as much as a 90% reduction in the time required for planning routes.
Plan in advance. Plan, route, and schedule your field operations up to five weeks in advance.
Replan quickly when things change. Use dynamic replanning to modify schedules and routing anytime you need to, and send updated routes directly to the app on your technicians' or drivers' phones.
Apply driver constraints. Save scheduled days off, hour restrictions, and individual technicians' special skills to make assigning and scheduling service appointments faster.
Schedule breaks. Ensure that you're following state and federal regulations, and make sure your team is taken care of by proactively scheduling driver/technician breaks seamlessly into routes.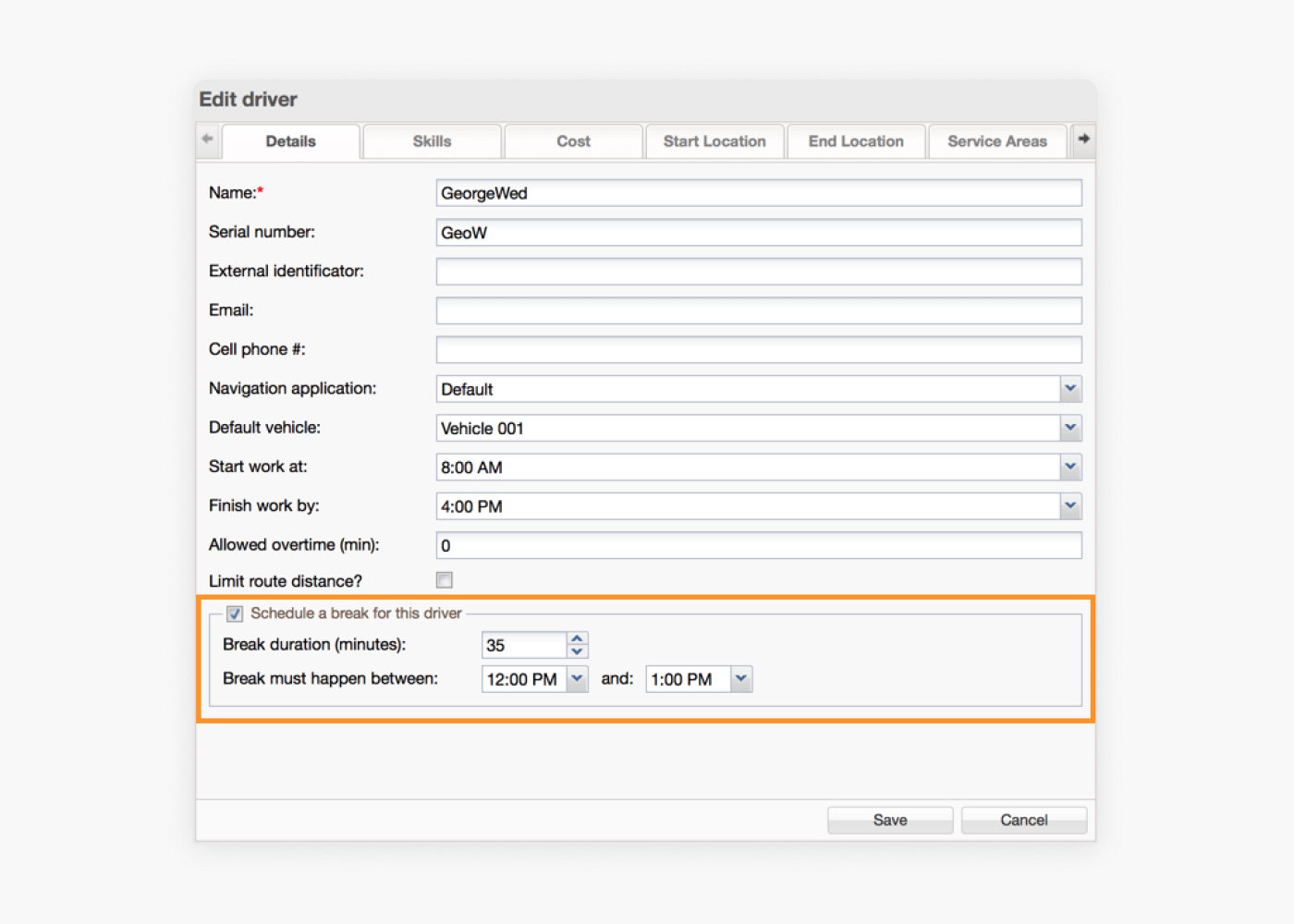 Account for vehicle capacity. Input the unique dimensions of each vehicle in your fleet to maximize available space and let OptimoRoute show you when a delivery vehicle needs to return to a depot to reload. You can also use this feature to combine drop-off and pickup routes.
See your team. Real-time GPS tracking lets you see your team wherever they are in the field.
Analyze performance. Learn which drivers are always on time and which are underperforming, and spot routing issues that may need to be modified to avoid rush-hour traffic by using OptimoRoute's advanced analytics.
We're constantly working to develop additional features and improve our software based on user feedback. Find out more about our unique features.
People-Driven Tech for the Real World
Fleet dispatchers work hard to keep ever-changing field operations running smoothly. OptimoRoute helps fleet dispatchers connect with workers and manage assets in the field. It's people-driven tech for the real world of logistics, because you can't predict what challenges will arise, but you need to be able to respond quickly when they do.
Experience the difference for yourself. Get started with our 30-day free trial.
Try OptimoRoute
™

for Free

No installation or credit card required