5 Simple Strategies to Increase Online Sales in Small Business
Most small businesses just scrape by. They get enough revenue to stay in business, but that's it.
On average only 9% of small businesses have revenues of $1 million or above.
If you're looking to surpass that business benchmark and grow your business, you need to improve your sales and marketing processes. You also need to increase your capacity to effectively handle those sales when they come in.
Perhaps the quickest lever you can pull to increase sales as a small business is to utilize the digital space. More and more customers are turning online to find all types of products and services, and with the right strategy you can increase the visibility of your business and boost sales at minimal cost.
In this article, we'll cover how to increase online sales in a small business, boost efficiency, and handle more customers with the workforce and resources you already have.
Let's get started.
To navigate to the section which interests you the most, click below:
5 Ways to Increase Online Small Business Sales
Want to learn how to quickly drive more sales for your small business?
Savvy SMBs around the country use the following tactics to land more clients and drive return business every month.
1. Use omnichannel marketing to boost campaign efficiency
Using a single marketing channel for each campaign is an outdated marketing strategy.
Combining multiple channels and formats into your campaigns delivers much better results:
Plus, omnichannel marketing is no longer as complex or expensive as it used to be. You can use free marketing pixels to create integrated campaigns across several channels.
These days, most SMBs have transitioned to digital channels, as they are easier to scale and track and require no minimum up-front investment. You can pay as you go.
Digital channels:
Organic social media posts (Facebook, Twitter, etc.)
Social media advertising (FB Ads, Instagram Ads, etc.)
SEO and organic search
Pay-per-click search advertising (Google Ads, Bing Ads, etc.)
Email
SMS
Some small businesses (both retail and ecommerce) also rely on traditional channels, in particular local newspaper ads, classified ads, direct mail, and ads on local TV or radio. It's harder to quantify the results of traditional campaigns unless you talk directly with all your customers.
Here's a basic approach to setting up an omnichannel marketing campaign:
Set up and integrate CRM software with your different marketing platforms, email, social media automation tools, PPC, and more. Install the necessary pixels and tracking tags from Facebook Ads, Google Ads, and Google Analytics. Include SMS and social messages alongside email in the nurturing of prospective and existing customers.
In 2020, many platforms offer native integration with CRM tools and other platforms out of the box. An omnichannel sales funnel is no longer out of reach for SMBs.
Get more word of mouth marketing by improving customer experience
Word of mouth marketing is one of the most effective channels for getting new customers as a small business.
Think about it.
Who do you trust more? An ad or your best friend's recommendation?
According to the Chatter Matters report, 83% of US consumers say word of mouth recommendations from friends or family make them more likely to purchase a product.
Even if they've never heard of your company before, a recommendation will make them give you a chance.
The best way to generate word of mouth chatter, is to deliver a stellar customer experience and share a story they resonate with.
John's Crazy Socks is a great example of this.
The father and son company has scaled to millions in revenue without investing much in advertising. Instead, they leveraged their unique story and a focus on customer experience to win a lot of word of mouth attention.
Not only did they get covered in blogs and magazines, but people love to talk about them on social media.
Notice how there's a hand-written thank you letter. John includes one with every single package.
Instead of trying to win top-of-funnel customers with advertising, the Cronins focus on nurturing existing customer relationships with email, social media, and direct mail.
They're all in on customer experience.
If you're selling a physical product or making house calls, there's an easy way to improve customer satisfaction. Focus on a better service or delivery experience.
Deliver faster, show up on time, and give your customers reliable ETAs and order tracking options.
With OptimoRoute's smart route optimization and scheduling, you can make sure that you deliver packages, or make service calls, faster than ever before.
And not just that. We also offer real-time order tracking with SMS and email notifications for customers to make sure they stay in the loop. Those notifications lower the chance of your customers missing out on an appointment or a delivery.
Faster and more predictable deliveries are a great way to please your customers.
And as a business owner, happy customers are one of the most powerful marketing assets you can have, as they recommend your service to their network (and so on).
2. Nurture potential customers with email marketing and snail mail
Email might seem like yesterday's news, but for marketing that couldn't be farther from the truth.
Even if you reach your ideal customer with the very first ad in your campaign, you won't see good conversion rates. Follow-up is integral to convincing and converting first-time customers, and email marketing campaigns that target customers who fill up their cart but exit at the checkout page can significantly reduce cart abandonment.
Email is an effective and inexpensive way to reach prospective customers again and again.
A multi-stage email campaign is the perfect medium, often delivering massive return on investment. According to DMA, the average ROI of email marketing is $42 for every dollar spent.

That's why it's still one of the most important channels for marketers and businesses.
Best practices for email marketing:
Tailor your copy to your target audience, using a voice and vocabulary they can relate to.
Highlight testimonials and social proof to drive home your call to action.
Promote new products and services to current customers in separate campaigns.
Use A/B testing to try out different ad designs or copy and see which messaging is most effective.
If you want to take lead and customer nurturing to the next level, you can also add snail mail to the mix.
Best practices for direct mail:
Send coupons directly to leads and potential customers. (Even Google does this.)
Deliver special offers and catalogs to existing customers. (Especially inactive ones.)
Send personalized thank you notes or New Year's wishes to important customers.
Use your existing delivery fleet to efficiently drop off coupons or catalogs.
3. Sell a subscription service
According to research by Zuora, subscription-based business revenues grow at a breakneck pace of 18.6% per year on average, or five times faster than the S&P 500.
Introduce a subscription service to your business offerings. While offering subscriptions as a form of "bulk discount" can work, that will lower your margins on each product or service.
Instead, try to develop new offers that deliver even more value to your target customer.
Here are a few ideas:
Instead of a one-off lawn mowing, offer complete garden care once a month, with fertilizer, branch trimming, and more.
Instead of selling vegetables by weight, sell a weekly subscription box with seasonal vegetables.
Instead of selling flowers only on Valentine's Day, sell a monthly bouquet delivered to your customer's doorstep.
Recurring upsells are much more reliable than trying to generate repeat customers from one encounter.
4. Improve your local SEO
According to research by BrightLocal, 90% of consumers use the internet to search for local businesses, so improving your performance in search engines is one of the simplest digital marketing steps you can take towards increasing sales for your online store.
As a result, if someone searches for "business near me" or "business + location" searches, you need to show up or risk losing potential customers. You can do this by creating landing pages optimized for search engines, or through content marketing that targets local keywords.
For most local searches, the map results show up above the text-based results:
For your business to show up in these results, you need to optimize your Google My Business listing.
Here's how to do that:
Take and upload professional photos of your business, including your product.
Include a menu or all other relevant information.
Encourage satisfied customers to leave reviews (in a post-sale email campaign, for example).
You should also invest in relevant content marketing, answering common customer questions rather than just having a static homepage.
5. Use Route Optimization to Handle More Customers With the Same Workforce
Sometimes, just adding customers at the top-end isn't enough to turn a business around.
Process efficiency can make or break your business.
If you have low profit margins and an inefficient operation, scaling your sales won't transform your bottom line. You are still faced with problem of finding the most efficient and cost-effective way to deliver your goods. This is known as the traveling salesman problem (TSP).
By improving your efficiency you can handle as many customers as possible with the minimum required staff.
Route optimization can help you reduce your staff's planning and travel time, and handle a lot more deliveries or service calls per day.
Reduce planning time with automatic employee scheduling and routing that considers service areas, customer time windows, skills, capacities, schedules, and other variables.
Reduce mileage with smarter, shorter routes planned by our smart algorithms.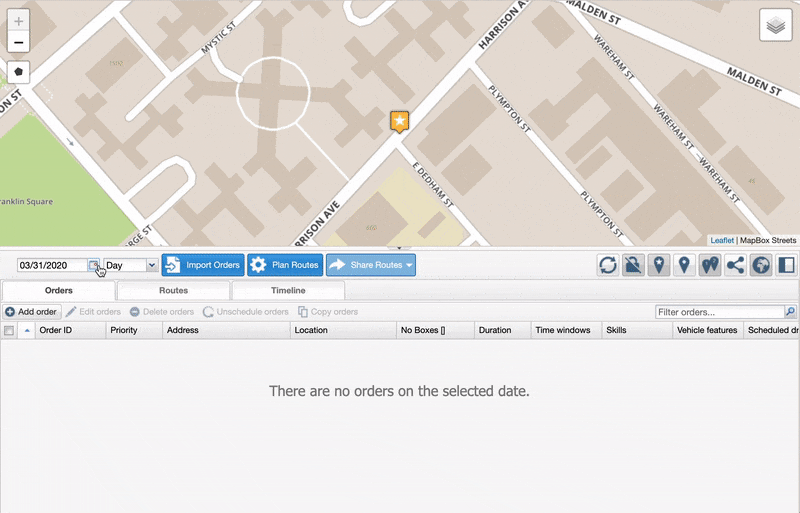 Case Study: How Tomato Mountain Quadrupled Their Customers in 30 Days
When Tomato Mountain Farm decided to scale their weekly delivery subscription service, they needed to improve their systems.
Doing things manually, their drivers struggled to serve even their existing customer base.
Switching to OptimoRoute gave them the tools they needed to improve efficiency and scale their business.
300 to 1200 customers in 30 days
OptimoRoute's smart route optimization sped up planning significantly and made rapid scaling possible for the small team.
"If I had not instated OptimoRoute, I would not have been able to accommodate all of that business… we would not have been able to take new customers."
– Claire Molek, CSA Facilitator, Tomato Mountain Farm
More deliveries in less time with the same workforce
More efficient routing and much faster planning completely transformed the farm delivery business' fleet. In just a few weeks, the delivery efficiency jumped up by a life-changing 300%.
That meant they could accommodate four times their original customers by only adding 50% more drivers.
Eliminating human errors that lead to failed deliveries and dissatisfied customers
With delivery lists sent straight to mobile apps for drivers, there's a much smaller chance that a human error will lead to delays or failed deliveries.
In an industry where your drivers are delivering goods with a short shelf life, this is especially important.
Flexible service areas depending on the day
By focusing on different service areas on different days, the drivers can focus on closely clustered customers and handle a lot more orders.
Reduce back-and-forth driving, scale to handle more customers, and lower the company's carbon footprint.
Using analytics to improve efficiency of all drivers
Detailed data and analytics of driver performance helps Tomato Mountain Farm continually optimize the delivery operation.
You can easily see how many deliveries each driver makes and whether they were on time. You can even compare their exact driven routes with what you planned for them.
Top performers are easy to find and reward, there's no guesswork required.
Improve Your Profit Margins and Efficiency
Are you struggling to keep up with demand and keeping healthy profit margins?
OptimoRoute can not only help you plan more efficient routes, but also utilize your existing fleet of drivers better. That means you can handle more deliveries or service calls with the same workforce, improving your revenue per driver.
Shorter, more efficient routes will also help you save money on gas and driver costs, further boosting your bottom line.
Our suite of tools will transform your business with faster planning, shorter routes, and a better customer experience.
Grow and optimize your small business with OptimoRoute, start your 30-day free trial today.
Try OptimoRoute
™

for Free

No installation or credit card required