Get a Logistics Management System to Optimize Your Business
All businesses are competing against Amazon. It's become the world's largest retailer because customers like its fast delivery, low prices, and easy returns. The company can offer these features to customers because it excels at logistics management.
Amazon processes orders quickly, picks them, packs them, and gets them to customers' doorsteps within days. If companies want to compete with a logistics heavyweight like Amazon, they need a logistics management system to help them cut costs, speed up order fulfillment, and improve their deliveries.
In this article, we cover:
What Is a Logistics Management System?
A logistics management system is a combination of software tools that optimize business processes from beginning to end. A logistics management system will help increase efficiency in processing orders, managing inventory, transporting orders to customers, and returning orders if necessary.
A logistics management system will benefit your business by giving your customer quick, quality, accurate service, which will improve your customers' experience. It will also give you better visibility into your supply chain, help you cut costs, and streamline your logistics strategy.
The 10 Logistics Management Software Solutions for Your Business
These are the top logistics solutions to help you optimize your operations and improve your functionality.
Order management system
Order management begins when a customer places an order and ends once they receive their package or service. Order management software streamlines the fulfillment process and automates tasks, which reduces errors and helps customers get what they need quicker. With better efficiency, your business saves money and improves customer satisfaction.
These tools help improve your order management.
QuickBooks Commerce
QuickBooks Commerce makes it easy to track and fulfill orders because order, supplier, and customer data sync and integrate into one system. With its software, you can integrate and automate your ecommerce platforms, point-of-sale systems, and supply chain ecosystems.
It has been named a Top 20 Order Management Software solution and is good for small to midsized businesses. QuickBooks Commerce's pricing starts at $39 per month for 10 orders a month and tops out at $799 per month for 5,000 orders a month.
Brightpearl
Brightpearl manages all your online and offline orders in one place. It makes order management simple with automated ordering, fulfillment, shipping, and invoicing workflows. The company says that its automation helps businesses ship their orders 45% faster.
Brightpearl includes many software integrations to connect your order management system to your payment, accounting, and marketing software.
It's considered ideal for "multichannel retailers selling in-store, online, or via online marketplaces like eBay and Amazon trading $1m or above." The company has pricing for up to 1,500 orders per month or more than 1,500 orders per month, but you have to contact them to get a quote.
Inventory management system
Forty percent of retailers are investing in software solutions to improve their inventory's accuracy and visibility and accuracy as a result of the COVID-19 disruptions that recently affected supply chains. With better inventory management, businesses can get products from their distributors in time to satisfy customer demands but won't tie-up money in excess stock that could depreciate.
These tools can help you improve your inventory management.
Sortly
Sortly is a simple inventory- and asset-tracking system. With this software, you can create bar codes or QR codes for each inventory item and scan with an app to see your inventory status. You can access Sortly on any device and assign permission levels to all stakeholders. You can also set low-stock alerts or create date-based inventory updates to keep you informed.
It has been named a Top 20 Inventory Management Software solution and has pricing options for small businesses or large businesses. There is a free version to get you started, but its most popular plan is $39 per month.
Fishbowl
Fishbowl lets small to midsized businesses stay within the QuickBooks platform and incorporate advanced inventory features. It's a good inventory solution for businesses that use other QuickBooks products.
Like Sortly, Fishbowl is also a Top 20 Inventory Management Software solution. Its pricing starts with a one-time payment of $4,395.
Zoho Inventory
Zoho Inventory is a multi-channel inventory management solution for online sellers, especially those that sell through multiple online platforms. It updates your inventory quantities across all your sales channels whenever a sale is made. For instance, if you sell an item on Shopify, your inventory would update in Shopify, eBay, and Etsy.
Like Sortly and Fishbowl, Zoho is also a Top 20 Inventory Management Software solution. Pricing starts with a free version for 25 online/offline orders per month and goes up to $199 per month for 30,000 online/offline orders a month.
Warehouse management system
To get products to end users quickly, manage your warehouse to make sure it has the right product, in ready-to-buy condition, in the right place at the right time. Warehouse management software helps make that happen.
Logiwa WMS
Logiwa WMS is cloud-based warehouse management software targeted at high-volume shippers. Its software lets you manage multiple warehouses and optimize your picking, packing, and shipping processes to help you fulfill orders faster.
Logiwa is a Top 20 Supply Chain Management Software solution. You have to contact the company to get pricing.
Transportation management system
Two of the top logistics challenges that companies are trying to solve are how to optimize their transportation and how to cut costs. This is where route optimization software can help, and the best software solution for your business is OptimoRoute.
OptimoRoute
OptimoRoute is route optimization software that calculates the most efficient routes for all of your deliveries, up to five weeks at a time. Our clients have reduced their route planning time by as much as 90% after switching from manual planning.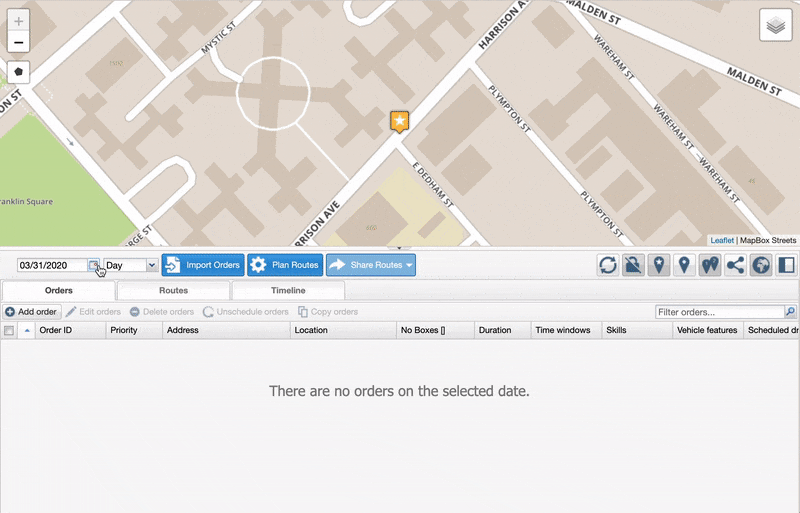 With OptimoRoute, you save money on mileage, gas expenses, and overtime costs because of our efficient routing and workload balancing. It also means your customers get their deliveries faster, which makes your business more competitive. We also provide real-time tracking to let you and your customers know when deliveries are en route and proof of delivery, so everyone knows orders arrived successfully.
Our software improves dispatching of your delivery fleet, which is why OptimoRoute is a Top 20 Fleet Management Software solution. Pricing starts at $17.10 per month and goes up to $35.10 per month. You can sign up for a free trial.
Inventory forecasting system
Forecasting software helps businesses anticipate customer demand and plan resources and inventory appropriately by coordinating data from across your business.
Avercast
Avercast Inventory Planning uses algorithms to predict customer demand, giving you better inventory control. This software helps your business run more efficiently by preventing stock-outs and keeping you from purchasing more product than you need, which saves you warehousing expenses.
Pricing for Avercast starts at $1,000 per month.
Return management system
The return rate for brick and mortar and ecommerce businesses can range from 8% up to 50%, and up to 41% of customers buy variations of products with the intent of returning some. Dealing with the reverse logistics of returns often means driving up costs for businesses unless they have a return management solution in place.
These tools help improve your return process.
ReturnLogic
ReturnLogic is a returns management software specifically designed for Shopify retailers. It provides time-saving automations for your customer operations team and creates a hassle-free return process for your customers. 
When a customer initiates a return, your operations team can track shipping. When the item arrives, a barcode scan updates the item within the software and updates your Shopify inventory. You also get analytics to help you find trends in your returns.
Pricing starts at $300 per month.
Returnly
Returnly is a smart returns platform that fully automates the return process for direct-to-consumer businesses. It processes returns and identifies difficult cases to help businesses focus support where it's needed. With Returnly, eliminate customer confusion and unwanted returns with smart return windows and returnless refund rules.
Pricing is available after demo.
Take Control of Your Delivery for a Better Customer Experience
Part of the reason Amazon is able to offer customers quick, low-cost deliveries is because it delivers nearly half of its orders instead of relying on third-party logistics companies like FedEx or UPS. While you might think self-delivery is too costly, self-delivery is the most cost-effective option if your customers are based in specific geographic areas.
With OptimoRoute, you can increase your delivery efficiency and get your products to customers faster than using other logistics providers, which helps give your business an edge. Sign up for a free trial of OptimoRoute, and take control of your costs and customer experience with in-house delivery.
Try OptimoRoute
™

for Free

No installation or credit card required