Transportation Dispatching: How to Handle Your Fleet Like a Pro
Transportation dispatching is a complex role with a lot of moving parts. Even with a small fleet, a few drivers, and 20 daily deliveries, dispatching and routing can still take hours.
With hundreds of vehicles and truck drivers and a constant stream of deliveries and pickups to handle, manual dispatching is impossible.
That's where transportation dispatchers come in. Using their unique knowledge coupled with dispatching software, a single person can drastically cut planning time, and improve your company's bottom line.
To navigate to the section which interests you the most, click below:
What Does a Transportation Dispatcher Do?
A transportation dispatcher is responsible for coordinating daily deliveries and communicating with drivers to ensure deliveries are completed on time and following all regulations. Transportation dispatchers manage tasks like assigning loads to drivers and vehicles, planning routes, scheduling drivers, and tracking driver performance.
Let's break down the primary responsibilities of a transportation dispatcher in more detail…
#1. Distribute loads efficiently across fleet
As a transportation dispatcher, you must plan and efficiently distribute loads and orders across XYZ's fleet of trucks and drivers.
OptimoRoute can help you with vehicle maximization through automated planning that accounts for drivers' schedules and vehicle capacities.
#2. Plan efficient routes to save gas and time
To make sure the drivers can handle as many loads as possible per day, a dispatcher plans efficient routes in advance for the whole fleet.
Doing this manually as a single person would be impossible. But with OptimoRoute, you can import orders in bulk, and let the route optimization software handle the rest.
OptimoRoute automatically finds the most efficient routes, accounting for delivery time windows, loading times, and other real-world restrictions.
#3. Balance workloads and plan breaks for driver compliance (and to reduce turnover)
Managing workloads and planning breaks — so drivers can stay compliant and you can avoid potential issues with the FMCSA — is also the responsibility of the transport dispatcher.
With OptimoRoute, you can set possible break windows at the driver level, and OptimoRoute will automatically plan breaks for any given daily schedule.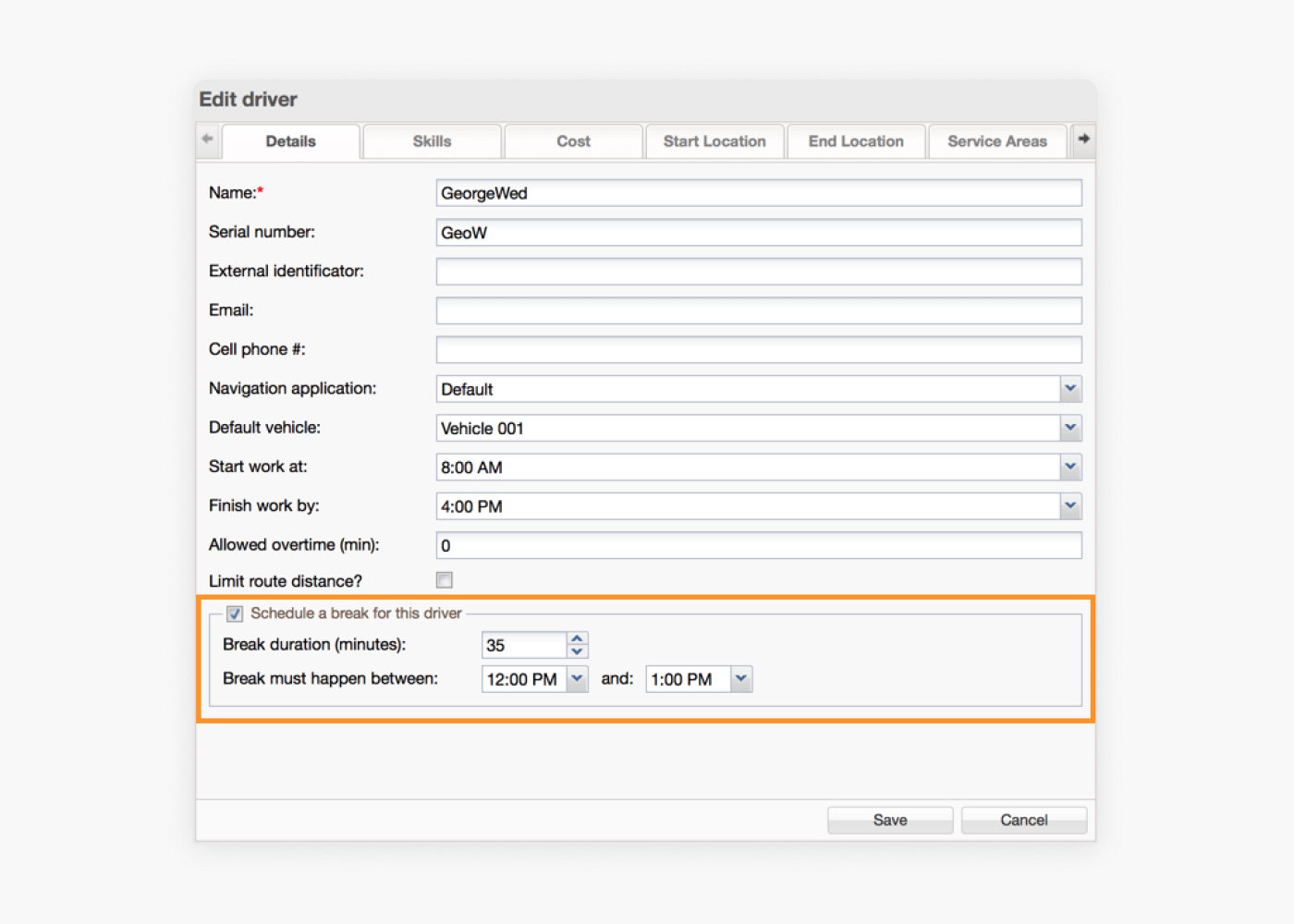 With OptimoRoute's workload balancing feature, you can also cut overtime by better sharing loads between drivers, and keep a perfect compliance record.
#4. Track and monitor drivers to improve efficiency
A transportation dispatcher must also track the locations and performance of their drivers and vehicles.
OptimoRoute's mobile app tracks the drivers through GPS tracking and geofencing, giving you and your team a real-time view of where your fleet is at all times.
OptimoRoute uses this to track driver performance, giving you easy access to information like top performers and underutilized drivers.
#5. Handling cancellations and last minute changes
As a dispatcher in the food transportation industry, you must always be ready to handle cancellations and last-minute order changes.
With real-time locations and real-time rerouting, OptimoRoute makes your life a lot easier.
The Key to Being a Successful Transportation Dispatcher
In an interview with the Lead Pedal Podcast for Truck Drivers, Tim Dreyer, the Rick Austin Memorial 2019 dispatcher of the year, shares his secrets to success.
"Nowadays it's not about trying to move as fast as possible, it's about keeping the drivers happy. It's about keeping the product moving, and if you the drivers are happy the drivers are moving."
– Tim Dreyer, Transportation Dispatcher, Patene Building Supplies
He also highlights that clear communication to the customers (from the sales staff) about the industry regulations is essential (and that's why it's also important to know all of your transportation terms). That way, you can set clear expectations and won't be hounded constantly by impatient or unsatisfied customers, giving your drivers space to perform their job.
This isn't just key for suppliers, retailers, or LTL trucking companies, empathy and communication is key to good driver relationships in all industries. But it's not always easy to remember this when multi-tasking and dispatching hundreds of loads every single day.
With the help of a transportation management system (TMS) like OptimoRoute to handle the dispatching and routing, you'll have the time and energy to treat your drivers as people.
How OptimoRoute Makes Life Easier for a Food Distributor's Dispatchers
Hardie's is a Texas-based food distributor with a fleet of over 160+ refrigerated trucks that delivers over 10 million packages per year.
Before using OptimoRoute's transportation management software, their dispatchers and fleet managers worked around the clock to efficiently dispatch the delivery fleet.
It was time-consuming, costly, and was having a negative impact on their business' bottom line.
Let's take a look at a few of the transportation dispatching benefits seen by Hardie's as well as their long-term business results.
#1. Import orders in bulk and plan thousands of orders at a time
With OptimoRoute, Hardie's dispatchers can import orders in bulk, handling thousands of orders without breaking a sweat (or the routing software slowing down).
Thanks to this, Hardie's dispatching and planning staff were able to speed up their planning by over 800%.
#2. Automatically adjust for delivery time windows, unloading time, and other restrictions.
OptimoRoute considers real-world restrictions like vehicle capacities, driver schedules, service areas, and more.
It even calculates a realistic unloading time based on historical data for each client and the number of packages in the order.
#3. Find the best routes even without local knowledge
Without software, a dispatcher needs intimate knowledge of the local area and years of experience to be efficient.
OptimoRoute uses real-time traffic information and detailed information on road conditions (whether wide enough for trucks, etc.) to plan all routes. This means less experienced staff can plan much better routes.
#4. Maximize on-time deliveries with accurate schedules that consider all factors
Delivering products on time is key to keeping a good relationship with your customers.
Unlike typical transportation dispatch software, OptimoRoute has fleet management features that help you create more precise schedules. Routes consider historical loading times, traffic conditions, and other factors, generating precise ETAs and schedules.
Results
With faster planning, a single dispatcher and planner per distribution center is enough, rather than three.
Mileage across the whole fleet is down 20%, and delivery capacity increased 14% — with driver costs decreasing by 12%
The on-time delivery (OTD) rate has gone from 89% to 94% and is rising 1.5% month over month.
For more on how Hardie's used OptimoRoute to optimize their dispatch operations, and reduce mileage by 20% (while increasing delivery capacity by 14%), check out their complete case study.
Optimize Transportation Dispatching With OptimoRoute
Even for a small company with a couple of vehicles, dispatching is a tough challenge that requires a lot of knowledge, experience, and labor to do right.
With OptimoRoute, you can automate and streamline tasks, while using your dispatcher's experience to create repeatable processes.
This will not just save your dispatchers time on planning, but it will also improve your fleet's efficiency, and enable your company to scale.
Not to mention, better, more efficient routes will save you money on fuel usage, driver wages, and vehicle wear and tear.
To see how OptimoRoute can empower your dispatchers, and improve your bottom line, start your 30-day free trial today.
Try OptimoRoute
™

for Free

No installation or credit card required