8 Ways to Optimize Your Farm & Produce Delivery Business
Optimization is all about working smarter, not harder. And it's essential for scaling a business. Whether you're boxing fresh produce to be loaded on a truck or driving to deliver those goods to customers, you need to accomplish your objective the fastest and most effective way possible — especially if you're trying to save up for an additional delivery vehicle or expand your territory.

The challenge is figuring out how to optimize tasks. You need to know which processes are inefficient, then develop a plan to fix them.

Luckily, our team here at OptimoRoute has plenty of experience helping farm delivery businesses and community supported local farmers overcome this challenge. Here are eight ways to increase your revenue, scale your business, and optimize food delivery services — and how to use OptimoRoute to simplify each strategy.
Learn how to:
1. Prioritize Orders
Farm delivery is uniquely challenging because you have to deliver farm fresh foods in a manner that ensures they won't spoil. Even if you're a local farm delivering to customers directly surrounding you, time is truly of the essence, especially if you don't have refrigerated delivery trucks. To ensure the freshest, highest-quality produce, you have to prioritize deliveries, not just based on where your customers are located but on how quickly each individual order is prone to spoilage.

Fleet dispatchers & distributors in many industries use a triage system to quickly divide orders into priority levels. For example, you could designate an order of milk or ice cream as high priority and an order of veggies that don't need to be refrigerated as low priority. Then schedule high-priority orders first, medium second, and low third.

OptimoRoute gives you four options for prioritizing orders — low, medium, high, and critical.
You simply define each order, click "Plan routes," and let OptimoRoute calculate the best routes. If you have other constraints set, such as delivery windows or driver territories, OptimoRoute will combine all of these restrictions and give you the most efficient routes based on your unique needs.
2. Find the Most Efficient Routes Quickly
The simplest way to cut down on routing time is to use software. Manual calculations take a lot of time, and they're prone to error, especially when you factor in order priority, delivery windows, and driver constraints. OptimoRoute was designed to solve the traveling salesman problem — the challenge of choosing the most efficient route from billions of possibilities.

Our robust software calculates the most efficient routes for thousands of stops in a matter of seconds. OptimoRoute reduces planning time for your dispatcher as well as drive time for your delivery team. Oco Meals, a meal delivery company based in Vancouver, cut their planning time down by 90% when they switched from manual planning to using OptimoRoute. And they did this all while their order volume increased by 200%.

To calculate routes, you simply upload orders from an Excel spreadsheet (or other document), and input driver constraints, such as shift hours, delivery territories, and limits on overtime.

Set any order restrictions such as delivery windows, day-of-the-week constraints, and vehicle capacities. Determine how you want workloads to be balanced and click "Plan routes." Seconds later, you'll have optimized routes for all of your orders up to five weeks in advance.

OptimoRoute also enables you to set different start and end locations for drivers, in case your delivery team needs to pick up orders from one location and then drop off reusable containers at a different location at the end of their shift. You can also use the "Return to Depot" feature for drivers running multiple delivery loads in one shift.
3. Automate Scheduling
Scheduling is just as important as routing for your produce delivery business. And just like routing, if you're doing it manually, you're going to make mistakes. Claire Molek, CSA facilitator for Tomato Mountain Farm, a farm-to-table delivery business, estimates that manual calculations produce a 3% margin of error — a costly number of mistakes for a CSA or small family farm.

Delivery scheduling is complicated. You need to make sure you have just enough drivers working every shift. Schedule too many drivers, and you'll be paying them to sit around. Schedule too few, and you'll either have to pay for overtime or leave orders undelivered.

The best way to avoid mistakes is to lean on advanced technology. OptimoRoute shows you if you don't have enough drivers scheduled to cover demand on a certain day, so you'll know when to bring on more workers. Breaks can be easily scheduled into routes, so drivers are happy, and operations continue running on time. Plus, the longer you use OptimoRoute, the more insight you will gain into exactly how long each stop takes, and the more precisely you will be able to set schedules.
Tomato Mountain Farm increased their scheduling, planning, and routing efficiency by such a wide margin using OptimoRoute that they were able to quadruple their farm box subscriber base and reinvest the profits to expand their delivery fleet. If you want to grow your home delivery business, schedule optimization is a great place to start.
4. Simplify Navigation for Your Drivers
Give routes to drivers in a way that's easy for them to follow. The OptimoRoute Driver App provides turn-by-turn navigation through each driver's default GPS (Google Maps, Apple Maps, Waze, etc.), so your drivers don't need to learn a new nav system in addition to executing deliveries. Our driver app is optimized for low data usage to have the least impact on phone plans, too.

Drivers simply turn on their app when they start a shift and follow the route set out for them by a dispatcher. They get an easy-to-follow task list and access to customer information they may need to troubleshoot deliveries. For example, if a driver's delivery area includes a gated community where an access code wasn't provided, they'll be able to call or text the customer using the information in the app to gain entry. Drivers can also save notes and helpful information to customer notes within the app for future deliveries.
5. Use Live-Tracking to Keep Operations on Track
The best-laid plans will still meet unforeseen roadblocks — literally. Drivers will face traffic, road closures, gated communities, and a host of other holdups along the way. Dispatchers will be able to troubleshoot these roadblocks more effectively if they have real-time visibility.

OptimoRoute provides Live ETA along with a real-time shift board that clearly indicates if drivers are running on time, early, or late.
Dispatchers can react quickly to keep operations running on track, even if, for example, a driver gets a flat tire. Your dispatcher will be able to send another driver to retrieve food from a broken-down truck while your stranded driver waits for a tow. OptimoRoute's dynamic replanning capabilities let you modify routes and send them to the app on your drivers' phones even after they're already in the field.

Claire Molek of Tomato Mountain Farm told us that live tracking helps with customer service, too. If a customer calls in with a question about an order, they know exactly where each order is or when it was dropped off.
6. Automate Customer Notifications
Research conducted by Adobe found that "Companies that prioritized and effectively managed customer experience were three times more likely than their peers to have significantly exceeded their top business goals in 2019." If you want to grow your business, you need to deliver an exceptional customer experience.

One way to level-up your customer experience is to keep your customers in the loop about their deliveries. Use OptimoRoute email or SMS notifications to easily provide real-time order updates with almost no effort. Customize your messaging and then set notifications to automatically go out when a customer's order is on the way, and then when it was delivered. Your customers also receive a link where they can view their delivery driver's progress in real time.
Customer notifications are available in seven different languages, so you can communicate with your customers in their native tongue. Businesses using this OptimoRoute feature have seen a reduction in incoming customer service calls by as much as 70%.
7. Combine Forward and Reverse Logistics
Local Roots NYC, a New York-based farm delivery businesses, delivers organic produce in reusable packaging. Their delivery team not only drops off produce boxes and pantry items but also picks up packaging from previous orders, such as insulated lining sleeves and ice packs. Local Roots NYC uses OptimoRoute to seamlessly plan their forward and reverse logistics at the same time — part of how they were able to scale from 50 to 1,000 weekly deliveries in a matter of a month.

If your business relies on reverse logistics, you can use OptimoRoute to combine pickup and drop-off routes. Use OptimoRoute to calculate vehicle capacity and minimize planning time for all of your logistics.
8. Improve Your Farm Delivery Business With Analytics
Business leaders all over the world are tapping into analytics to drive their companies' success. In fact, 96% percent of senior executives surveyed by Deloitte said that "analytics will become more important to their organizations in the next three years."

OptimoRoute includes advanced analytics that tracks your team's performance over time, so you can see which processes are working well and which ones need to be adjusted. Analytics give you concrete numbers that you can use to create capacity plans, improve process efficiency, and scale your business.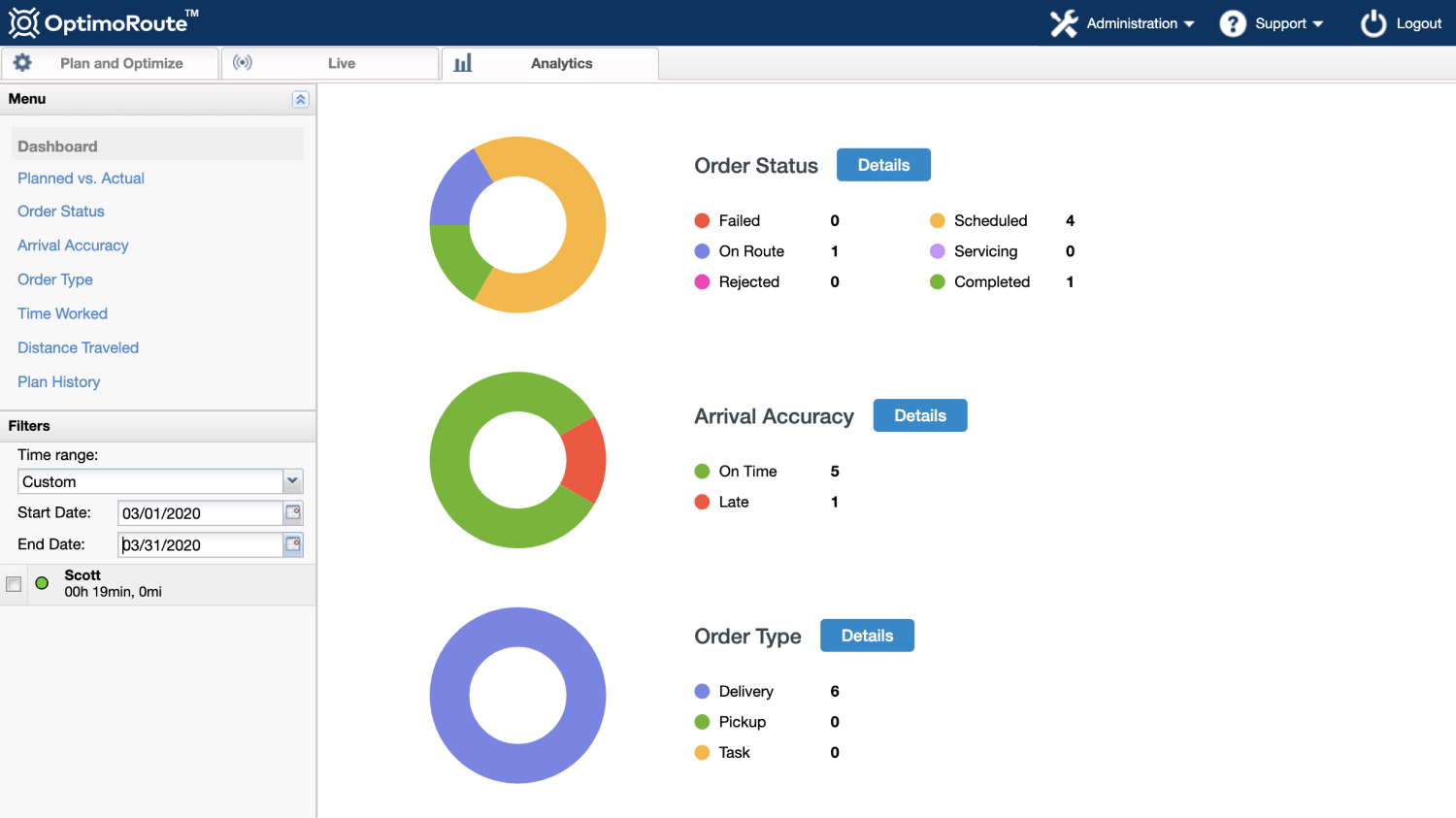 Tomato Mountain Farm has capitalized on OptimoRoute analytics in a big way. They restructured their local produce delivery schedule based on analytics data. Tomato Mountain Farm used analytics insights to lower their mileage, create more manageable workloads for their drivers, and reduce their carbon footprint. If you want to make big changes, you need to know your business and understand how it works on a finite level — you need powerful analytics.
Bonus Strategy: Stay on Top of Vehicle and Equipment Maintenance
Optimizing delivery routing will go a long way toward reducing wasted spend. But there are other ways that farm & produce delivery business owners can cut costs and optimize operations to make scaling easier. Maintain your equipment and vehicles.

If a delivery truck, conveyor belt, or harvester suddenly stops working, it can slow down or completely halt your entire operation. Put regular equipment maintenance and service appointments on your calendar. Change the oil in your cars, trucks, or vans according to the recommendations in each vehicle's owner's manual. Use the recommended motor oil and maintain ample tire pressure. Proactive maintenance and fuel management can reduce unexpected breakdowns and lower your overall equipment costs.
Have Questions? Just Ask.
At OptimoRoute, we understand the importance of customer experience. Which is why our team is always happy to answer questions, walk you through features, and help you achieve your goals. Just send us a message or give us a call. Plus, you can try OptimoRoute for yourself with zero risk. It's free for 30 days, and we won't ask you for your credit card information during that time.
Try OptimoRoute
™

for Free

No installation or credit card required