Shipping Logistics: Definitions + Tips for Optimization
According to Statista, companies in the US alone handle over 5.56 trillion ton-miles of transportation of goods each year. But while shipping logistics is used practically everywhere, developing the perfect management system is a challenge.
Logistics industry standards like same-day delivery and free returns have narrowed the window for error. And today, even small businesses need to have top-tier shipping logistics and supply chain management.
In this article, we clarify the differences between shipping and logistics, analyze the strategies that make Amazon an industry leader, and we show you how to easily optimize your own shipping logistics using OptimoRoute.
To navigate to the section which interests you the most, click below:
What is Shipping Logistics?
Shipping logistics is the overall process of managing and overseeing the movement of goods, products, or raw materials.
Shipping logistics can include:
Procurement
Storing and warehousing
Packaging and consolidation
Customs brokerage and tariff calculation
Intermodal freight planning and freight forwarding
Breakbulk and ocean freight management
Air freight monitoring
Shipping services and transportation management
Shipping logistics is one specific kind of logistics, and it is different from both the individual terms shipping and logistics, which can make things confusing. So, it's helpful to know the difference between each of these words.
What is the Difference Between Shipping and Logistics?
Shipping is the act of physically transporting goods or materials between locations. Logistics, on the other hand, is the process of managing an intricate operation.
Logistics is used in a vast array of industries, not just the shipping industry. Hospitals rely on logistics to move patients to different rooms and floors based on their care requirements. And food delivery services rely on logistics to get meals to customers promptly.
So, to recap: shipping is the transportation of goods. Shipping logistics is all of the processes involved in successfully transporting goods. And Logistics is a broader term referring to the management of any complex procedure.
What are the Three Types of Logistics?
Logistics management is broken down into three major categories.
Inbound logistics – the process of receiving goods from a supplier, manufacturer, or point of origin.
Outbound logistics – the process of delivering goods to their final destination (typically the customer).
Reverse logistics – the process of receiving returned goods from a customer.
Shipping is used in all three types of logistics and each type requires its own logistics strategy. Businesses receive inbound shipments, send outbound shipments, and receive reverse shipments when a customer needs to return or exchange a product.
Amazon's Secrets to Shipping Logistics Efficiency
Amazon is one of the top businesses in the world when it comes to shipping logistics efficiency. They've secured millions of loyal customers around the world by offering free same-day delivery (even for orders as late as noon).
There are over 112 million Prime members in the United States alone, almost a third of the whole population. But how does Amazon manage to send billions of shipments each year without missing a beat? Let's take a closer look at their shipping and logistics solutions.
Establish distribution centers in strategic locations
Amazon has 110 full-fledged warehouses (fulfillment centers, as Amazon likes to call them) in the US alone.
These warehouses aren't just storage facilities. They're distribution centers placed in strategic locations — and their precise geographical placement helps Amazon minimize transit times for shipments and deliveries.
So what's the takeaway here? That you need a billion-dollar budget to compete? No, although that certainly helps.
Even small businesses can imitate Amazon's distributed warehouse tactic by outsourcing logistics and warehousing to third-party logistics companies (3PLs). Many 3PLs have no minimum storage area or order requirements for contract logistics, so you can take advantage of this service no matter how big or small your business is.
Using automation to improve efficiency
Since 2014, Amazon has introduced over 100,000 robots to help automate and speed up repetitive tasks in their warehouses.
Don't worry, they're not like the set of I, Robot yet and you don't need a trillion dollars to implement a similar system. A smart picking system and AI-powered wheeled carts help warehouse workers work more efficiently.
On a smaller scale, you can implement tools to help your pickers work faster.
Constantly assess and improve logistics processes
Instead of settling and focusing on simply "getting more customers in the door," Amazon understands the value of improving every part of their supply chain.
"With the millions of items that we ship, every opportunity to improve a process by a second is relevant," Dave Alperson, Regional Director of Operations, Amazon Indiana, said in an interview with Quartz.
One of the main results of Amazon's testing is the "random system", where products are stored in various locations rather than in huge batches or categories. It's a lot more efficient for pickers to complete and package an order, than bulk storage along logical categories.No matter what size your business may be, process efficiency is vital for success. It's important to constantly assess your workflows and always strive for optimization. Plus, there are affordable software solutions on the market that can improve your operation's efficiency, whether you're a nation-wide LTL carrier, or local florist.
How to Optimize Shipping and Logistics with OptimoRoute
Whether you have a delivery fleet of hundreds of trucks (or even thousands like Amazon), or a small-scale local operation, OptimoRoute can help you improve the efficiency of both your dispatchers and your drivers.
Below, we cover just a few of the smart features that help our clients revolutionize their logistics.
Import orders in bulk and plan more efficient shipping routes in seconds
Are your dispatchers spending hours manually drafting routes for each of your drivers every day?
That's about to change.
Once you've set up your driver settings (like service areas, schedules, break times) and vehicle settings (truckload capacity, capabilities), OptimoRoute takes care of the rest.
You can now simply import your order sheet, and the route planner will distribute the orders based on estimated delivery times, and plan the ideal routes for each driver.
Each route considers driver service areas, delivery time windows, vehicle capacity, and other real-world variables.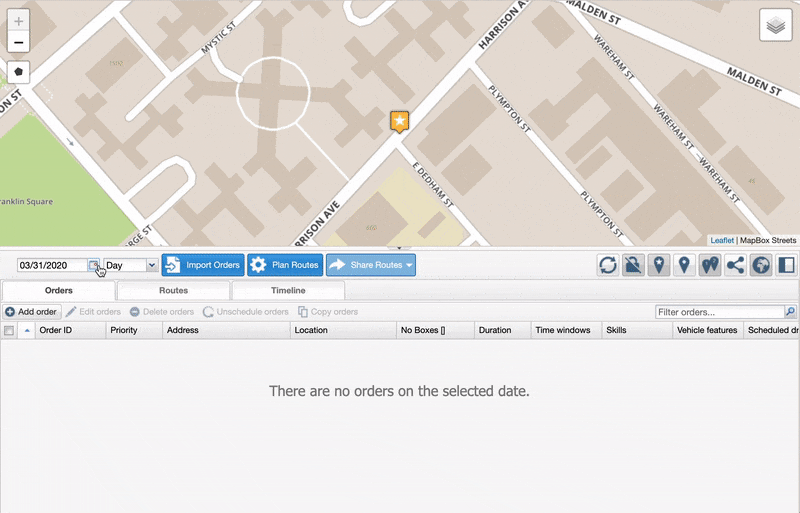 Save time on planning, mileage on driving, and improve the overall efficiency of your delivery operation to improve your bottom line.
Easily adjust to last-minute orders and cancellations with dynamic replanning
Manually handling last-minute orders and cancellations is incredibly challenging. Re-routing drivers and planning routes is tedious.
OptimoRoute makes it easy to adjust to inevitable changes with dynamic replanning. Using OptimoRoute, you can easily fit new orders into existing schedules, and even export the new order lists directly to your drivers' mobile phones.
This will help you remain flexible and eliminate missed deadlines as a result of slow rescheduling.
Reduce failed deliveries and delight customers with real-time order tracking
Research by IMRG and NetDespatch shows that failed deliveries cost $2.17 billion per year.
To save wasted gas and driver wages, you must ensure as many successful deliveries as possible.
That's why OptimoRoute provides real-time order tracking and notifications over email and SMS.

If your customers know exactly when the delivery is coming in advance, they'll be available when the package arrives.
Track and improve entire operations with detailed analytics
If you choose to use the driver app, OptimoRoute offers real-time tracking and analytics of each driver's performance.
From top performing drivers, to vehicle utilization, packages, pallets or other units moved per truck every day, and more.
Managers can also access important performance metrics like on-time delivery rates, average delay times, and more.
Think of OptimoRoute as your JARVIS, the real brains of your logistics operations.
Help your business meet seasonal demands with flexibility and scalability
Our software doesn't just help giant e-commerce or trucking companies.
Any company that struggles to keep up with deliveries during spiked holiday demand can benefit.
The Little Posy Co is the perfect example of that. With OptimoRoute, they easily scaled from 20 to 60 drivers, and handled over 1,000 orders (5x their normal demand) without issue.
"OptimoRoute has changed the impossible to the absolutely possible on Valentine's Day. It takes the pressure off—I could not fathom how the workflow could function so smoothly without this piece of software." Gabby Maynard, Operations Manager, Little Posy Co.
To see how OptimoRoute can transform your shipping and logistics processes, start your 30-day free trial today.
Try OptimoRoute
™

for Free

No installation or credit card required