How to Use Fuel Management Systems to Start Cutting Costs Today
If you want to go anywhere in a motor vehicle, you're going to need fuel. And gas isn't cheap. Fuel expenses are likely to be a top priority, whether you have one driver delivering pizzas or a fleet of 100 refrigerated trucks delivering groceries.
The good news is you have more control over that cost than you might think. Fuel management isn't just about finding the cheapest gas station and avoiding traffic. You can make a big dent in your fuel costs. All you need are a few simple strategies and the right software.
To navigate to the section which interests you most, click the links below:
What Is Fuel Management?
Fuel management is the process of monitoring, calculating, and optimizing fuel usage in private or commercial vehicles. Delivery fleets, couriers, and field service teams use fuel management to increase revenue as well as cash flow. The general public uses fuel management to minimize recreational expenses.
Why Fuel Management Is So Important for Businesses
Fuel management is an important process because it gives you control over an essential expense. Fuel charges are unavoidable, but that doesn't mean you're powerless to mitigate them. Here are two major benefits of improving your fleet's fuel management system:
Increases profit margin
Fuel management increases profit margins by minimizing expenses. Fuel costs add up quickly, especially if you're driving 100+ miles per day.
One study conducted by the American Transportation Research Institute found that fuel costs made up 24% of the total average marginal costs within the trucking industry—more than insurance premiums, tolls, repairs, maintenance, tires, permits, and licensing expenses combined. That's a large chunk of overall spend, so anything you can do to reduce that dollar amount will result in higher profit margins.
Provides actionable data
When you practice fuel management, you monitor and access data in order to make smart fueling decisions. Fuel management is in and of itself a method for extracting solid, actionable intelligence.
Businesses may use fuel management analytics to see which of their drivers are "pedal heavy" and which of their drivers are the most fuel efficient. You can use fuel management data to make informed decisions about territory divisions, traffic patterns to avoid, and which drivers are most deserving of a promotion. Leadership teams can even use fuel management data to adjust capacity plans and scale operations.
Use a Fuel Management System to Slash Costs
Luckily, you don't need to pore over spreadsheets or be a mathematical genius to find ways to reduce fuel consumption in modern society. You just need the right technology. Businesses with fleets of all sizes use route optimization software and fuel management systems to get actionable data in minutes or even seconds. You can build the perfect tech stack for your business using the following fuel management software:
Optimize routes + increase efficiency with OptimoRoute
OptimoRoute automatically calculates the most efficient routes for all of your vehicles up to five weeks at a time. You can use OptimoRoute to save on planning time, cut down driving time, and scale your business while using the least amount of resources.
All you need to do is upload your orders into OptimoRoute via an Excel spreadsheet or other document and enter any driver constraints, such as territories, vacation time, or drivers with special skill sets. These constraints can be saved to make future routing faster. Now you simply click "Plan routes" and send daily schedules directly to the app on your drivers' phones.
Fleet dispatchers can see where drivers are at any time using our real-time vehicle tracking feature. If something goes wrong while a driver is en route, dispatchers can replan or reassign certain appointments and send updated and optimized schedules to their team in the field right away. Live tracking gives you the power to adjust to unexpected challenges without incurring a lot of extra expense.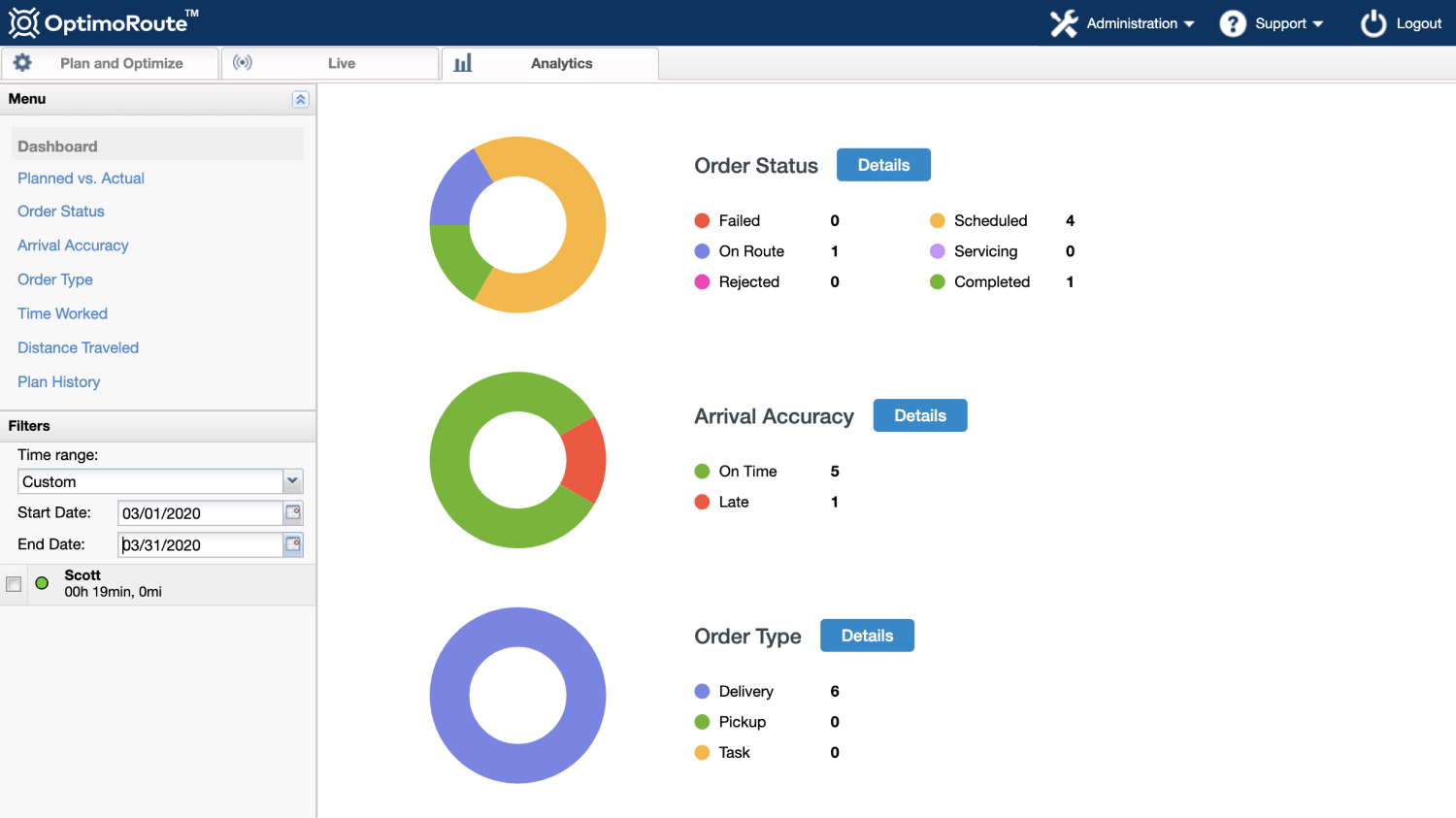 OptimoRoute also provides analytics that you can use to improve your team's efficiency even further. Clear records of each driver's on-time deliveries, travel times, route lengths, and more will help you spot territories that may need to be adjusted or drivers that need help in certain areas.
Stay on top of vehicle maintenance with AUTOsist
Use AUTOsist to easily keep up with fleet maintenance. Track when your vehicles need an oil change, tire rotation, vehicle inspection, and much more.
You and your drivers can use the AUTOsist web portal and mobile app to monitor fuel expenses and MPG for each vehicle in your fleet. AUTOsist is essential for businesses with fleets of any size because it reduces the amount of paperwork and time required to keep vehicles running efficiently.
Avoid IFTA penalties and simplify taxes with eTrucks
If you run a trucking company in the United States or Canada, you are required to follow guidelines set out by the International Fuel Tax Agreement. Keeping accurate records is imperative because even a small mistake could result in expensive penalty fees for your business.
You can use eTrucks fleet management software to simplify compliance records, stay on top of fuel costs for long-haul trucking routes, and make tax season a whole lot less stressful.
Find the cheapest gas with GasBuddy
Long-haul truck drivers and private consumers alike can use GasBuddy to find the cheapest petrol or diesel gas station nearby in seconds. Search all gas stations in close proximity or filter by brand to see only the gas stations that you have a discount fuel card for. GasBuddy also offers their own discount program that gives you discounts on fuel purchases when you shop at participating retailers such as Home Depot, Advance Auto Parts, and Hotels.com.
The best part of these software solutions is that you can use them all together. Maximize your fuel savings and cost benefits by integrating OptimoRoute with these additional fuel-saving software.
Fuel Management Strategies You Need to Know
Software takes most of the tedious work out of the equation, but that doesn't make fuel management something you can "set and forget." Use the following strategies on a consistent basis to maximize your fuel management efforts:
1. Optimize routes
Optimizing routes literally means taking the best route for your intended purpose (which, in this case, is saving on fuel costs). Your goal should be to take the shortest and, therefore, least expensive route possible.
We've known that the shortest distance between two points is a straight line since before 200 BC, but Archimedes' would have a much harder time finding the shortest routes for today's delivery drivers. It's no easy feat to find efficient routes for multiple drivers making hundreds of individual stops. Route planning becomes a monumental effort when you need to factor in order priorities, driver schedules, and a slew of other constraints. Your best bet is to harness the power of route optimization software like OptimoRoute.
2. Upgrade your fleet
Your vehicles could be the source of a lot of wasted spend. Consider upgrading your fleet to fuel and eco-friendly vehicles. Electric and hybrid vehicles often require far less gas to travel the same distance as similar vehicles with conventional gas engines. It may also make more sense to invest in diesel vehicles, depending on where you live and the size of the vehicles in your fleet. Diesel engines can be up to 25% more fuel efficient than regular gas engines and last longer. Diesel fuel prices can also be cheaper than petrol, but this depends greatly on where you live.
3. Maintain vehicles
Simple but sometimes overlooked maintenance checks can have a big impact on fuel economy. Here are a few examples of vehicle maintenance you can perform to cut down on fuel costs.
Check your vehicles' tire pressure regularly to increase gas mileage by as much as 3%.
Switch to your vehicle manufacturer's recommended motor oil grade to save on fuel costs by as much as $0.07/gallon.
Schedule regular engine tune-ups to save on fuel costs by as much as $0.14/gallon.
Add preventative vehicle maintenance to your routine and rack up some serious savings.
4. Use cost-minimizing driving tactics
Train your drivers in fuel efficiency. Bad habits like speeding and idling for long periods of time drive up fuel expenditure. According to the U.S. Department of Energy, most drivers can improve their fuel economy by approximately 10% by adjusting their driving tactics and staying on top of vehicle maintenance. Teach your team driving habits that save money, such as gently accelerating and avoiding "putting the pedal to the metal."
5. Lose the weight
Make sure you don't have any unnecessary cargo in your vehicles. Extra hand trucks, heavy containers, or surplus equipment should be removed from vehicles. Just 100 lbs of extra weight can reduce your fuel economy by 1%, depending on the size of the vehicle. Excess weight is a concern for recreational vehicles, too. Cut down on fuel costs by removing a rarely used roof rack or minimizing the number of non-essential items in your trunk.
Get Started with OptimoRoute for Free
Reduce fuel spend across your entire fleet with zero upfront cost. We offer a 30-day free trial of OptimoRoute, so you can test out our cost-saving features at no risk—and no credit card info required. You'll get access to fast route optimization, multiple driver planning, live tracking, and many more features you can use to reduce your fuel costs.
Try OptimoRoute
™

for Free

No installation or credit card required