The field service management (FSM) market could reach $10.81 billion by 2026. Despite these growth expectations, more than three-fourths of field service companies say they are "struggling to achieve revenue growth."

That might be because more than half are still manually managing their operations instead of using software, leading to errors, inefficiencies, and poor customer experience. On the other hand, 40% of field service organizations that have adopted field service management tools say they are experiencing growth.

Whether your business is HVAC repair, plumbing, landscaping, or home health care, if you want to grow your field service business and make more money, you need field service management software to streamline your processes.

Topics included in this article include:
What Are Field Service Management Tools
Field service management tools are types of software that help a business run its field service operations more efficiently. Field service businesses have unique challenges because their success is dependent on field workers arriving at customer destinations on time, having the right information and tools to complete the job according to schedule, and getting swift payments.

With so many variables at play, including trying to accurately estimate travel times and how long the job will take to complete, manually planning your field service operations takes tremendous time and is subject to human errors. These inefficiencies could be costing your business.
How Field Service Management Tools Can Benefit Your Business
Manual tasks are holding your business back. They're repetitive. They eat up time that should be spent on more productive activities, and they create errors that affect your customer service and bottom line. Here are all the ways you could improve your business by incorporating field service management software.
Increase productivity
With manual methods, up to 22% of your employees' time is spent on repetitive tasks. Automating repetitive tasks with FSM software can save you and your employees time. And you can spend that extra time on higher-value activities, such as acquiring new business and delivering top-notch customer service.
Improve customer satisfaction
Field service management tools improve customer service by removing guesswork and the potential for human errors. When it comes to repetitive tasks, a person is likely to make 10 errors per 100 steps. That creates the risk that your field technician could be overbooked and unable to make an appointment or could arrive at the job with the wrong information and be unable to address your customer's problem. With FSM software, automation removes the risk of human errors and improves your workflows, helping to ensure a first-time fix, which creates a better experience for your customers.
Decrease labor costs
Manual processes require additional labor. Automating processes, by comparison, requires fewer employees to operate. And those you do hire need less time to complete tasks. Increased workplace automation can "cut labor costs by an average of 16 percent."
Types of Field Service Management Tools
Many types of field service management software can help improve your operational efficiency.
Route-planning tools
Route-planning software optimizes multi-stop trips for transportation and service dispatchers by finding the most efficient routes, reducing mileage and gas expenses. They often include GPS tracking functionality, so you know where your field employees are on their routes, and can see if they're on schedule.
Scheduling tools
Job-scheduling software helps businesses arrange their teams across multiple job sites and tasks. Some scheduling software is designed specifically for companies whose teams work out in the field and have different appointments or job sites to visit. Scheduling tools help businesses in the service industry provide better customer support and project management by ensuring technicians show up when they're supposed to.
Inventory management tools
Inventory management is a crucial challenge faced by many field service businesses. To effectively manage work order demand, field service technicians need to know the inventory levels of parts they need and get them in real-time for better job management. Inventory management software helps with this.
Invoice and payment management tools
Billing and invoicing solutions can remove a lot of the pain in the billing process, giving businesses more options for receiving payments and speeding up billing tasks. This software type helps add more electronic payment channels and mobile payment networks that can make paying quicker and easier for your customers.
The Best Field Service Management Software
We've provided a list of the best field service management software solutions that have high reviews, solve multiple pain points, and improve your workflows to help you get the most bang for your buck.
OptimoRoute
OptimoRoute makes route planning and schedule optimization easy for all field service businesses. It's easy to use: Just upload your service calls, and add parameters, like technician skill level, and the most efficient routes are calculated and delivered straight to your field service workers' phones. You'll save time over manually planning routes and save money on labor, mileage, and gas.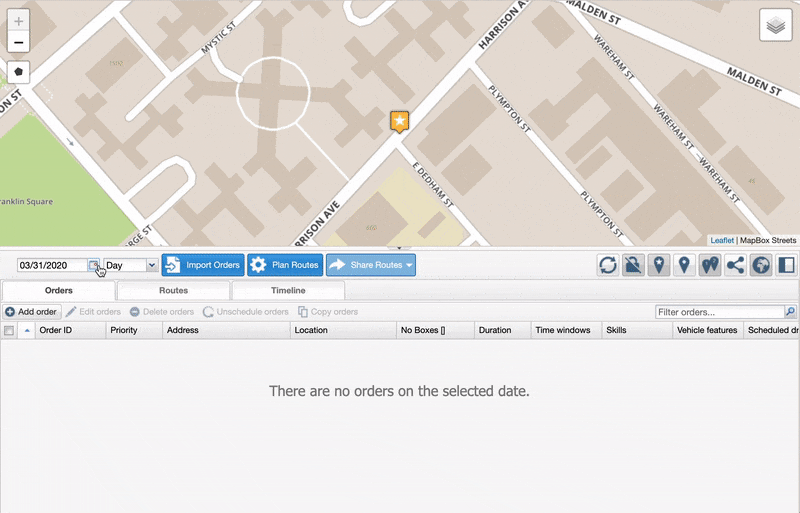 OptimoRoute has been named a top 20 software solution for fleet management and works for businesses of all sizes. Plans start at about $17 per driver per month. We offer a 30-day free trial.
Inflow inventory
Inflow is a modern way to keep track of your inventory and bill your customers. With its app, inventory levels in your system are automatically updated as members of your mobile field service team scan tools or parts they remove from shelves. Everyone will be able to see the most up-to-date inventory levels, and you can quickly create a purchase order for new inventory when stock gets low.

With its software, you can easily measure material costs and bill customers. Each job site is given a unique barcoded order number, and your field workers can use it to keep track of all materials used to complete a job. When it's time to bill customers, inFlow's software can create the invoice. And it even integrates with QuickBooks to simplify managing your books.

inFlow has been named the Best Value Inventory Management Software. Pricing starts at $71 per month for two team members and goes up to $359 for 10 team members. There is a free trial.
InvoiceASAP
InvoiceASAP is designed for businesses with mobile workforces to help them quickly create on-premise invoices and get paid. Through the mobile app and web dashboard, your field and office staff will always be in-sync. Your field team can create an invoice on the app once they've completed a job, and customers can pay on the spot. For accounting purposes, InvoiceASAP syncs with QuickBooks.

InvoiceASAP has high ratings, and you can create a free account to try it out.
QuickBooks
QuickBooks is accounting software targeted primarily at small businesses. It helps businesses better manage their finances by automating invoicing, bookkeeping, time tracking, and even inventory management. It eliminates the need for business owners to enter information on multiple spreadsheets manually.

QuickBooks is featured on many top 20 lists, including those for accounting software and accounts payable software. Pricing starts as low as $7.50 per month and goes up to $45 per month.
OptimoRoute Is the Must-Have Field Service Management Tool
OptimoRoute is the best field service business software because it combines route planning, scheduling, and Live ETAs all in one place. It will improve your efficiency and help you make more money.
With OptimoRoute, you can:
Automatically calculate the most efficient multistop routes to save mileage and gas expenses
Send routes directly to drivers' mobile devices, including iPhone and Android
Calculate allowed working hours to reduce overtime costs
Balance workloads efficiently among your employees
See where your drivers are and know who is on schedule and who is behind
Let customers know when field service technicians will arrive with real-time tracking
See who your top performers are with route analytics
Clarke Customer Care built a profitable field service business using OptimoRoute
Clarke Customer Care offers top-of-the-line kitchen-appliance installation. Their business is built on providing high-end customer care, but with a growing number of field service employees, they needed a better solution for scheduling and route planning.


After trying different routing software available on the market, it became clear that just route optimization wouldn't be enough to help their business processes.
With OptimoRoute they were able to:
Plan and even replan the workforce in minutes
Send rescheduled routes to techs already in the field through their smartphones or through email using OptimoRoute's mobile app
Automate scheduling that increased overall efficiency between 10-15% in terms of the number of orders completed daily
Save two working hours daily by using automated customer notifications
Let OptimoRoute Grow Your Field Service Business
There are many field service management solutions on the market. The best solutions solve multiple business needs and help you make more money. Try OptimoRoute for free and see how it can help your field service organization.