The Shipping Method Quick Guide for Businesses
Getting a sale is exciting. Figuring out how to ship your goods is not.

That's why we created this handy shipping method guide—so you can quickly find the information you need. Plus, we'll show you why sometimes the best way to ship goods is to actually deliver them.

Use these links to scroll to the section you're most interested in:
Shipping Method Overview + Comparison Chart
Comparing shipping carriers is challenging because each company has a unique pricing structure and their own set of shipping parameters. The United States Postal Service (USPS), for example, limits package weight to 70 pounds or less, but FedEx and UPS will ship items weighing up to 150 pounds. So, while these aren't apples-to-apples comparisons, this chart is a good place to start comparing and understanding the delivery methods available to you.
Shipping speeds are estimates and in most cases are not guaranteed. Source links available at the end of this article.

Note: USPS also offers a discounted Media Mail rate, but this is exclusively for shipping media such as books, video recordings, and manuscripts.
Dimensional limitations
Each courier has dimensional limitations, too. These vary depending on the specific shipping method you use, but you can expect additional shipping charges if you exceed these limits:

USPS: According to their website, "The maximum size for most mailpieces is 108 inches in combined length and girth. USPS Retail Ground pieces may measure up to 130 inches in combined length and girth (but will be charged oversized prices)."

FedEx: Package limitations start at 108 inches in length and 130 inches in combined length and girth. See specific package guidelines for precise details.

UPS: Packages should be no bigger than 165 inches in length and girth combined, and no longer than 108 inches.

DHL: Packages should be no bigger than 118 inches in length and girth combined. Maximum dimensions allowed are 47″ x 23.6″ x 23.6″.

If you need to send packages heavier than 150 pounds, UPS, FedEx, and DHL offer freight shipping options. Learn more about how freight shipping costs are calculated and how to determine your freight class.
The Fixed-Rate Shipping Advantage
Both FedEx and the United States Postal Service offer steeply discounted shipping rates if you use their pre-priced boxes. We calculated the cost of shipping a 12″ x 7″ x 4″ box (about the size of a shoebox) weighing 25 pounds from Los Angeles to New York to see how USPS Flat Rate and FedEx One Rate compared to using your own non-flat-rate box.

The cost of using your own box: FedEx charges between $246.98 and $285.78 to send a 12″ x 7″ x 4″ non-flat-rate package weighing 25 pounds for next-day delivery (prices vary based on what time of day you need it delivered by). Those shipping fees drop significantly if you don't need next-day delivery, but it's still expensive at $137.88 for a six-day turnaround time.
You could overnight the same non-fixed-rate package through USPS for less than what you'd pay using FedEx (approximately $175 if no signature is required upon delivery). But you'll save significantly more by using the courier's pre-priced boxes.

The FedEx One Rate advantage: Send the same item in a FedEx One Rate Large Box (which measures 17.88″ x 12.38″ x 3″ inside), and you can get your package to its destination overnight for as little as $101.37. Not in a rush? Send your item in a FedEx Large Box for six-day delivery and it'll cost only $21 (more than $80 cheaper than using your own box with the same courier).
USPS Flat Rate comparison: USPS offers similar savings through their Flat Rate program, but the options are a bit more limited. Unfortunately, USPS doesn't have an overnight flat-rate shipping option for a box this size. But you could send your item in a USPS Priority Mail Large Flat Rate Box (measuring 12 1/4″ x 12 1/4″ x 6″), with two-day delivery, starting at just $21.10.

If your items fit in a fixed-rate box, it's often cheaper to use FedEx One Rate or USPS Flat Rate. And the boxes themselves are free. You can even order USPS Flat Rate boxes and get them delivered to your business at no cost.
What's the Best Shipping Method?
Unfortunately, there is no one simple answer to this question, because the best shipping method depends on your priorities. If you want your products to quickly get to their destinations, it isn't going to be cheap—and if you want low-cost shipping, it won't be very fast. To make matters more complicated, shipping prices fluctuate, and, as we explained in the previous section, the way you box your products greatly affects price.

That being said, there is a way to quickly find the best shipping method based on your unique priorities (and package size): use a platform such as Shippo or Easyship. Both services partner with multiple couriers to get you discounted rates and give you a breakdown of your shipping options (and costs) based on the size and weight of your package. That way, you know which courier is the cheapest, fastest, and most suited to your needs—every time.
Prefer not to use shipping software? You'll need to use each courier's individual shipping calculators to get precise shipping options and compare them. Here are links to each courier's shipping calculators:
Pro Tip: Make sure you take accurate package dimension and weight measurements if you aren't planning to use a fixed-rate service. Even small errors could result in a delivery exception and a huge headache.
The reliability factor
There are certain conditions that affect reliability for shipping carriers, and it's important to take that into consideration. COVID-19, for example, has caused global shipping delays affecting every courier service. The USPS, which has been a trusted courier for more than two centuries and delivers 48% of the world's mail, is facing additional challenges due to changes in the agency's leadership and overall operations.
Don't Overlook Self-Delivery
If you're looking for the fastest, most affordable, or most customer-focused shipping method, consider self-delivery. In-house delivery often gets overlooked when it comes to the last mile for small businesses, but it can give you a huge advantage when it comes to serving local customers—especially if you sell large, fragile, or temperature-sensitive items.

Many types of businesses, from florists to electronics stores, employ a delivery team to handle drop-offs within a certain radius of their store. And the reason isn't just because they maintain control over their customer experience. As we mentioned earlier, shipping companies have size and weight limitations, and exceeding them is very expensive.

Here's a breakdown of the advantages and drawbacks to self-delivery for small businesses:
Pros
Maintain control of your customer experience: In-house delivery gives you more control over the final stage of your customer experience, which is important because 32% of consumers say they'd ditch a brand they love after just one bad experience.
Cheaper in certain situations: It's cheaper to deliver large items locally. For example, shipping a 150-pound armoire from downtown Los Angeles to Santa Monica (just 16 miles) using FedEx would cost over $900. At that price, it's more affordable to hire a local moving company (a quick Google search will reveal hourly movers in Los Angeles starting at just $65 an hour for two movers and a truck).
But some scenarios where delivery is cheaper are less obvious. Say you own a small business, and you have 10 local orders (within a 25-mile radius) to deliver. You sell glass figurines that are compact but heavy. To ship these items in USPS Large Flat Rate boxes would cost $211 (at $21.10 each). Alternatively, you could hire a delivery driver at $18 an hour for just four hours and pay less than half that cost.
Faster turnaround times: Using an in-house team removes a step from the logistics chain because products can go directly from your warehouse or store to customers rather than from a warehouse to a courier distribution center or post office and then to a customer. If a local customer requests a rush order, you won't have to pay extra fees to a shipper, either.
Flexibility with packaging: When you deliver items yourself (or use an in-house team), you get to pack and wrap items in whatever way you choose, so you can make sure your packaging design reflects your brand. If you run an eco-friendly company, you could use biodegradable containers. Selling, shipping, and delivering plants? With self delivery you don't need to worry about insulating and protecting your products for shipping.
Cons
Viable only within a certain radius of warehouses: The biggest drawback to delivery is that it's possible only within a certain radius of your storage facility.
Requires a delivery vehicle and team: You'll need to have manpower and horsepower to execute in-house delivery. Note: You can mitigate this expense by hiring couriers on a contract basis and having them use their own vehicles.
Routing deliveries is tedious and time-consuming: This used to be true, but thanks to route optimization software, routing deliveries is now fast and simple.
The OptimoRoute Advantage
OptimoRoute makes in-house delivery simpler by automatically calculating the most efficient routes for all of your stops— in a matter of seconds. All you have to do is upload orders, input constraints such as delivery windows, and click "Plan Routes" to get optimized routing for thousands of deliveries up to five weeks in advance.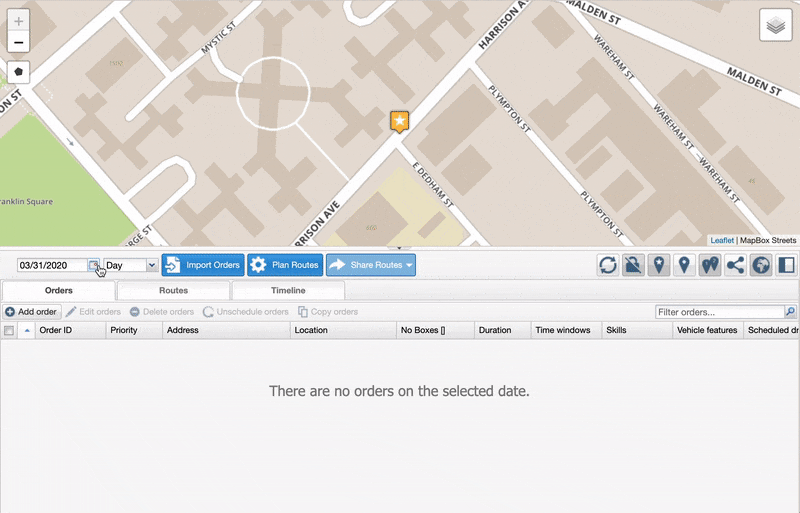 Maximize your cargo capacity by entering the specific dimensions of each vehicle, and easily schedule drivers to reload if needed with the "Return to Depot" feature. Keep track of your team's progress with live tracking, and make your drivers' jobs easy with the OptimoRoute Driver App.

Use OptimoRoute to enhance your customer experience, too. Provide customers with realtime tracking and automatic order updates when a package is en route, so they know precisely when their order is going to arrive. Learn how to optimize delivery for your small business using OptimoRoute.
Try Local Delivery with OptimoRoute at No Cost
Want to take local delivery for a test run? Try OptimoRoute at no cost for 30 days. Activate your free trial (no credit card required), and send our support team a message or give us a call. We'd be happy to walk you through our advanced features, help with API integration, and answer questions.


The courier comparison table contained in this article was compiled using the following sources:
Try OptimoRoute
™

for Free

No installation or credit card required