5 Businesses That Grew Using Self Delivery & How They Did It
Third-party delivery services are expensive and eat away at already slim profit margins in consumer-facing businesses. In certain low margin businesses like restaurants and supermarkets, outsourced delivery expenses can literally make it unprofitable for businesses to offer deliveries to consumers.
According to TechCrunch, top third-party delivery companies charge between 17% and 40.5% of the total order cost.
Even if your order volume is sporadic and hard to handle, that should be enough motivation for making the switch to self delivery.
Meanwhile, the onset of the Covid-19 pandemic has made home delivery a more critical business channel than ever, for everyone from ecommerce & retailers to restaurants.
In this article, we'll break down the benefits of self delivery and show you 5 real examples of companies that made the switch (and how you can do the same).
Let's jump right in.
To navigate to the section which interests you the most, click below:
What Is Self Delivery?
Self delivery is when a business handles all deliveries with its own staff rather than outsourcing it to a third party.
For example, a pizza restaurant that has its own branded cars and pizza delivery staff uses self delivery. A local restaurant that relies on UberEats for deliveries uses a third-party service.
The costs of outsourcing delivery can be significant, so a lot of business owners choose to handle things in-house.
What Are the Main Benefits of Self Delivery
There are many benefits to handling your deliveries yourself instead of relying on a delivery platform like GrubHub or DoorDash (which take a huge chunk of your profits).
1. Lower costs and higher profit margins
While it involves having more staff and assets (like vehicles), self delivery is typically a lot cheaper than outsourcing.
Using a service like Postmates or Uber Rush can be many times more expensive than handling deliveries with an in-house fleet.
Can you afford to let another company take one third of your entire order value for delivery?
That level of extra cost can eat the entire profit margin and stop new businesses from growing.
2. Better customer experience and repeat business management
By removing the additional hidden costs beyond the consumer-facing delivery fees of the delivery apps, you can focus on delivering a better customer experience.
You can offer better deals, provide free extras, and more to ensure customer satisfaction and loyalty.
Plus, you can control the delivery experience by having your own drivers who you can make sure deliver on-time and in a cordial manner.
A good delivery experience is part of why Amazon gets such loyal customers. And it's paid off. According to Statista, Amazon has captured 49% — almost half of the entire US e-commerce market.
Amazon delivery is a huge part of the company's market dominance.
Let's take a look at how five companies have benefited from self delivery.
How 5 Companies Transitioned to Self Delivery
Let's examine five companies that have transitioned from relying on third-party delivery services to handling everything in-house.
Portillo's
Tired of losing such a large part of its delivery order revenue to third party services, fast casual chain Portillo's knew something had to change.
With an increasing trend of customers ordering delivery, it was starting to cost them a lot. So Portillo's decided to go against the grain and launched its own delivery service and app.
It can not only save money on delivery, but further its brand with the app, and offer personalized deals and coupons to existing customers.
While it's in the starting phase, the restaurant chain is still actively using third-party delivery as well. It helps them tide over until the app starts seeing more usage among its diners.
Baker Miller & True Grain
Even small business owners are turning to self delivery. At first, Baker Miller was struggling to recoup its investment on the development of a delivery app and the in-house "fleet".
But then, Baker Miller partnered with True Grain (a one-man flour milling company) to offer flour and baking materials on top of its pastries, bread, and cakes.
When working together, their combined revenue could easily support the delivery drivers. It helped them keep their prices and overhead low.
They quickly attracted new customers all over Chicago, and maintained a healthy profit margin.
If you can, find local partners who aren't direct competitors to collaborate with and make in-house delivery viable.
Alone, maintaining a small delivery fleet might have been hard for either company. But when working together, it became an asset.
Mutual Trading Company (Japanese food product wholesaler)
Traditionally a Japanese food product wholesaler with only B2B clients, MTC pivoted during decreased restaurant demand and started to offer home delivery in select cities.
MTC started by opening in New York, where it already had the infrastructure in place, and later expanded to Los Angeles as well.
It developed a new online store dedicated to home shoppers. Consumers can order smaller quantities of the same products MTC used to sell exclusively to businesses.
The changes helped them reach an entirely new market, and boost their sales numbers during tough times.
Biomed Care Services
Biomed Care Services is a UK-based pharmacy that focuses specifically on delivering medicine to the home care sector throughout the UK.
Because specialty third-party couriers for delivering medicine are very expensive, the company decided to handle deliveries in-house.
Especially since it offers free shipping, the high prices would take too much of its profits and make the business model unsustainable.
At first Biomed had a hard time managing the fleet of delivery drivers and keeping its workforce productive. The startup costs were high, and without the proper logistical experience or software, the setup was inefficient.
But everything changed after Biomed started using OptimoRoute to schedule their deliveries. OptimoRoute allowed Biomed managers to effectively plan routes up to 5 weeks in advance, in mere minutes. It used to take entire days.
Plus, instead of a driver assigned to a specific zip-code, the drivers were assigned efficient routes within a larger service area, transforming driver productivity.
Even with a 25% increase in orders, Biomed reduced its drivers by 33% and saved over £3,000 on deliveries per month, just by making the switch to OptimoRoute.
The Little Posy Co.
The Little Posy Co. is a florist based in Perth that has handled its own deliveries for a long time.
In the beginning, with only a few deliveries per day, it was easy enough. But after scaling to over 1,000 orders per week, planning and adjusting routes became a giant headache.
That all changed when the company found OptimoRoute.
With OptimoRoute, all the day-to-day operations can easily be handled by one person.
But one of the biggest challenges florists face is how seasonal the demand is. On Valentine's Day, for example, the entire customer base buys flowers at once, leading to a 5x increase in daily orders.
That means handling 1,000 orders in a single day.
The flexibility of OptimoRoute made it easy to quickly add new independent contractors to the delivery fleet. The manager added 40 extra drivers temporarily, tripling the fleet from 20 to 60 drivers.
In the end, all of the deliveries were planned and carried out efficiently, without any issues. With more efficient planning, the company had more time and energy to focus on its V-day product range.
OptimoRoute's dynamic replanning feature also helped accommodate any last-minute requests and orders. As a result, the company kept its customers happy on the most important flower day of the year.
You don't need a delivery service partner like FedEx to handle an influx in demand if you use the right software.
Self Delivery Planning, Routing, and Tracking Made Easy With OptimoRoute
In-house delivery doesn't have to be complicated or expensive. You don't need to develop specific apps for your business.
With OptimoRoute, all you need to do is register your drivers, their service areas, your vehicles, and their capacities.
After that, you can simply import your order list, and let our route optimization software handle the rest.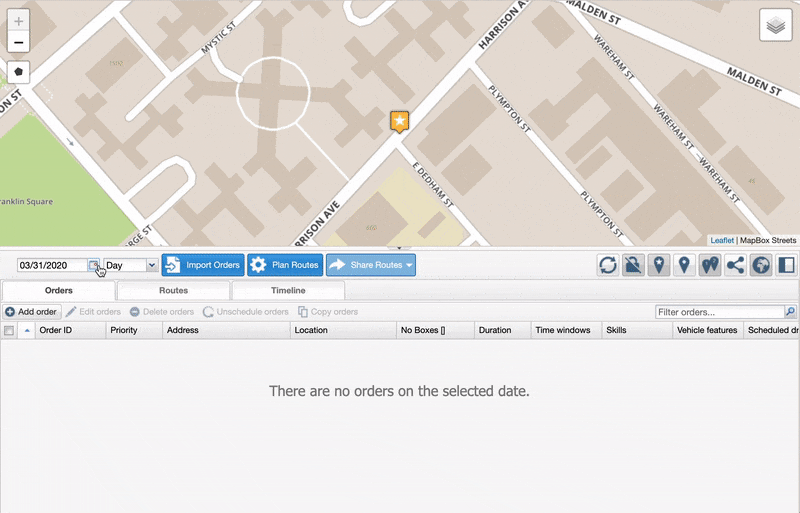 And it doesn't stop at vehicle capacities (total number of orders a truck/van can handle) and service areas.
OptimoRoute also accounts for restrictive delivery time windows, driver working hours, vehicle capabilities (like a ramp), travel durations, and more. It offers just as nuanced planning as when doing it manually, except in a small fraction of the time.
Once delivery drivers are in the field, if they use the mobile app, you get access to full-fledged fleet tracking features. The app will also allow you to offer Real Time Order Tracking with text or email notifications to your customers.
Conclusion
Because delivery is more important than ever, it's easy to settle for third-party services to get up and running quickly.
But don't fall for the temptation.
If you want to control the experience, reduce prices, and turn delivery into a competitive advantage, you need to transition to self delivery.
Also, don't underestimate the value of having all customer data in-house. It's how companies like Google or Uber remain market leaders in their industry.
Start your 30-day free trial today and use OptimoRoute to switch to self delivery and boost your profit margins.
Try OptimoRoute
™

for Free

No installation or credit card required