What the Heck Is a Delivery Exception? (And How to Avoid It)
You made a sale! You print the mailing label, send off the package, and your customer is happy.

…that is until your courier updates the delivery status to "delivery exception." Suddenly your customer is threatening to leave you a bad review, wants a refund, and you're stuck looking for answers.

Delivery exceptions are an unfortunate part of doing business, but the good news is they aren't completely outside of your control. Here's everything you need to understand, handle, and minimize delivery exceptions as a business owner. Plus, learn how to avoid them altogether using OptimoRoute.

What Is a Delivery Exception?
"Delivery exception" is logistics speak for "something went wrong." And that "something" could be any number of things. These are some common causes of delivery exceptions:
Severe weather conditions held up transportation.
The recipient wasn't home to sign for their package on the delivery date, or there wasn't a safe place to leave the package outside. (This may also be noted as a failed delivery attempt.)
Missing documentation caused customs delays.
A national holiday slowed down delivery.
There was an error in the delivery address.
The shipping address was unreadable.
You didn't pay the correct amount for your shipping label (typically, this only happens if you print labels at home).
Your package was lost.
A delivery exception may be issued anytime a package is delayed or undeliverable, but it doesn't always indicate that your package will arrive late. In certain instances, a package does still arrive at its final destination on time, even after a delivery exception occurs.
The Impact of Delivery Exceptions
Delivery exceptions are bad news for everyone—businesses, customers, and even shipping carriers who are constantly under scrutiny for mishandling shipments.

But delivery exceptions are particularly frustrating for small business owners who operate with low profit margins to begin with and frequently wind up eating the cost when a package is delayed, lost, or even stolen.

We spoke with Laura Moss, co-founder of Adventure Cats, to understand the impact delivery exceptions have on small businesses. Adventure Cats is a feline-centric lifestyle brand and ecommerce store that's no stranger to delivery exceptions. "We definitely get customers who get really upset about it," says Moss.

Like many ecommerce businesses, Adventure Cats faced an unprecedented number of delivery issues in 2020 due to the effects of COVID and changes to the United States Postal Service.
Delivery exceptions put customer relationships at risk
When online shoppers buy your product, they're doing business with you—not FedEx or the courier you'll eventually use to ship their item. So, even if DHL loses your package, you're still responsible as far as your customer is concerned.

Laura Moss explains that the way businesses handle customer service interactions surrounding a delivery exception "effects the overall feel of your brand." Despite delivery exceptions being outside of Adventure Cats' control, Moss says, "when there is a longer delay, we always refund the shipping." Her reasoning for this is simple, "That's something I would appreciate [as a customer]."

And she's not alone. Research conducted by Convey found that:
Fifty-seven percent of consumers are impressed if a store responds to late shipments by offering a refund or expediting a replacement.
Ninety-five percent of consumers expect retailers to proactively respond when delivery exceptions occur.
Ninety percent of consumers expect retailers to take action or offer compensation when a package is late.
To preserve customer relationships, businesses have little choice but to assume responsibility for issues that happened during shipping. "We want to be a company you can reach out to and know that you'll be taken care of, " Moss says. "If a customer already paid for the product and it goes missing, I think that you have to refund it or ship it back out. It's just wrong not to."

When USPS lost an entire carload of Adventure Cats' customer orders, Moss replaced every single one—even though her company didn't get a refund from their courier. "I've reported stuff missing [to USPS]," said Moss. " You can make a formal complaint, and they'll say they'll look for it. And then months later, they'll be like, we were unable to find it."
Delivery exceptions hurt your bottom line
In addition to being frustrating, delivery exceptions are expensive. For small businesses, delayed shipments can reduce profit margins by as much as 40% if a refund is issued for shipping charges.

Moss explained that Adventure Cats' gross profit margin on a $30 cat harness is roughly $12.50 (depending on the exact product), and they charge $5 for shipping. When they refund that shipping cost, their profit margin drops to just $7.50 (before factoring in the cost of running their website, packing supplies, and other expenses).
The Simplest Way to Avoid Delivery Exceptions
So, how do you avoid delivery and status exceptions? The easiest way is to take out the middleman. Use your own team, and you won't have to wonder where your packages are. Of course, this means the recipient's address needs to be within driving distance of your warehouse or store—but thanks to the rise of the shop local movement, retailers in many industries have seen increased local demand.
Use OptimoRoute to deliver quickly and efficiently
Not a logistics pro? Not to worry. OptimoRoute is delivery route optimization software designed to help you get delivery up and running in no time. (Seriously… Medvedgrad Brewery started delivering their craft beer to locals the same day they started using OptimoRoute.)

Small businesses and large retailers alike use OptimoRoute to deliver packages to nearby customers because it streamlines planning, routing, and scheduling. OptimoRoute automatically calculates the most efficient routes in a matter of seconds, whether you're planning a dozen deliveries for tomorrow or thousands of orders over the next five weeks. All you have to do is upload your orders, set delivery windows (if needed), and click "Plan Routes."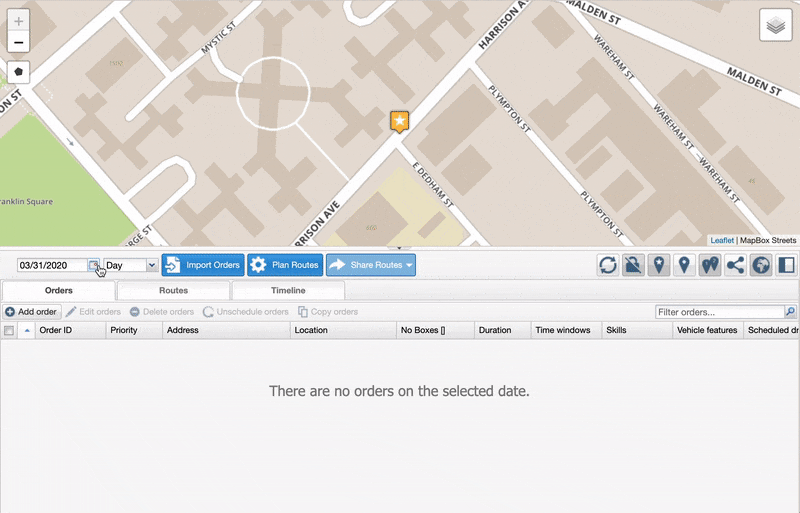 Choose to optimize routes for the lowest cost per contract driver (or highest efficiency if you're delivering yourself), evenly distributed deliveries, or a blend of the two. Live tracking lets you monitor operations no matter where your team is in the field, and if a delivery does need to be rescheduled (in a case where a customer isn't home), you can simply copy and paste that delivery into the next day's schedule.

According to research conducted by Digital Commerce 360, "93% of consumers want to stay informed throughout the delivery process—from in-transit status to final arrival." OptimoRoute makes it easy to give your customers what they want with real-time customer notifications. Set customized messaging to automatically send with a live tracking link when a delivery is on its way.


As Emile Prigge, product engineer for Oco Meals, told us, real-time customer notifications are a promise. "We promise to be here at this time. And then they [the customers] can always check in on that promise."

Real-time customer notifications are the opposite of delivery exceptions. Where delivery exceptions create an anxiety-ridden void and leave you searching for often unfindable answers, real-time customer notifications provide complete transparency. OptimoRoute notifications say more than "your package is en route"; they say, "your package is right there… and you can watch it move across a map." You don't have to guess.
Tips to Avoid Delivery Exceptions When Using a Courier
Unfortunately, self-delivery isn't always an option. But there are a few things you can do to minimize your risk of facing a delivery exception.
Follow your courier's packing and labeling guidelines—closely. USPS, for example, advises you to tape boxes closed with two-inch wide tape and avoid using string or ribbon because it can get stuck on their distribution equipment.
If you're using a shipping method where the price is based on weight and/or size, be exact. Don't estimate. Getting it wrong could cause a delivery exception or get your package returned. If you don't want to drive to the post office every time you need to ship something, get a scale, so you can weigh each of your packages precisely.
Use weather-resistant labels or cover paper labels with tape/plastic to avoid label damage. Packages are exposed to the elements while in transit. Make sure your label will be readable and won't fall apart if it gets rained on.
Verify that your delivery address is 100% correct. Even small errors can cause major issues.
Provide your customers with the tracking number for their package. That way, they can be home to accept and/or sign for their item (if needed).
Use a multi-courier shipping software to simplify label printing. Software such as Shippo makes it easier to print the right labels for each courier you use, compare pricing, and print customs forms for international orders.
If you're going to offer international shipping, make sure you're prepared and charge accordingly. Get a firm understanding of international shipping regulations, so you don't under- or overcharge your clients. For example, Adventure Cats doesn't charge sales tax on international orders, but they do let customers know that they may have to pay a fee when their package is processed through customs.
Note that these strategies will minimize your risk but not completely eliminate it. Some causes of delivery exceptions, such as a natural disaster or inclement weather, are totally out of your hands.
What to Do If You're Faced With a Delivery Exception
Finally, when all else fails, here's how to face an exception notice head-on.
Notify your customer. Note that, sometimes, your customer may find out about the delivery exception before you do. In this case, it's important to respond quickly and with empathy—even if your customer is less than kind.
Pro Tip: Include a section in your auto-reply email that addresses delivery exceptions. As a small business, you may not be able to reply to every customer email immediately, and this gives your customer useful information right away. Here's an example from the Adventure Cats automated customer reply email:
Contact your shipper to determine what exactly is going on. You need to know if the package is simply going to be late or if it's lost and may never arrive. Make sure you have your tracking information handy.
Here's how to speak to a person at USPS, UPS, and FedEx:
USPS: Dial 1 (800) 275-8777 and press 0 to be connected to a customer service representative.
UPS: Dial 1 (800) 742-5877 and say "track a package" and then press 0.
FedEx: Dial 1-800-463-3339 and say "status of a package I'm sending" or "delivery exception," then give your tracking or door tag number.
Follow up with your customer. Once you've spoken to your courier and have a better understanding of what's going on with your delivery, you'll need to follow up with your customer. Let your client know if you will issue a refund or send a new shipment. Empathy will go a long way toward preserving your customer relationship at this stage. Sixty-three percent of consumers say that making a positive emotional connection with a customer service representative makes them more likely to buy from that company again.
Seek a refund from your courier. If your package was insured, you'll be more likely to get a refund from the courier.
Keep in mind that the way you handle delivery exceptions can have a huge impact on whether or not that customer buys from you again. In a survey conducted by Zendesk, 87% of consumers said a good customer service interaction had the power to change their buying behavior.
We're Here to Support You, Too
At OptimoRoute, we value our clients as much as you value yours. Our customer support team is here to answer your questions about setting up local delivery or getting started with route optimization software. Give us a call or send us a message, and we'll walk you through the features, help you set up API integration, or assist in another way.

We also offer a 30-day free trial, so you can deliver to customers using OptimoRoute for four full weeks before ever entering your credit card information. Get started today.

Try OptimoRoute
™

for Free

No installation or credit card required