Planned Maintenance Explained: Definition, Examples, and Benefits
Doing the bare minimum or no planned maintenance might seem like a move to reduce running costs. But that's only in the short term.
Planned maintenance helps you avoid preventable issues that can lead to more significant maintenance costs down the line. Not doing a single oil change for years can lead to complete engine failure. Fixing that after the fact can cost thousands of dollars.
You may even have to replace the entire vehicle prematurely. That's a costly pill to swallow compared to a few oil changes.
And that's before we factor in lost business due to the breakdown.
Scheduled maintenance is designed to help you avoid these types of situations in all areas of your business.
Read on to learn more about planned maintenance, why companies swear by it, real examples of companies' planned maintenance programs, and more.
To navigate to the section which interests you the most, click below:
What Is Planned Maintenance?
Planned maintenance (also called preventive maintenance) is a type of maintenance management that involves regularly scheduling maintenance at certain time intervals to proactively prevent problems. Planned maintenance is all about using regular servicing and care to avoid unnecessary wear and tear and unforeseen equipment failures.
Think of it as the equivalent of eating healthy and working out for your body. Can things still go wrong? It's possible. But it's a lot less likely when your equipment gets proper care.
How is it different from reactive and predictive maintenance?
Reactive maintenance basically means you keep running without any service until problems arise.
"Use it until it breaks" is rarely a good maintenance strategy when running a business. Equipment or vehicle breakdowns can cause significant headaches for companies of any size.
Implementing a planning process for preventative maintenance is all about avoiding preventable breakdowns and issues with regularly scheduled service. It's the polar opposite of a reactive approach.
Predictive maintenance, on the other hand, focuses on using real-time data to predict what equipment (and which parts) need maintenance.
It's about optimizing and specializing the maintenance to each item based on its usage pattern.
Planned maintenance treats each vehicle or piece of equipment the same.
Why Is Planned Maintenance Important?
Planned maintenance helps companies avoid unnecessary costs and complete shutdowns of service.
It's not only important, for any company that delivers an ongoing service, it's essential.
Unplanned maintenance is a lot more expensive
Running a machine until it has an issue is a horrible idea. It has a lot of costly consequences:
Rush ordering replacement parts
Damaging other parts that would have been fine with regular maintenance
Costs associated with last-minute repairs
And they add up.
According to the Marshall Institute, unplanned maintenance is up to 5 times more expensive.
Does that sound like a smart business move to you?
Unexpected downtime is a business-breaker
Not to mention, if a machine or vehicle completely breaks, the equipment downtime is going to cost your business dearly.
According to Aberdeen, unscheduled downtime costs $260,000 per hour, on average. Large factories and data centers drive the average up, but even SMBs can get seriously hit.
Even if you have a small trucking company, a single broken-down truck will cost you thousands of dollars and put customer relationships at risk.
Can you afford to lose your most loyal customers?
Eradicating these two cost centers are the biggest benefits of planned maintenance. Your bottom line will become a lot healthier.
Let's see how it can pay off in real life.
How Real Companies Are Benefiting From Planned Maintenance
Let's take a look at some planned maintenance programs in action and how they've helped the companies who implement them.
Simmons Feed Industries cut downtime in half with better planned maintenance
Simmons Feed Industries is a family-owned animal nutrition company with multiple plants in the US. The company had issues with downtime and failing equipment.
So it decided to improve the lubrication program for its food processing plants. The result? A whopping 50% reduction in unplanned downtime.
They made the following changes:
Trained on-site reliability engineers to implement a better testing program.
Invested in new equipment with sample ports for technicians to easily make more regular checks.
Added measurement equipment to existing machines.
By improving this single aspect of their maintenance operations, they saved $1,000,000 or more per year in emergency repair costs and lost revenue.
A factory that keeps running is a factory that turns a profit. That's why maintenance management is essential.
Planned maintenance keeps WTA's 90+ buses moving
Whatcom Transportation Authority is the public transportation provider for Whatcom County, Washington. To keep their 90+ buses moving at all times, they use a maintenance schedule that includes:
Full service checkups every 4,000 miles for paratransit buses and every 6,000 miles for full-size buses.
Transmission fluid and filter changes every 18,000 miles.
Added in-depth brake inspections as part of routine service.
Four factory-trained technicians maintain the wheelchair lifts for paratransit buses.
As a result of these maintenance activities, they improved the following maintenance key performance indicators (KPIs):
Eliminated tire, wheel, and wheel-end related road calls.
Reduced brake-related road calls and malfunctions.
Improved the general safety for passengers and reduced the risk of accidents.
Eliminated wheelchair lift and ramp-related road calls.
Their buses are on the road more of the time, and there are fewer incidents that can cause delays or temporarily strand passengers.
Gallagher Pools and Spas uses planned maintenance to keep client's pools safe and swimmable
Depending on the contract, Gallagher's maintenance team cleans and checks client pools (and related equipment) on a biweekly or weekly basis.
The team also plans more in-depth maintenance work (like replacing filters, flushing the pumps, etc.) based on optimal maintenance intervals.
But maintaining 275 different pools over a 4,000 square mile area involves a lot of logistical challenges.
It was impossible to do manually, and with a mix of unoptimized tools and spreadsheets, the owner-operator had to spend most of his time on planning and routing.
That's why he turned to OptimoRoute.
How to Optimize Complex Maintenance Plans Covering a Large Geographical Area
If you're servicing multiple locations over a wide area, maintenance planning and scheduling isn't as easy as just scheduling it out in Google Calendar.
You probably also have different pieces of equipment that requires a different set of skills and tools, which some teams or technicians may or may not have.
1. Use smart route planning and scheduling to match technicians with work orders
Most route optimization software will only let you plan efficient routes.
OptimoRoute also supports work order assignment that accounts for real-life variables such as technician skills, qualifications, vehicle capabilities (ramp, cranes, etc.), working hours, and more.
Once you've entered the specific vehicle and technician settings for your business, you can simply import your maintenance task list and let OptimoRoute handle the rest.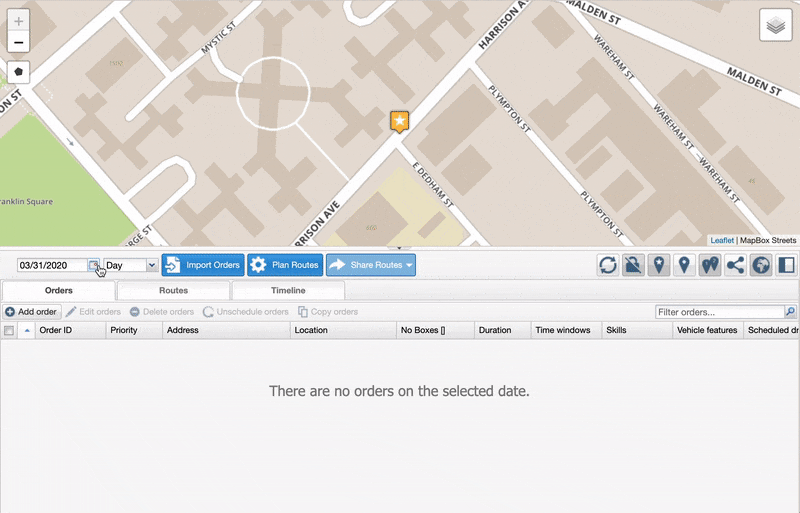 2. Adjust and optimize your plans as situations and priorities change
Mike Tyson famously said, "Everyone has a plan until they get punched in the face." Maintenance is an area of business where that rings true.
An imminent breakdown or urgent repair must be prioritized over your original maintenance items for the day.
OptimoRoute's dynamic replanning feature lets you add, edit, move, and remove items in real time. You don't need to plan new routes or schedules from scratch.
You can then send the new planned maintenance schedules and directions to your technicians instantly to the OptimoRoute mobile app (if you use it) or by email.
3. Reduce mileage traveled and improve wrench time with faster routes
Gallagher pools reduced mileage by 8,000 miles per month, and each technician's driving time by 6 hours per week, on average.
Not only did this increase the wrench time of every technician, but it also meant a better work-life balance during the busiest season of the year.
4. Increase number of scheduled maintenance jobs
When you streamline the efficiency of your routing you can handle an increased number of maintenance jobs.
If you're a field maintenance provider, that means you can handle more clients and increase your revenue without hiring more staff.
If you're doing internal maintenance, that means you can lower your risk of breakdowns and gain significant cost savings.
Conclusion
Relying entirely on unplanned reactive maintenance is a horrible business decision, regardless of industry.
If you rely on vehicles or heavy machinery to keep your business running, planned maintenance isn't a cost center, it's an investment opportunity with great potential for freeing up extra capital.
After all, every time you avoid a breakdown, that's extra revenue coming into your business.
OptimoRoute can help you implement an efficient scheduled maintenance program at scale, with complex workflows and multiple sites spread out over a large area.
Start your 30-day free OptimoRoute trial today to boost the efficiency of your maintenance program.
Try OptimoRoute
™

for Free

No installation or credit card required