How to Start & Optimize Your Grocery Delivery Business
Grocery store delivery is all about logistics. Whether you bring fresh produce from farm to table or dry goods from a warehouse to your customer's front door, your business relies heavily on planning, routing, and scheduling—three major components of logistics. So, if you want to delivery groceries successfully and efficiently, logistics is what you need to optimize.

We've helped grocery services across the globe do just that. We know how to reduce mileage and spend to increase profit margins, how to simplify routing to increase on-time delivery rates, and how to personalize your customer experience without hiring a huge customer support team.

Here's everything you need to know to optimize the last mile for your grocery delivery business:
How to Start a Grocery Delivery Business: What You Need to Know
Starting a grocery business is like starting any food delivery business: you need a sound business plan, the right equipment and employees, and processes in place to scale your business and maximize operational efficiency.
To start your own grocery delivery business, you'll need to:
Create a plan around your unique business idea. To compete with Amazon, Walmart, and other online grocery delivery businesses, you'll need to differentiate your business plan by offering unique products, services, or prices (think vegan grocery delivery in four hours or less).
Assemble tools, supplies, and hire your team. Be sure to include a POS system and route optimization software in your shopping list.
Test out your workflows for functionality. Set aside time to do a few test runs so you and your team can refine your working processes before you open your doors.
Start marketing ahead of your grand opening. Use social media to connect with ideal customers in your target market and build excitement.
Launch and scale your business. Ensure all of your processes are running at max efficiency, and it will be easier to grow your business.
Check out our guide on how to start a food delivery business for detailed information on how to succeed at each step. Plus you'll get tips on how to approximate start-up costs, hire your dream team, mitigate marketing expenses, and much more.
Once your grocery delivery business is up and running, it's all about optimization. The more you streamline your workflows and processes, the faster and easier you can expand to new territories, open additional stores, and take on more orders.
What Optimization Means for a Grocery Delivery Business
Optimization is the process of refining an operation or a series of tasks to meet a goal or a set of goals. For grocery and food delivery businesses, this means refining logistics to increase your bottom line. It's all of the steps you must take to get to higher revenue and profitability, whether you're a startup or an established business.

Optimization equates to:
Time saved -When planning, scheduling, and other processes are optimized, they should take less time to complete.
Routes shortened – Optimized routes are those that use the lowest mileage and/or are the least expensive, and ensure that perishable goods are delivered as fast as possible.
Adaptability – Optimization helps businesses overcome challenges, such as a driver getting delayed at a delivery or running into traffic.
A better customer experience – Shorter routes and less time planning equate to shorter turnaround times for your customer base and a better overall customer experience.
Scalability – When all of your business's processes are optimized, your bottom line increases, and you can reinvest to grow your company.
Optimization is the key to growing a business because it helps you identify areas for growth and reduce wasted spend, and it's especially important for small businesses or local businesses operating on tight margins. Small tweaks can yield massive results. For example, route optimization—sending delivery drivers on the shortest and least expensive routes—not only ensures you're spending the least amount possible on gas but also cuts down on vehicle maintenance and increases your delivery capacity.

When Hardie's Fresh Foods, a major distributor of fresh food in Texas, optimized their last mile delivery routing, planning, and scheduling, they cut mileage down across their fleet by 20% and reduced driver costs by 12%. They used OptimoRoute to increase their delivery capacity by 14% and raise their overall on-time delivery rate from 89% to 94%.
Why You Should Always Be Optimizing
You must always be optimizing because delivery businesses are full of variables.

Order volumes and product demands change. Just 12 months ago, in-store grocery shopping still reigned supreme. Now, more than 50% of consumers say they have purchased groceries online in the last year, whether from a desktop or mobile app. The exponential growth in demand for delivery of groceries was catapulted by COVID-19, but consumers like Katrina Caringi say they will continue using grocery delivery even after social distancing restrictions have been lifted, citing convenience as a major incentive.

Planning and scheduling needs shift. Employees take vacations, demand fluctuates, and vehicles need downtime for servicing and maintenance. So, you can't use the same schedule every week or even every month.

Customer expectations surrounding the delivery experience change, too. Thanks to advances in technology, more than half of consumers now expect to be able to track delivery orders in real-time. And courier services like Instacart and Shipt have obliterated next-day delivery by offering same-day delivery or even turnaround times "as little as 1 hour."

Add all of these variables to changing traffic patterns, weather-related challenges, and the unpredictability of daily life, and it becomes very clear that optimization isn't something you can "set and forget." It's something that business owners have to incorporate into their business model from day one and work on over time to ensure profitability.
How to Optimize Grocery Delivery Services Using OptimoRoute
Fortunately, there is one tool you can use to easily optimize your grocery delivery business. OptimoRoute is a robust route optimization software that calculates the most efficient last mile delivery routes based on the needs of your unique company. You can use OptimoRoute to improve driver scheduling, offer customers real-time visibility, and scale your field service operations.

Here's how:
Plan and schedule
To plan delivery routes and schedule drivers through OptimoRoute, you simply take the Excel spreadsheet or other document that lists your upcoming orders along with the delivery addresses and upload it. You can also include order IDs, delivery windows, and any special requirements, such as a refrigerated truck.

OptimoRoute factors in several planning objectives, including scheduling the number of drivers needed for each shift, maximizing delivery capacity, and respecting overtime constraints. You can set custom workload balancing based on whether you want drivers to travel the shortest distance or you want grocery orders to be evenly distributed among your team.

All of this functionality combines to make planning and scheduling easier, faster, and more effective. Dispatchers, or route planners, are able to clearly see when more drivers are needed to cover demand—and they'll know early because OptimoRoute lets you plan up to five weeks in advance.
Food delivery businesses all over the world have increased their planning efficiency significantly using OptimoRoute. Hardie's Fresh Foods is now able to plan routes for more than 8,000 weekly deliveries 8x faster. Oco Meals, a Vancouver-based meal delivery service, can plan 3x as many deliveries 10x faster.
Route drivers
OptimoRoute enables you to pair drivers with orders, set delivery times, and route courses in a fraction of the time compared to manual planning and routing. Once your parameters are set, OptimoRoute automatically factors in driver constraints, order delivery slots, delivery territory boundaries, and the capacity of each individual vehicle. These settings can be saved for future orders, too, so routing and scheduling become even faster.
You can use the "Return to Depot" feature to easily route multiple loads for drivers during a single shift. Finally, you can schedule driver breaks in such a way that your team gets the rest they need and breaks have the least impact on deliveries. It's a win-win for your employees and your customers.
Adapt to obstacles
If you want to succeed amidst the chaos and challenges of the real world, you need to be able to adapt quickly. Adaptability is the key to overcoming obstacles, whether you're facing rush hour traffic on a Friday or a global pandemic.

We can see the value in adaptability by looking at businesses like Medvedgrad Brewery and Local Roots NYC. Both businesses pivoted their logistics at lightning speed when faced with coronavirus-related shutdowns, and it spelled the survival of their businesses during a time when companies were closing down left and right.

Thankfully, not all of the challenges you'll face will require a complete overhaul. Some will simply be a matter of rerouting a driver to avoid road closures or rescheduling a delivery because a customer inputs the wrong address.

Regardless of the magnitude of the obstacles along your last mile delivery journey, OptimoRoute will help you find a solution by offering real-time visibility. Live tracking is the key to effectively troubleshooting hurdles when you're managing drivers who are spread out over a large geographical area.
Need to fit an extra stop into one of your driver's routes? OptimoRoute will show you who is running early, on-time, and late, so you can replan routes the best way possible. If one of your drivers gets a flat tire, you can see who is closest to their location and send that second driver to pick up any temperature-sensitive items.

The OptimoRoute Driver App also enables drivers to troubleshoot roadblocks without having to call in to dispatch for help. Drivers are able to access customer phone numbers and notes, so they can call a customer if they're having trouble finding their house or getting through a gate.
Automate customer notifications
According to Supply and Demand Chain Executive, 88% of consumers want real-time tracking when they purchase an order for delivery. You can give your customers what they want and optimize your customer experience with OptimoRoute customer notifications.
Customize your delivery messages and set them to automatically send at key stages: when a delivery is on its way, when it's getting close, and then when it's delivered. Your customers will receive an email or SMS notification with a link to track their orders in real-time.
Analyze data
To optimize your delivery routes long-term, you need to analyze your data over time. OptimoRoute automatically tracks and stores your team's performance and provides you with concrete information. You can then use these analytics to adjust capacity plans and routing or scale your business.

For example, if you want to know how many drivers you need working to accommodate your holiday rush, you'll need to know how many deliveries each driver can fulfill during a shift. OptimoRoute shows you an average for your entire team and breaks down those numbers for each individual driver. You get deep analytics you can use to make informed decisions and scale your business to meet demand, expand your territory, or even open a new location.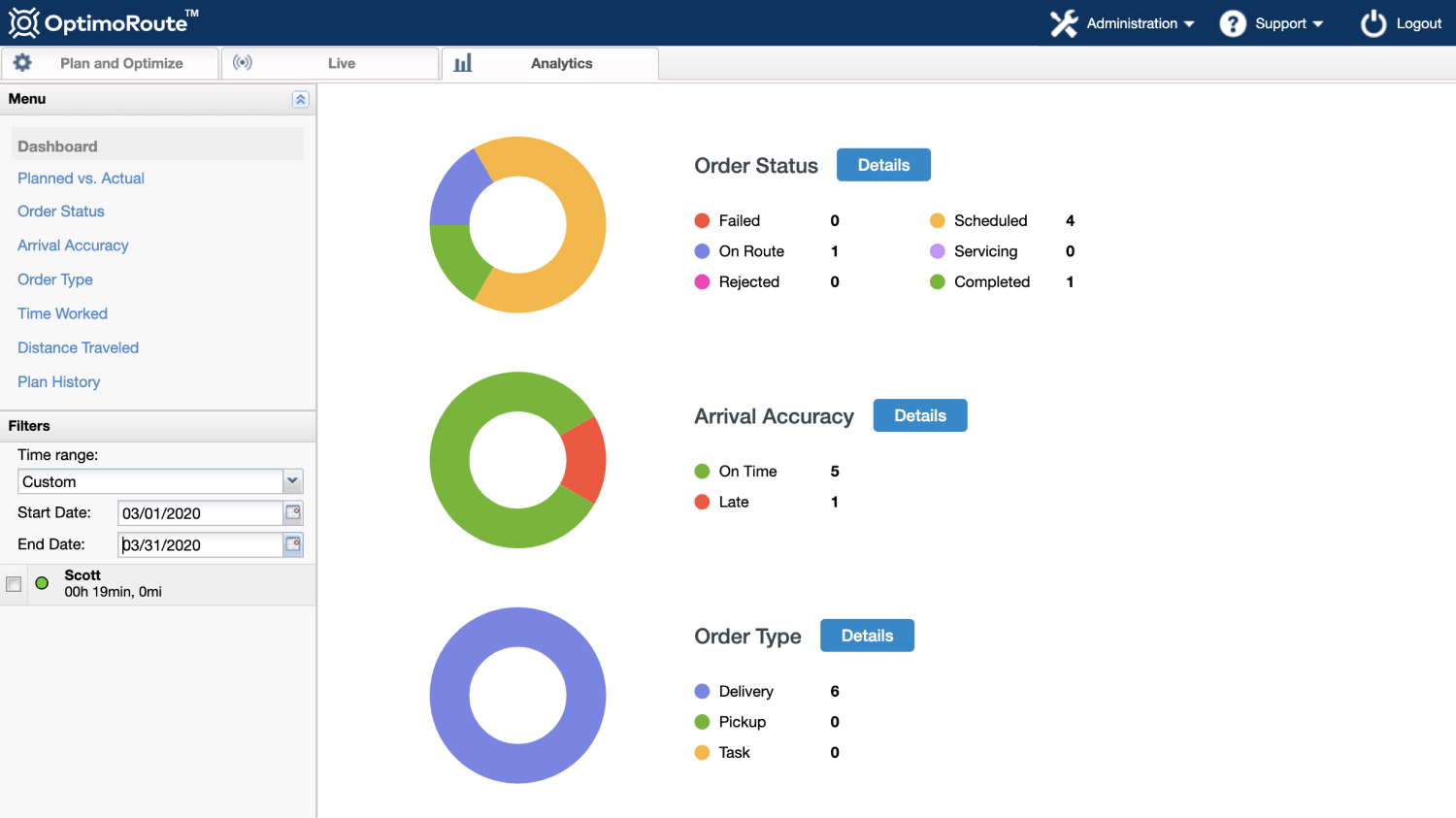 Tomato Mountain Farm used OptimoRoute analytics to reinvent their delivery system, and it helped them scale their subscriber list from 300 to 1,200 in just one month. They were able to do this while maintaining profitability and reinvesting to expand their delivery fleet.
Optimized Pricing Based on Your Fleet
At OptimoRoute, we believe your business expenses should be optimized, too. That's why we offer a 30-day free trial, so you can try out our unique features and see what increased efficiency means for your grocery delivery business—at no cost. When your trial period is over, our flexible pricing structure enables you to change your plan based on your fleet. You can easily scale your plan up during the Thanksgiving rush and scale back down whenever you need to based on the number of drivers you have working.
Try OptimoRoute
™

for Free

No installation or credit card required