Truck Route Planning: How to Optimize Your Driver's Routes in 2020
The trucking business is more expensive than ever.
2019 saw the average cost per mile for businesses like yours increase to $1.81.
But at the same time, freight prices are staying the same or dropping. This adds cost pressure which is forcing smaller truckers to either shut down their operations or merge with other companies.
With truck route planning, you can maximize the efficiency of your trucking fleet to maintain viable profit margins.
In this article, we'll cover what makes truck route planning different, introduce software solutions, and show you how to find the best route, every time.
To jump to a specific topic, click the links below:
What Makes Truck Route Planning Different From Consumer Route Planning?
Planning for a road trip with your friends and planning a long-haul trucking trip are two completely different things.
The goal might be the same (mapping a multi-stop route), but the scale, priorities, and requirements are very different. One has to consider the size of vehicle, surrounding landscape, width of roads and height of overpasses and bridges just to name a few.
Distance traveled and number of stops
Truck routes can go cross country, sometimes cross-continent, during a single trip.
This leads to a high number of planned stops, including overnight ones and mandatory driving breaks, which is way beyond the planning capacity of a mapping app like Waze (1 stop) or Google Maps (10 stops).
Time tracking
Truckers need to track their hours to get paid, manage their workloads, and comply with official regulations for long-haul trucking.
Vehicle type
Truckers are driving 18-wheel trucks, not sedans. You don't want to get stuck in local traffic jams, or worse, be unable to pass low bridges or overpasses because of bad directions.
Truck routes are truck routes for a reason, they are designated for trucks, considering lane width and other essential factors.
A consumer-facing route planner won't highlight these for you.
Schedules and delivery time windows
It's not enough to just set out a certain route and hope the ETAs line up. Delivery trucks have schedules and delivery time windows to meet.
Don't Try to Use Google Maps for Commercial Truck Routing
Google Maps is designed for private consumers to find directions, and it shows in every part of the application.
You have to manually add stops, and there's a maximum cap set at just 10.
Not to mention, it doesn't support trucking routes.
If you don't want to get stuck in suburbia on a single-lane road that's not even close to wide-enough for your truck, don't risk it.
Google's other directions app, Waze, only offers a single stop, making it impossible to plan multi-stop long-haul routes altogether.
If you want to learn more about why this is such a bad idea, read our comparison of Google Maps vs. Route Optimization.
How Do I Plan a Truck Route?
In this section, we'll cover how to plan a trucking route the right way.
Use the right software
Don't resort to a map application on your smartphone or iPad.
Use a commercial-grade route planner or route optimization software to save considerable time and effort.
OptimoRoute helped Telgian, a nationwide fire security provider, reduce their planning efforts by 82% for their technicians' week-long routes while increasing their order capacity by 70%.
Our software will help your truckers stay on roads that are suitable for your vehicle, plan and stick to schedules with realistic ETAs factoring in stops, and more, automatically.
Plan mandatory breaks and overnight stops
As a long-haul trucker, you have to take mandated driving breaks throughout your trip, so you should plan ahead to ensure comfort during your downtime.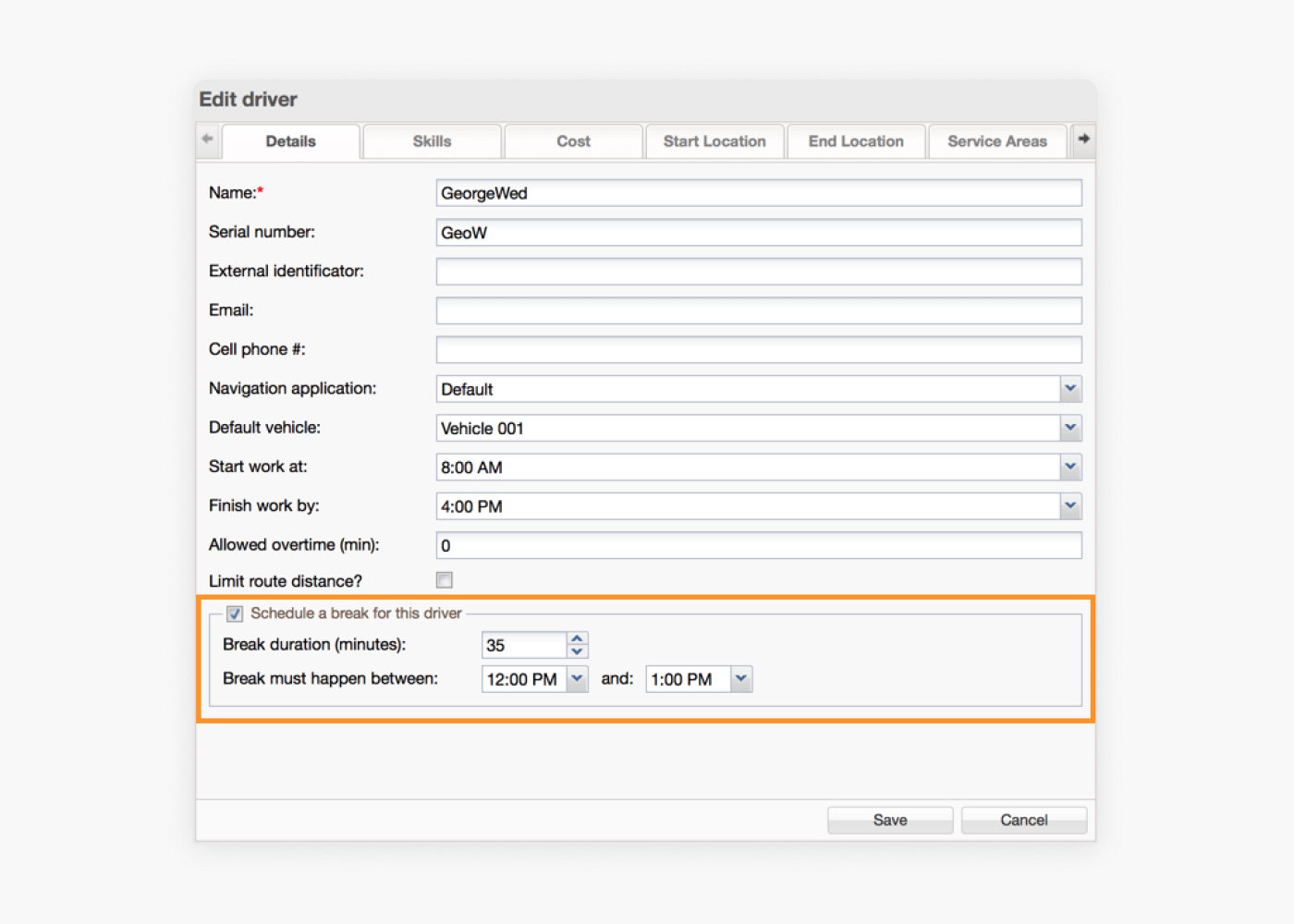 OptimoRoute will automatically schedule these stops throughout your long-haul route.
Optimize fuel stops and breaks for the lowest priced fuel
Regional gas prices vary from $2.28 to $3.33 per gallon throughout the United States. That means you could save over 30% on fuel costs by just refueling in the right places. For more info on how to boost efficiency, check out our guide on increasing payload capacity.
OptimoRoute's Features for Truck Route Planning
OptimoRoute is dedicated to bringing the best possible route planning experience to commercial truckers.
We've developed the following features to help make long-haul planning as smooth as possible.
Route optimization for decreased mileage
Instead of just finding the quickest route for a family sedan, OptimoRoute will automatically plan the best routes using the least amount of miles traveled.
OptimoRoute helped Hardie's Fresh Foods reduce its mileage by 20%, increase delivery capacity by 14% while reducing driver costs by 12%.
The fleet of 160 trucks is now able to make an average of 330 extra deliveries per day, thanks to better mapping and routing.
Smart multi-day long-haul routes
Plan ahead for long-haul routes including overnight stops, mandatory driving breaks, and more, with the click of a button.
When your truck drivers wake up, they can keep driving without having to enter a new address or plan their route for the day.
Live tracking and ETA
Real-time GPS tracking helps keep dispatchers and customers updated with live ETAs, so they know when to expect your deliveries.
Mobile app for drivers
OptimoRoute's mobile app for drivers helps them stay on their route without manually inputting destinations, keep track of their schedule, and remain in touch with fleet dispatch, all in one place.
It's available for iPhone and Android in the app store, all you have to do is search for OptimoRoute.
Vehicle capabilities
Automatically plan routes and loads based on specific vehicle capabilities like refrigeration, loading ramp, and more.
Combine pickup and delivery
Reverse logistics is an essential part of the supply chain, and OptimoRoute can help you coordinate pickups of used containers, or returned orders, with an existing delivery route.
Ready For More Efficient Trucking Routes?
Ready to use next-level features to plan the most efficient routes for your commercial vehicles with minimal effort?
Our software allows you to adjust schedules for loading and unloading times, delivery and pickup time windows, and more.
Automatic planning for long-haul trucking routes, with live ETAs, and mobile apps for all your truck drivers will transform your operation.
To see first-hand how OptimoRoute will change how you plan your trucking routes, start your 30-day trial today.
Try OptimoRoute
™

for Free

No installation or credit card required