Real Estate Route Planner: Visit More Clients in Less Time With the Right Tech Stack
Scheduling requires serious mental gymnastics for real estate professionals. Balancing strict appointment windows with client requests and changes that inevitably pop up at the last minute are headaches—whether you work solo or within an agency.
If you've experienced scheduling fatigue or gotten frustrated by tedious route planning processes, it might be time to upgrade your tech stack. In comparison field service professionals have reduced their planning time by as much as 90% while tripling their capacity to plan—just by ditching manual planning and embracing routing software. Imagine how much time you can get back if you pair a real estate route planner with optimization software for client management, social media post scheduling, and more.
Read on to learn:
What Is a Real Estate Route Planner?
A real estate route planner is software that maps and optimizes routes to multiple locations. This could be a route consisting of multiple houses you plan to show a client or multiple properties you need to appraise or inspect.
Sometimes referred to as route optimization software, real estate route planners find the most efficient routes for dozens or hundreds of daily property visits faster than what is possible through manual calculations. OptimoRoute, for instance, can route thousands of visits up to five weeks in advance in a matter of seconds. In conjunction with other property management software
Real estate route planners are useful for real estate agents, appraisers, inspectors, and any field service professional visiting multiple properties in a single day. These professionals often use other property management software, but nothing geared specifically towards driving down fuel costs and increasing route efficiency. Whether you're an independent contractor working solo or a member of a larger firm, you can optimize routing and improve efficiency with a real estate route planner.
Mapping Apps Alone Don't Cut It for Real Estate Professionals
Mapping apps weren't designed for field service professionals like realtors, appraisers, or building inspectors, who make dozens of stops in a single day—and who need to optimize their routes within very specific constraints.
GPS apps and mapping software are consumer-facing. They're meant to get you from your house to the office or from your hotel to your next vacation destination. They weren't designed for field service professionals visiting dozens or hundreds of locations.
Google Maps, for instance, lets you plan only 10 stops in a single route. And it's up to you to choose the order of those stops.
Real estate professionals need more—they need to optimize routes for efficiency while factoring in the unique constraints of their business.
Real estate agents need to factor in specific time windows for open houses as well as the time window their client is available to look at properties.
Appraisers need to factor in the times property owners are home to let them in, as well as daylight hours, so they can get clear exterior photos.
Inspectors need to quickly replan routes if a particular inspection takes longer than expected.
Realty businesses with multiple representatives in the field need to assign agents, inspectors, or appraisers with the appropriate skill sets to each unique job before they can even begin routing.
Mapping apps can't help with any of these objectives. To achieve true operational efficiency in your real estate business, you'll need to pair your mapping app with a tool designed specifically to meet your needs—route optimization software.
Visit More Clients in Less Time With OptimoRoute
OptimoRoute is a real estate route planner that calculates the most efficient routes for thousands of stops, up to five weeks in advance, in a matter of seconds. Whether you need to map appraisals, open houses, or inspections, here's how to quickly find the most efficient routes using OptimoRoute:
Input appointments. Upload a list of the properties you need to visit via an Excel spreadsheet or other document. Property addresses can be easily exported from the Multiple Listing Service (MLS) and then uploaded directly into OptimoRoute.
Select your planning time frame. Click the drop-down menu, and then choose to plan routes for tomorrow, the next five weeks, or any time frame in between. And you can always replan routes if something changes.
Set appointment constraints. Select specific days and times for already-scheduled appointments or keep multiple days open for appointments that are flexible. Larger companies with multiple agents, inspectors, or appraisers can specify skill sets required for individual appointments so that commercial inspectors, for instance, are assigned to commercial real estate professionals with the appropriate certifications.
Set workforce constraints. Assign start and stop times, vacation days, and overtime constraints (if applicable). Territory constraints can be used to only assign appointments in certain areas to individual agents, appraisers, or inspectors.
Balance workloads. For companies with multiple agents, appraisers, or inspectors, workload balancing ensures routes are optimized the way that is best for your company. You can balance workloads for even distribution of assignments among your team or optimize for lowest cost/shortest distance overall.
Set route start and end points. Set unique starting and ending locations for each real estate agent, appraiser, or inspector. Whether your team starts their day in the office or departs from their homes, you can easily route appointments from the right place.
Plan routes. Now for the fun part! Click "Plan routes" and, in a matter of seconds, get the most efficient routing for your whole team.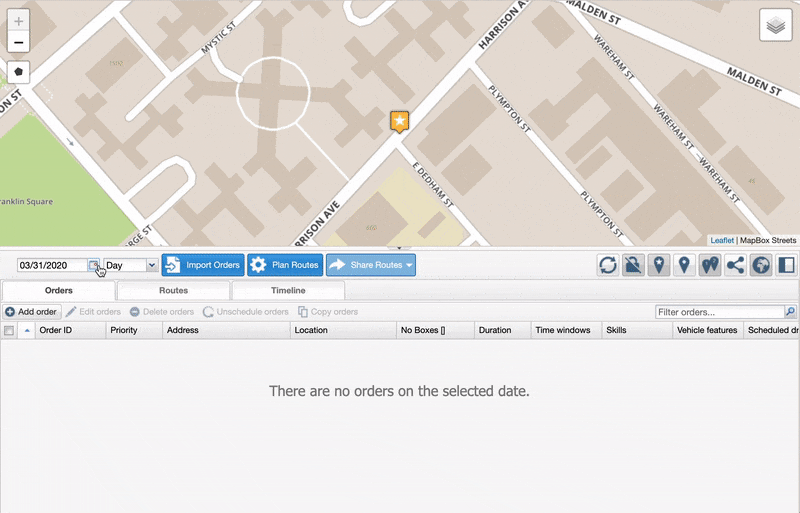 Replan as needed. Use dynamic replanning to easily modify routes when things change. Whether a client needs to reschedule or an open house gets moved, you can quickly make changes and click "Plan routes" again to get fully optimized routes that accommodate your required changes.
Get turn-by-turn navigation en route. When you and your team are ready to depart, simply send routes to the OptimoRoute Driver App (which can be downloaded from the app store at no cost). The mobile app enables each member of your team to access their route and get turn-by-turn navigation in the default mapping app on their phone, whether it's Google Maps, Waze, MapQuest, or something else.
Automatically let clients know when you're on the way. With OptimoRoute real-time notifications, you can set updates to go out to clients when you're on the way. Let property owners know when you're departing your previous appointment and give them live tracking so they know precisely when you'll arrive.
Use advanced analytics to improve your processes. OptimoRoute comes equipped with a powerful analytics dashboard that tracks your efficiency, on-time arrival rate, and much more. You can view individual days or assess your productivity as a whole to spot inefficiencies and make informed decisions to improve your planning and routing processes going forward.
Small and large field service teams all over the globe have cut down on route planning time and increased their capacity using OptimoRoute. Clarke Customer Care, a home-appliance repair and maintenance company in New England, increased their operational efficiency by as much as 15% using OptimoRoute, which meant that each of their technicians could visit one more client in a given shift.
Try OptimoRoute for yourself risk-free with our 30-day free trial—no credit card required.
5 More Tech Stack Essentials for Busy Real Estate Professionals
Route optimization software is a huge time-saver and efficiency-booster. But it isn't the only time-saving tool for busy real estate professionals. Consider adding these additional apps to your tech stack to help with customer management, open-house scheduling, and more.
Client relationship management (CRM) software: Use a CRM and you won't have to comb through your phone to find text messages and call histories or search your email for your most recent communications. Real estate CRM tools such as Pipedrive and Zendesk are designed to help you track leads and manage client relationships. Set follow-up reminders and get a bird's-eye view of every interaction you've had with clients from one place.
eSignature software: While some documents still require paper, ink, and a notary, many documents can be handled electronically. Electronic signature apps like DocuSign or Digisign speed up the paperwork process immensely and help you keep track of the mountain of paperwork that is required for your job. eSignature software is a must-have for real estate agents, appraisers, and inspectors.
Fuel price-comparison app: Fuel is likely one of your largest unavoidable expenses as a field service professional. But that doesn't mean you can't lower that expense. Make sure you have a real-time price-comparison app like GasBuddy on your phone so you can always find the most affordable gas on your route.
Social media management software: Businesses need a social media presence to thrive in modern society. But managing a Facebook, Twitter, LinkedIn, and Instagram account takes a lot of time—not to mention that every time you open them, you run the risk of losing an extra half hour to a vortex of cute animal videos (we've been there). Use Buffer to schedule posts on all of your various pages in advance from one dashboard and then see which posts perform best, so you can refine your engagement strategy going forward.
Floor-plan sketching software: Real estate professionals rely heavily on accurate floor plans. Whether you're listing homes for sale, appraising properties, or performing inspections, you're going to need floor plans. Fortunately, the days of painstakingly sketching your measurements with a pencil on grid paper and then manually calculating square footage are gone. RapidSketch simplifies the process of creating a sketch addendum on Uniform Residential Appraisal Report (URAR) forms for appraisers. And Magicplan enables real estate agents to create 3D home tours using an iPhone, an iPad, or a similar device (zero drawing ability required).
These are just some of the software options designed for real estate professionals. There are many other apps available that are designed to not only save you time but, in some cases, also save your life. If you spend time alone on the road or in unfamiliar properties meeting strangers, it's a good idea to invest in a safety product like bSafe or Ripple Safety that will notify your emergency contacts if you don't check in at a certain time.
Boost Efficiency Even More by Integrating Your Tech Stack
Once you've found your ideal software, make sure you connect your apps to save even more time. You don't want to have to manually enter client information into each individual app or sync time windows multiple times. OptimoRoute easily connects with other software via API integration, and most other apps offer similar connectivity systems.
Have questions about connecting OptimoRoute to your existing tech stack? Give us a call, or click the "Help" icon in the bottom-right corner of your screen. A member of our support team will be happy to help you set up an integration.
Try OptimoRoute
™

for Free

No installation or credit card required