How to Reduce Packaging Costs and Make Deliveries More Efficient
Packaging is often an afterthought in business, but it can have a big impact on your bottom line.
The materials, size, and weight of your packaging determine how much you pay for shipping, warehousing, and fulfillment.
For many companies, inefficient packaging can mean wasting thousands (or even millions) of dollars every year.
By redesigning your packaging, picking the right materials, and reducing sizes, you can net significant cost savings on an annual basis.
For instance, Ikea saved $1.4 million annually just by redesigning the packaging for one sofa.
In this article, we'll give you an in-depth walkthrough of how to reduce packaging costs for your business.
Let's get started.
To navigate to the section which interests you the most, click below:
What Is Packaging, Really?
In logistics or shipping, packaging is materials or dunnage placed around a good to protect it while moving it from one place to another. For example, the cardboard boxes and packing peanuts used to ship a digital camera.
Because even domestic shipping involves a long and bumpy ride, your goods wouldn't arrive safely to their destination without solid packaging.
You use different forms of packaging throughout every stage of the supply chain, from manufacturing to last mile delivery.
Why Packaging Matters for Your Business
Most business owners may not give packaging a second thought. They may think that there are no big impact savings to be had.
After all, it's just cardboard and styrofoam, right?
But packaging plays a key role in costs throughout the supply chain, especially for e-commerce businesses dealing in large volumes of products. Whether it's manufacturing, fulfillment, or delivery, there's room to improve efficiency at all these stages.
By making a relatively small reduction in size or shape, you can fit more products in trucks, warehouses, and shipping containers. More efficient packaging also reduces your carbon footprint and helps make your shipping and delivery more eco-friendly.
So a small efficiency improvement in packaging can have a significant impact on your shipping and handling costs throughout the supply chain.
How packages are priced
When you're shipping packages, many different factors impact the total cost.
Weight: How much does your package weigh?
Size: How large is your package?
Shape: Does the shape of your package affect the ability to stack or fill container space?
Handling: Is it a delicate or hazardous material that needs to be handled with special care?
Urgency: Is it an express shipment?
Distance: Where do you source the packaging from?
Your choices in packaging, from who your packaging supplier is, to what materials you use and your design, can impact most of these factors.
The 4 Packaging Costs That Businesses Have to Account For
The cost of packaging goes way beyond the cardboard box or product packaging you use.
1. Standard packaging
What you pack the product in: the box, void fillers, any printed covers, and more. The type of packing you choose and whether you customize is has the biggest impact on the "direct" packaging cost.
2. Packing and storage
How much space each box takes, and whether it's difficult to pack and store the product impacts the costs of inbound logistics, storage, and fulfillment.
3. Inserts
Inserts are anything you include in the package that isn't the product. Things like business cards, booklets, user manuals, and more.
4. Freight
Where are you sourcing your packaging from? It may be cheaper to buy more expensive packaging materials from local manufacturers because of a reduction in freight costs.
3 Companies Who Save Millions by Reducing Packaging Costs
Let's see how real companies have made their packaging more cost-efficient by making a few smart changes.
Dell saves millions annually by reducing packaging sizes with redesigns
In 2017, Dell redesigned their packaging on multiple products to reduce the size. The packaging for a single laptop saved over 49,000 pounds in packaging. It enabled Dell to fit 13% more laptops per pallet during shipping.
For product box size, every millimeter counts.
All their combined packaging reduction efforts saves them over $13 million per year.
Allbirds uses a unique box to reduce packaging materials by 40%
Forget shipping a box inside a box, which is the typical shoe shipping approach. Allbirds designed a unique box that they can pack and ship without the extra layer.
It reduced packaging materials by 40% and a significant reduction in size and shipping costs as well. Plus, the box offers a unique opening experience, and helps promote their brand.
Thinking outside the box (get it?) can pay off big time when it comes to packaging.
Sonos saves $680,000 per year by digitizing their legal booklet
But it's not just the box that matters. Optimizing what goes inside the box can be just as important.
Sonos used to include a long legal booklet as an insert with every speaker. They digitized the file and sent it to all customers by email instead.
This reduction in inserts helped them reduce package sizes, weight, and now saves them over $680,000 per year, according to their 2019 Responsibility Report.
Could you optimize the packaging design and come up with a smaller packaging solution? Does everything in your product packages absolutely need to be included?
There's probably room for improvement in both areas.
How to Reduce Your Packaging Costs and Optimize Your Deliveries
Let's go through how you can reduce your packaging costs and optimize your deliveries, step-by-step.
1. Keep packages as small as possible
A T-Shirt doesn't need to be in a 15" x 15" box. Match the packaging with each product to drastically reduce the required space and shipping costs.
Often, the solution is as simple as choosing a better-matching existing package, no custom box necessary.
2. Minimize inserts
Do you really need that booklet or can you digitize it like Sonos did? What about your product catalog?
Keep the weight and size down by reducing fluff.
3. Standardize packaging
If you sell a handful of products of similar size, make sure that many of them can fit into one or two box variations, instead of 20. This simplifies picking, packing, and shipping.
4. Measure your delivery unit
Do you calculate how many boxes/deliveries can fit inside your delivery van? With a max of 40, your trucks shouldn't leave with 15 or less.
Not only is this incredibly inefficient, but the extra space increases risks of product damage during shipping.
With OptimoRoute, you can set capacities at the vehicle level, and import order lists that include basic package sizes. This allows our software to automatically plan deliveries based on how many packages each truck can handle.
Guesswork and painstaking manual planning is a thing of the past.
5. Optimize your delivery routes
If you handle your deliveries in-house, it's not just packaging that impacts the shipping costs. You also need to make sure that your drivers are effective.
Reduce mileage, labor cost, and speed up deliveries with shorter, more efficient delivery routes. Route optimization software will transform your delivery process from start to finish.
With OptimoRoute, you can import orders by bulk, and in minutes, plan perfect delivery routes for your whole fleet.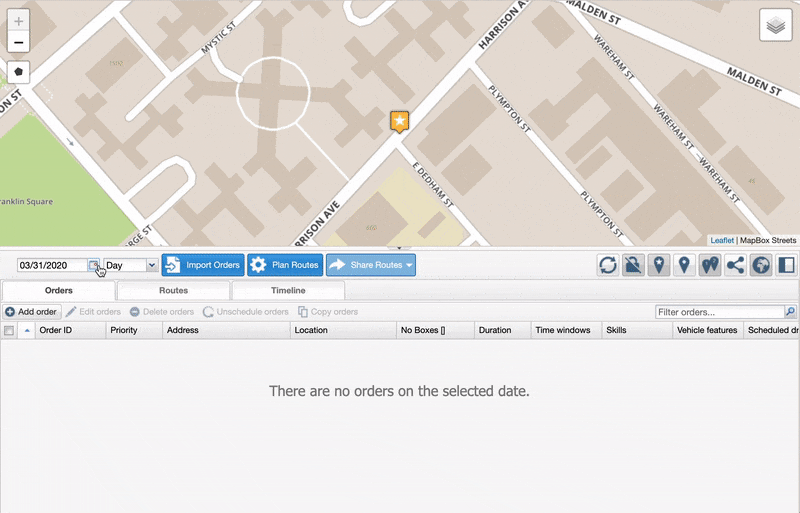 You can even plan all deliveries for up to five weeks in advance.
6. Optimize your driver's return to depot
When and from where the driver returns to the depot or distribution center can also have a big impact on efficiency.
With OptimoRoute, you don't need to worry about manually planning out a logical route that factors in depot returns. Our software will do that for you.
7. Reduce failed deliveries
Every failed delivery adds unnecessary expenses like extra gas and driver costs. It also makes delivery routing and planning a lot more complicated.
With OptimoRoute, you can factor in delivery time windows, preferred weekdays, and many other factors when planning routes. We also offer real-time order tracking with SMS or email notifications.
Finally, you can send a day's route directly to a driver's mobile app, reducing the chance of visiting the wrong address.
Combined, these three things can help you drastically reduce failed deliveries.
8. Include Proof of Delivery
Whether customers are simply asking about the status of their service or they're calling with a complaint, it can be hard to handle the situation smoothly if you weren't actually there. By adding Proof of Delivery, your delivery drivers, technicians, and all other field staff can gather a range of relevant information — like signatures, photos and notes — in real time via the OptimoRoute Mobile App.
4 Common Types of Packaging
Let's take a closer look at some of the most common types of packaging.
1. Cardboard boxes
From corrugated cardboard boxes (the standard brown shipping boxes with wavy cardboard) to boxboard (think cereal carton), cardboard is a staple in rigid packaging. It's the universal raw material for packaging.
Companies often overlook the cardboard boxes they ship in and don't develop custom packaging, leaving potential savings on the table.
2. Plastic mailers
A plastic mailer is essentially a plastic envelope that's more flexible, durable, and of course, water resistant than a regular paper envelope.
3. Void fill
Void fillers like packing peanuts, bubble wrap, and shredded paper help keep your goods stable and secure inside their boxes or plastic mailers.
4. Dunnage
Dunnage isn't product packaging, but rather, what you put in between the packages to secure them during shipping. It could be old cardboard, pieces of pallet, or anything to eliminate space and reduce movement in a container or trailer.
Improve Your Delivery Efficiency With OptimoRoute
Reducing packaging size or improving its shape will reduce your warehousing fees and shipping cost.
But it's only the first step towards optimizing your logistics.
If you handle any aspect of deliveries or logistics in-house, whether that's trucking or last-mile delivery, OptimoRoute can help.
Our route optimization software helps clients improve productivity and revenue per driver, reduce mileage, and minimize fuel consumption.
Start your free 30-day free trial today and use OptimoRoute to boost the efficiency of your deliveries.
Try OptimoRoute
™

for Free

No installation or credit card required