Small Business Optimization: 5 Ways to Improve Your Bottom Line
It's not easy to turn a profit as a small business. In the most competitive industries, small businesses have an average profit margin between 2.8% and 4.4%.
If you're struggling to keep your company afloat, small business optimization can help you turn things around.
We'll show you exactly how to optimize key areas of your business operations to drive more sales, get more profit from each employee, and get better margins.
Let's jump right in.
To navigate to the section which interests you the most, click below:
What Is Optimization in Business?
Optimization for small businesses is the process of identifying problematic areas and taking steps to improve them.
It's like finding a raisin in your cookie and removing it. Or learning that your target market loves raisins, and adding them in.
For example, if you find out that your service technicians often need multiple visits because they don't always bring the appropriate equipment, you can change your processes to improve first-fix rates.
And it's not just internal business processes you can optimize. If certain marketing campaigns are costing you more money than they are bringing in, you could optimize the creative or copy to bring in a positive return on investment.
Let's get into the specifics…
5 Potential Focus Areas for Optimizing Your Business
The best way to optimize your company is to use business benchmarks from your industry or competition to measure performance and identify areas of potential improvement. Use the comparison to tackle the area where your business is underperforming.
But there are also certain easy wins that most SMBs can capitalize on.
Below, we've highlighted five areas where most small businesses have room for improvement.
Your online presence (GMB, local SEO, etc.)
According to a study conducted by Google, over 63% of all shopping journeys start online.
If your business isn't easy to find with a search, you risk losing out on the majority of your potential customers.
And it's not just about ecommerce. Even a small local brick and mortar local business needs to be visible online.
Another report by Google shows that "near me" or geographical searches have increased by over 500% since 2015.
Unless you want to get left behind, you need to focus on improving your local search engine optimization (SEO) and online presence.
Optimize your Google My Business listing with professional pictures, the correct category, website, and locations. Encourage reviews from satisfied customers, and go the extra mile to get natural 5-star reviews.
Start creating relevant content based on customer queries and general SEO keyword research.
We cover more digital marketing and social media tips in detail in our post on how to increase online sales as a small business.
Your internal processes (scheduling, delivery, sales, etc.)
Process efficiency is key to having a healthy profit margin for every customer you get. If you're not utilizing your staff correctly, you won't make money.
OptimoRoute is the perfect platform to help you optimize your internal processes. With it you can can:
Each one will give your profit margin a boost. Of course, these aren't the only areas you need to improve. But with OptimoRoute, they're an easy place to start.
Customer experience
A good customer experience is an essential factor for closing a sale and keeping customers. According to PWC, 73% of consumers consider the experience important when making a purchase.
Beyond a high-quality product, here are a few easy wins:
Reward employees for treating customers the right way, being patient, and going the extra mile.
In field service, always match the customer with the right technician. Fixing their issue on the first visit means a much better experience for them.
Always deliver within (or faster than) your promised delivery time.
To minimize failed deliveries and missed appointments, offer real-time order tracking and notifications:
Employee productivity
One of the most important factors that determines whether your business is scraping along or thriving is your employees.
If they are focused, motivated, and productive, they can make your company successful in spite of bad processes or even a low quality product.
But if you have a toxic company culture, turning it around can be a challenge.
But there is one thing you can do to set a new precedent: Visibly reward employees who exemplify what you want your company culture to be.
With deliveries or field service, if you're doing things manually, your dispatchers probably don't know exactly how everyone's performing.
With OptimoRoute, you can break down all performance analytics by the driver, including orders delivered, accuracy, and more.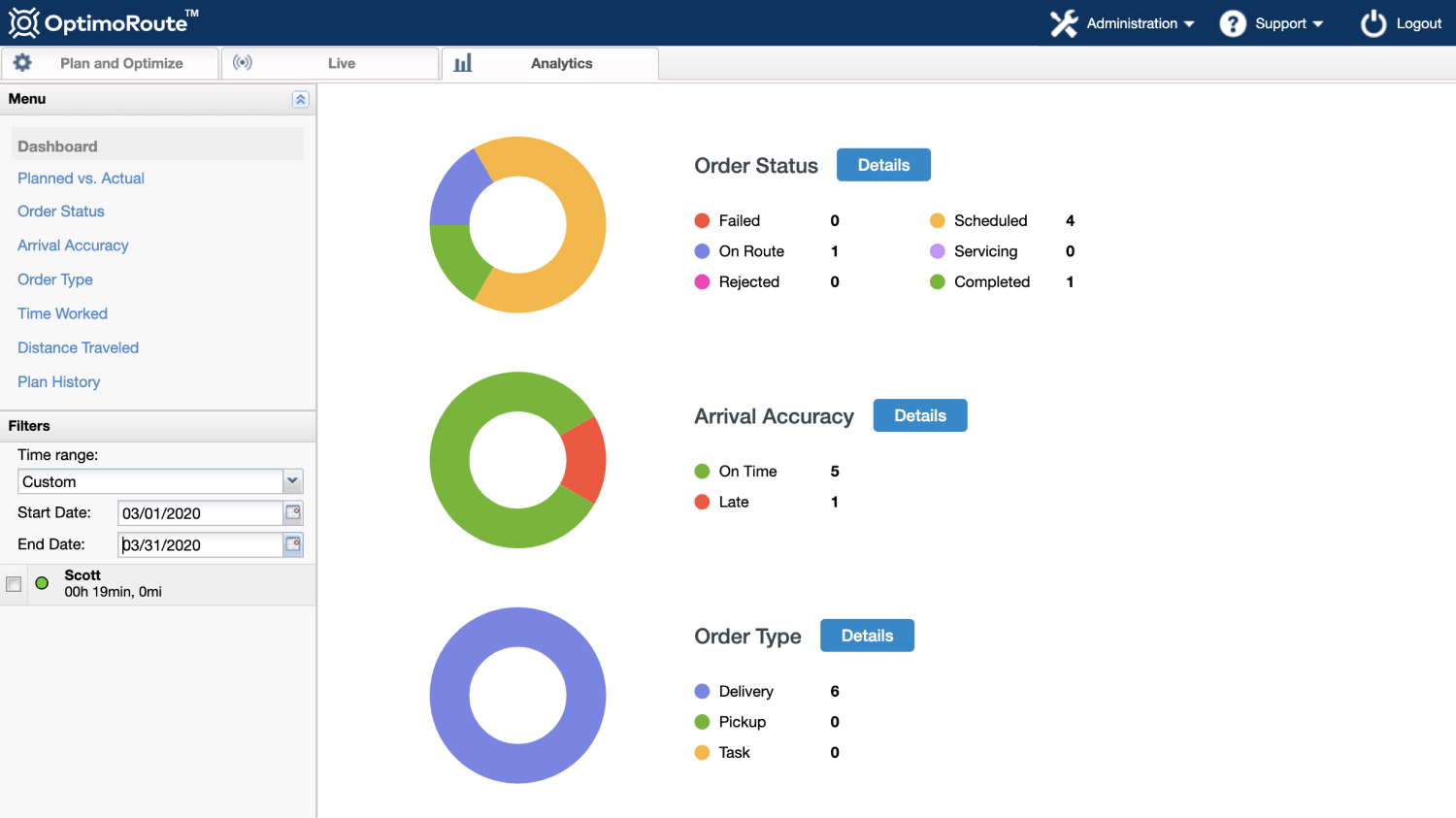 Customer lifetime value or average order value
Instead of trying to improve the amount of money coming in through increasing sales, it's often easier to improve the value of the sales already coming in.
For example, if you're paying $50 in advertising to get a customer worth $150, and your labor and other costs are $90, there's almost no profit left.
If the customer doesn't come back, you barely made any money.
To improve your customer lifetime value or average order value, make the following changes:
Offer a premium upsell. For example, monthly or quarterly maintenance checkups if you sold a one-time repair. If you're a florist, collaborate with a local sweets shop to sell a bespoke box of chocolates with your bouquets.
Keep in touch with previous customers and offer them coupons or special deals: It's typically cheaper to offer a discount than to advertise for a new customer.
Treat potential VIP customers with care. Go the extra mile, and you might earn their loyalty and wallet for the long term.
3 Real Examples of Small Business Optimization in Different Industries
Another easy way to figure out where you have room for improvement is to learn by example.
In this section, we'll break down how three different SMBs in different industries turned it around.
Field maintenance company gets 15% more jobs done and improves the customer experience
Clarke Customer Care is a select-brand appliance installation and maintenance company.
By working with OptimoRoute, they've been able to improve their efficiency and transform their customer experience.
Long-term scheduling for up to 5 weeks lets the managers forecast availability, and leads to 15% more jobs done. When you know who's available and when it's a lot easier to fit in last-minute orders.
With OptimoRoute's smart features, Clarke has maintained 80% first-time fix rates, even after switching to automated planning. Our features let you match the right technician and loadout with each client and their needs.
Scheduled home visits rarely end up staying the same. OptimoRoute's flexible replanning has transformed how rescheduling affects the business. They now reschedule 75% of orders, giving clients their ideal time, but without inconveniencing the field staff.
Fresh grocery delivery service improved delivery efficiency by 300%
As Tomato Mountain Farm transitioned to selling straight to consumers, they faced a problem. Scaling their delivery service was difficult, especially when handling things manually.
After switching to OptimoRoute's automatic scheduling and routing, they scaled from 300 to 1,200 customers in 30 days without issue.
With smart routing, live tracking, and service areas, they improved their delivery efficiency by 300%. Their dispatcher also uses real-time data and analytics to optimize in real time.
As a result, they could handle the 4x increase in deliveries, with only a 50% increase in delivery drivers.
Florist scales to meet seasonal demand and keep customers happy
Like all florists, The Little Posy Co. faces an incredible increase in demand around certain holidays. And for obvious reasons, Valentine's Day is the undisputed champion.
The average V Day workload involves 5 times the regular amount of deliveries. This year, they delivered 1,000+ different bouquets (posies) and flower arrangements.
And with OptimoRoute's help, they were easily able to handle all deliveries on time.
"Having OptimoRoute makes this many orders possible. I couldn't even imagine having to dispatch 1,000 orders without OptimoRoute because it's literally a few clicks of a mouse and the routes are perfectly mapped."
– Gabby Maynard, Operations Manager, The Little Posy Co.
Essential Metrics for Measuring Improvement
To understand whether or not your optimizations are having an effect on your bottom line, you need to measure sales revenue growth and other small business metrics.
Sales revenue and sales revenue growth
The most basic business metric is the most important.
How much money did your company make in sales? Did you make more sales this quarter than last year during the same period?
If yes, what did you do differently? How can you do more of the activities that increased sales?
If not, ask yourself what you did differently last year, and how you can go back.
Customer lifetime value or return customer rate
These two metrics will show you if your customer experience is better, even without doing any customer satisfaction surveys.
Are you getting more return customers, or a higher value customer value than before? Great news.
Revenue per employee (productivity)
Measure employee productivity by dividing total revenue (or sales) by the number of employees. If you're focused on improving business processes, you should focus on this metric.
If your drivers use the OptimoRoute mobile app, you can easily access delivery and customer experience metrics like the on-time delivery rate.
Optimize Your Small Business With OptimoRoute
It's not easy to be a small business owner.
But with smart scheduling and routing software like OptimoRoute, you can optimize your delivery processes, get more done with your workforce, and improve your bottom line.
Faster deliveries, real-time notifications, and better scalability to handle seasonal demand without issue also lead to happier customers.
A more efficient workforce and a better customer experience is also the perfect foundation for further improvements, like a better online presence to improve your marketing.

Start your 30-day free trial today to optimize your small business with OptimoRoute.
Try OptimoRoute
™

for Free

No installation or credit card required