Optimize Your Alcohol Delivery Business in 5 Steps
The era of social distancing has sparked a rise in delivery demand. For grocery stores, restaurants, and even startups, alcohol delivery is proving to be a lucrative avenue for expansion.

But alcohol delivery, like any field service operation, poses some unique challenges. Licensing and restrictions vary from state to state, customers have high expectations when it comes to delivery speed, and then there's the traveling salesman problem: How do you find the most efficient routes so you're not wasting money?

In this article, you'll get tips and strategies to optimize your alcohol delivery business. Learn how to save time and boost profits, whether you're just starting out or looking to expand your business. Plus, we'll show you how to use OptimoRoute to simplify optimization and drive revenue every step of the way.
Learn how to:
1. Plan Logistics Based on Your Starting Point
Where you source your alcohol, wine, or beer from will inform how you need to optimize the beginning of your delivery journey. Most alcohol delivery businesses fall into one of two categories: those who create their own spirits (vineyards, distilleries, breweries) and those who courier spirits from local liquor stores and other shops.

Important Note: Whether you deliver your own products or those produced by another company, it's imperative that you understand and abide by local and state laws. Some US states require an adult 21+ years of age to be home when you deliver to have their ID checked, while others allow wine to be left at a customer's door. In addition, many governments have enacted specific pandemic protocols and temporary changes to alcohol regulations to combat the spread of COVID-19.
Depart from a single origin point
If you're fortunate enough to have one location where all of your deliveries originate from, there are several ways to give yourself and your team a leg up.
Pickup from multiple stores
Some alcohol delivery businesses operate primarily as a courier service—and this is where things get complicated. Since your drivers have to pick up orders from a rotating list of locations (liquor stores, breweries, etc.) and bring them to customers, you need to plan routes with that include two types of tasks done in the same route: pickups and deliveries.
One way to simplify routing and keep individual drivers from zig-zagging all over the map is to divide your delivery territory into zones. If you have four drivers working at one time, for example, you could split your delivery area into quadrants based on order clusters or square mileage. Zones can always be adjusted if demand fluctuates, but this is a useful strategy to reduce overall mileage and minimize delivery turnaround time for your clients.
Customize driver territories as well as starting and ending locations, and let OptimoRoute do the heavy lifting when it's time to calculate the most efficient routes. Save these settings to make your next planning session even faster.
2. Deliver Quickly and Efficiently
You need robust software to deliver alcoholic beverages fast and efficiently. Human routing calculations are prone to error and take a lot of time, so it's nearly impossible to remain competitive if you plan routes manually.

Depending on your location, you could be vying with apps like Saucey or Drizly that promise delivery in an hour or less. More importantly, one of your customers' top concerns is delivery speed. In a survey conducted by Deliverect, 81% of consumers said they were only willing to wait 60 minutes or less for delivery; 31% said they considered the optimal wait time to be 30 minutes.
Use OptimoRoute to speed up last-mile logistics, whether you're planning five weeks in advance or executing same-day delivery. Once you've input your driver and order constraints, such as drivers' available hours and customer delivery times, OptimoRoute will calculate the most efficient delivery route in a matter of seconds so your drivers can hit the road right away.

Businesses like Medvedgrad brewery got their home delivery service up and running in just one day using OptimoRoute. And as Claire Molek of Tomato Mountain Farm told us, you don't need to be a data management or migration expert to use OptimoRoute.

You can easily plan, route, and schedule deliveries. Set limitations on overtime hours or use split shifts to keep your costs down. Need to adjust a route after a driver has already left? No problem. See where your team is in real time with live tracking and use dynamic replanning to modify routes and send them to drivers' phones from anywhere.
Streamline driver onboarding
Your customers aren't the only ones who want things done quickly. Speed is important for you, too, which is why OptimoRoute was designed to be intuitive and minimize adoption time.

Companies like Oco Meals cut down driver onboarding time with the OptimoRoute Driver app. Since routes are sent directly to drivers' phones with turn-by-turn navigation, you don't need to worry about hiring drivers who are logistical experts or know your city like the back of their hands. You can focus on hiring drivers with great people skills. Set up the app with our secure one-click passwordless installation process and enable your drivers to view routes in their preferred mapping app (Google Maps, Waze, etc.).
Your delivery team will have access to customer phone numbers and notes within the app so they can call a customer if they're having trouble finding an address and leave notes for the next time that customer places an order. Our app is optimized for low data usage to minimize the impact on drivers' phone plans, too.
3. Cultivate a Top-Shelf Customer Experience
Customer experience is one of the biggest drivers of brand loyalty. So, if you want to increase your customer lifetime value, you need to create an elite customer experience.

Make every part of your customer journey as intuitive and straightforward as possible, from searching your website or app to checking out and tracking delivery. Optimize your online ordering process to require as few clicks as possible between customer acquisition and transaction completion. Customers looking for 30-minute alcohol delivery probably don't want to read three paragraphs on their vodka's distillation process—they want to start mixing themselves a drink.

Once your point of sale (POS) system is optimized, integrate it with OptimoRoute, and deliver a seamless customer buying experience with real-time order tracking. Customize your messaging and then set updates to automatically go out when a customer's order is on its way. Your customers will receive email or SMS notifications with important updates about their order, and they'll be able to see where their delivery is on a map via a live tracking link.
4. Combine Forward and Reverse Logistics
If your business utilizes reverse logistics, you should combine them with your forward logistics to drastically reduce planning and drive time. For example, let's say you run a brewery, and you deliver kegs to local bars. You then retrieve those kegs once they're empty so they can be reused. You don't need to send a separate vehicle to do pickups. Just add pickups to your delivery routes.
To combine logistics in OptimoRoute, all you need to do is input the unique cargo capacity of each of your delivery vehicles and upload both drop-off and pickup orders. Set driver constraints and working hours as you normally would and click "Plan routes." OptimoRoute will set pickups along delivery routes when a driver has enough room in their truck to accommodate them. This is optimization at its best—getting the most use out of your available resources.
5. Use Analytics to Fine-Tune Your Alcohol Delivery Services
Breweries and vineyards are constantly working to refine their collections, quality testing and perfecting their products. Delivery services require the same level of maintenance and attention to detail because no two days or weeks are exactly the same.
OptimoRoute analytics give you deep insights that help refine your delivery process—so you're always getting better. Check on how each driver is performing individually and assess your team's overall performance. Track your on-time delivery rate and understand when and why delivery exceptions happen.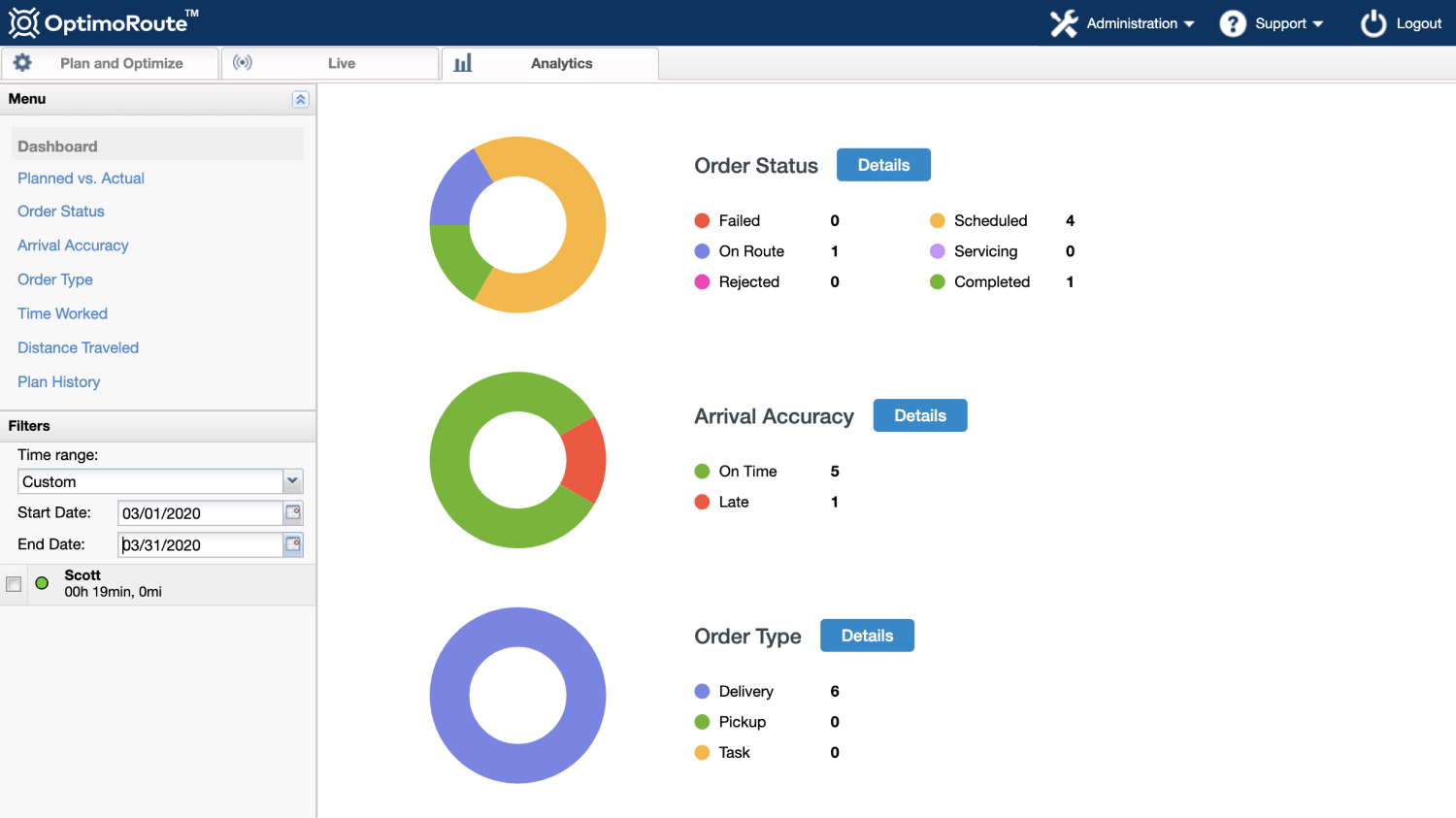 Then, use this hard data to reward top-performing drivers or provide support for those who are struggling. These insights are also a great guide for mapping out more efficient delivery territories. Tomato Mountain Farm uses analytics to regularly recalibrate their growing delivery operations. They realized from looking at their analytics dashboard that they could improve efficiency by reassigning delivery zones. A few tactical adjustments enabled them to grow from 300 to 1,200 subscribers in just one month.
Enjoy a Taste of OptimoRoute
Many connoisseurs first discover their favorite vintage at a tasting. We think technology should work similarly, which is why we invite you to try our software at no cost for 30 days. Start your free trial today and experience the difference our robust software can make for your business.
Try OptimoRoute
™

for Free

No installation or credit card required