Level-Up Your Snow Plow or Lawn Care Business With These 17 Apps
Snow plow services and lawn care might not seem related. But they're actually a perfect pair.
If you run a business where the summers are warm and winters are snowy, you can avoid the "off season" struggle by combining these two service offerings into one business. The pickup trucks you use to transport mowers can be easily outfitted with a plow and double as your work vehicles for the winter months. Scheduling and planning service routes are virtually the same processes for both businesses. And the best part—whether you want to add snow plowing or lawn mowing services, you likely already have clients who trust you.
All you need now is a great tech stack designed specifically for your unique business. And we've got you covered with 17 apps designed to help you get more done in less time—all year long.
Jump to the business software the interests you most:
Snow Plow and Lawn Care Business Apps: Use Dedicated Apps and Handle the Logistics Like a Pro
Manual planning is time-consuming. And as anyone who's ever tried to plan more than 10 plowing or mowing jobs in a day knows, it gets frustrating very quickly. Neuroscientist Liqun Luo explains that the human brain is "10 million times slower" than computers when it comes to basic mathematical calculations and operations (such as those required for routing and scheduling). So, why not let software do the heavy lifting for you?
These five software each help with a different aspect of logistics, such as routing, scheduling, and even fuel management.
OptimoRoute is route optimization and scheduling software that calculates the most efficient routes for thousands of stops and creates schedules as much as five weeks in advance. At OptimoRoute, we've seen clients reduce their route planning time by as much as 90% after switching from manual planning to using our software. Just upload your list of appointments or properties you need to visit, set time windows and driver constraints, and click "Plan Routes." No matter how complex your constraints are, OptimoRoute will give you results in a matter of seconds.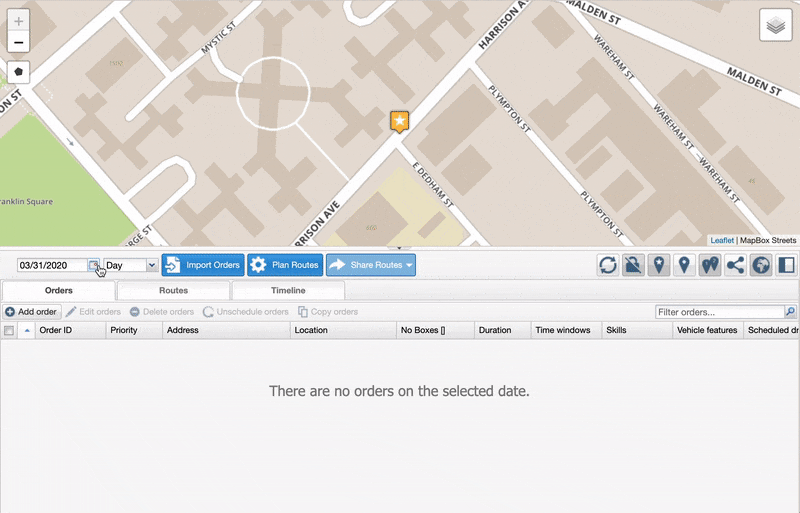 OptimoRoute is packed with advanced features like live tracking for both dispatchers and customers. Dispatchers can track their team's progress and help troubleshoot delays in real time. And customers get automatic notifications about when their service provider will arrive. Client note features help you and your team deliver personalized service by enabling field teams to keep detailed notes about gate codes, specific customer requests, and more. Click here to learn more about the assortment of OptimoRoute features.
Check out a new property ahead of time to get an idea of what you'll be mowing or plowing with Google Earth. Clients don't always give the most accurate descriptions of the work they need done. Customers who live with a steep blind driveway might be so accustomed to it they don't think to mention it. Use Google Earth to get a clear picture of the homes or businesses you need to visit without having to drive there ahead of time.
Use AccuWeather to get the most accurate weather forecasts with precipitation predictions down to the minute. AccuWeather's Apple app was rated the Best Overall Weather Radar App of 2020 by TripSavvy.com. The app is also available for Android users.
Acuity Scheduling enables your customers to self-book appointments so you can spend more time actually working and less time scheduling. You'll still have ample control when it comes to working hours and even prioritizing your most loyal customers—it just won't require as much of your time. Pair Acuity Scheduling with OptimoRoute via API integration to get new orders added to your routing list faster.
Fuel management is likely a big concern for your business. Not only do you need to factor in the gas it takes to get from job to job, but many mowers also run on gasoline. Use GasBuddy to find the most affordable gas near you. You can also sign up for the GasBuddy card to unlock additional savings.
For Customer Relationship Management
Customer relationships are like plants . . . or lawns. They need nurturing and regular maintenance. Use these customer relationship management (CRM) software to streamline client follow-ups, emails, and much more.
Zendesk simplifies customer management. Streamline your prospecting process with Zendesk's Sales Suite or level up your customer service with their Support Suite (or both). With Zendesk, you can also respond to customers faster through features like chatbots and automated responses.
Modern customers expect lightning-fast responses. In fact, more than a fifth (21.7%) of consumers between 35 and 44 years old say they expect brands to respond to their emails immediately. And another 19.1% of consumers in the same age group say they expect a response to emails within an hour. You don't want to lose customers because you were in the field and couldn't respond fast enough—which is why software like Zendesk is vital for modern snow plow and lawn care companies.
Constant Contact is probably best known for helping businesses create and send out marketing emails. But you can also use this platform to manage your customer journey, keep track of where they are in your sales funnel, and get useful insights into your customer interactions through analytics. Constant Contact also offers social media marketing features.
For Marketing + PR
It pays to be active on social media and monitor your reviews. Research has shown that "nearly all consumers (95%) read reviews and 86% considered them an essential resource when making purchase decisions." Another study found that "77% of consumers say they are more likely to buy from a brand they follow on social media over one they do not." These tools are designed to simplify marketing, PR, and managing your online presence.
Google is, by far, the most popular search tool. According to recently published findings from Statista, Google's market share is over 85%. So, optimizing your business's Google presence is vital for the success of your business. Using Google My Business, you can customize the results that show up in Google when a potential customer searches for you and interact directly with consumers via the messaging feature. The best part? It's free.
If you want to make the most of your social media marketing efforts, you need a lot more than just snappy copy and stunning images. You also need to consider timing: When you post will impact your engagement just as much as (if not more than) what you post. Use Buffer to level up your social media efforts. Buffer not only helps you plan social media campaigns across multiple platforms, but you can use Buffer to schedule posts and publish them at the best time—even if you're busy mowing lawns or plowing driveways.
AdEspresso helps you manage Google, Facebook, and Instagram campaigns from one convenient place. Conduct A/B testing to see which ads yield better results and use AdEspresso performance reports to understand what's working, what's not working as well, and how you should adjust your ads going forward.
For Bookkeeping + Billing
Keep track of important documents, send invoices, and more with these software:
FreshBooks is accounting and invoicing software that helps you keep track of work orders, log timesheets, and more. Accurate recordkeeping is essential for the success of your business, whether you're working solo or managing a team of employees. Use FreshBooks to simplify paperwork for your field service business.
Thanks to eSignature software like SignEasy, you don't need to meet with homeowners and contract landscapers in person to have them sign contracts or invoices. And they don't need to print paperwork. SignEasy helps you, your contractors, and your customers save time and sign important documents from anywhere on a cellphone, iPad, or another device through their secure online platform.
Neat is bookkeeping software for busy professionals. Track expenses, file receipts, manage your cash flow, and more from Neat's user-friendly dashboard equipped with drag-and-drop functionality. Neat makes it easier to organize files for tax prep and gives you powerful insights into your company's financial health.
For Finding Clients
Dog walkers have Rover. Delivery drivers have Postmates and Uber Eats. Snow plow and lawn care businesses have these apps:
Landscaping and snow plow contractors can sign up for GreenPal and bid on jobs for free. GreenPal serves cities across the United States, and they're working on expanding into more markets. GreenPal contractors have increased their revenue by as much as $40K in one season using the platform.
LawnGuru currently serves seven major US cities, including Chicago, Atlanta, and Philadelphia. Businesses can join the platform for free and, according to LawnGuru's website, service providers using the platform make as much as $2,500 per week through the site. You can search for traditional snow clearing and lawn mowing jobs or a range of other service requests, including seeding, laying mulch, and sprinkler winterization.
3. SnoHub (for snow plowers)
SnoHub currently serves the largest area out of our listed work apps, with a market area spanning more than 20 states and even reaching into Canada. SnoHub pairs businesses and individuals with snow plowing and shoveling requests. The app is free to download, and contractors who join their Premium program can earn a greater percentage of profit share from each job they complete. However, the premium program does require contractors to complete jobs within a specific timeframe—if you fail to meet that time requirement, you're charged a $50 penalty.
4. QUIKPLOW (for snow plowers)
QUIKPLOW is also designed specifically for snow plowing, snow blowing, and shoveling services. Individuals or businesses with snow plows must submit a valid driver's license and liability insurance to become an approved vendor on the site. QUIKPLOW is based out of Michigan and currently serves areas of Detroit, Grand Rapids, and northern parts of the state.
Get More Done in Less Time With the Right Tech Stack
Business owners working in many different industries have reclaimed time in their day by upgrading their tech stack. When Doody Calls, a pet waste clean-up service, upgraded their routing software, their technicians got "30 to 45 minutes a day of actual work time" back because they didn't have to physically input addresses into a GPS each time they got in their car.
Each software in this article is designed to streamline operations and give you valuable time back by making necessary tasks easier and faster. And many of these software offer a free trial, so you can figure out what works best for your company risk-free. Get started with a free 30-day trial of OptimoRoute today.
Try OptimoRoute
™

for Free

No installation or credit card required