The Perfect Warehouse Audit Checklist to Protect Your Bottom Line
A warehouse audit is a safety net.
It's there to prevent you from hitting the ground. Except "you," in this case, is your bottom line. And "the ground" is hazardous mistakes, costly oversights, and wasted spend.
Audits might seem like unnecessary bureaucracy. But they're an indispensable tool that costs you a little in time and money now while saving you a lot of both later.
Read on to learn how to protect your revenue with warehouse audits, and get a handy checklist for creating your audits. Plus, we'll show you the one step many warehouses forget to assess—the transition to last mile delivery.
What Is a Warehouse Audit?
A warehouse audit is an inspection typically performed by warehouse managers and leadership teams to gauge performance and efficiency. Warehouse audits are a failsafe that protect your bottom line by ensuring safety protocols are followed, inventory is accurately counted, and operations run smoothly.
When to Conduct Warehouse Audits
Warehouse audits are a critical part of improving the efficiency of warehouse operations and workflows, so you should make them one of your standard distribution center processes. Conduct audits regularly instead of all at once. Auditing your warehouse doesn't need to impact your supply chain or prevent you from delivering to customers on time. Break them up into manageable portions rather than trying to tackle a full spectrum audit once or twice a year.

Perform inventory audits quarterly or even monthly. Rather than check every single pallet in your entire warehouse all at once, spot check high-volume storage racks most frequently for quality control. Take an inventory count and cross-reference it with inventory records as part of your normal process to catch issues way before they turn into large-scale problems.
How to Use Warehouse Audit Reports
Use audit reports to identify areas where you can improve and make meaningful changes, as well as to improve inventory control. A poor rating shouldn't necessarily be considered a failure but rather an opportunity to increase efficiency, productivity, customer satisfaction—and, as a result, revenue. Of course, if safety protocols aren't being followed or you uncover theft, you'll need to take serious action. But most of the time, audits should be a positive experience.

Let's say you conduct an employee performance audit and find that several of your newer employees are struggling. You dig deeper and realize that there's a strong correlation between new hires who struggle in their first three months at your company and those who leave in their first year.

To avoid the high costs associated with employee turnover, you adjust your onboarding process. Perhaps you start pairing new warehouse employees up with an "onboarding buddy" who is performing well to mentor them during their first few weeks, and track specific performance metrics to determine if they are improving. This is just one way you can use information gleaned from audits to protect your revenue.
Don't Forget Last Mile Delivery
On-time delivery often gets overlooked by warehouse teams that see it as the responsibility of couriers and last mile delivery teams. But even if you don't operate your own in-house delivery team, you do make an impact on delivery turnaround time—and you can use this understanding to protect and even boost your revenue.

One survey found that 17% of shoppers switch retailers if their order is late just one time. Show up late two or three times, and that number jumps up to 55%. Proper warehousing sets last mile delivery teams up for success (or failure), so don't forget to audit the transition of products from packing to delivery vehicles.

Verify that your warehouse team is communicating clearly with delivery drivers (and vice versa). Delivery drivers shouldn't be sitting around waiting for packers to finish up, and products shouldn't be sitting on a loading dock waiting for a truck for hours (especially if the products could spoil).

Review your delivery history and last mile analytics. Check to see if trucks leaving your warehouse late correlate with late deliveries.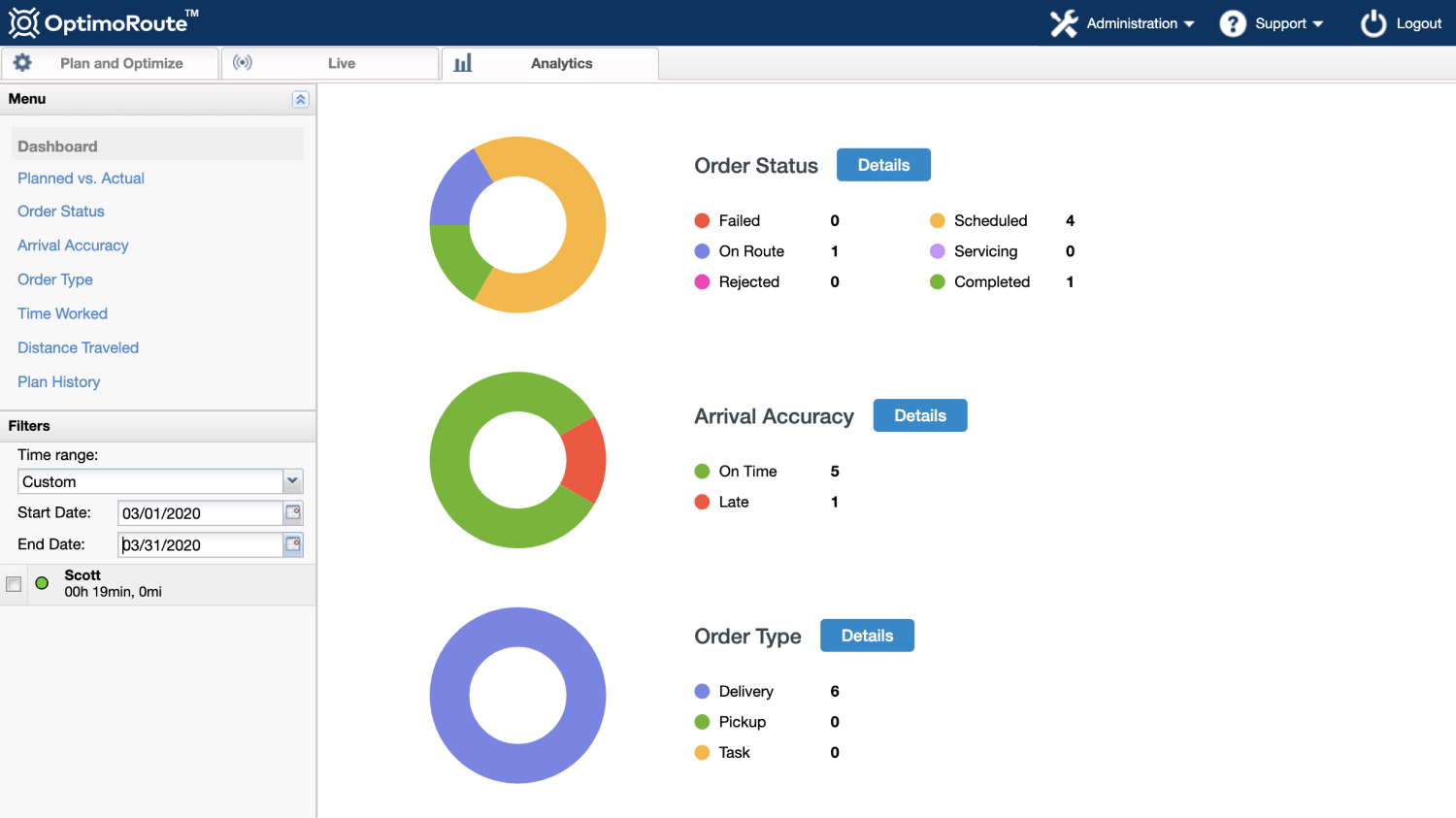 Use OptimoRoute to integrate warehouse management with last mile delivery
The easiest way to achieve a seamless transition from your warehouse team to last mile delivery teams is by integrating OptimoRoute route optimization software with a warehouse management system (WMS). Integrate these two software solutions to achieve end-to-end visibility from the time inventory enters your warehouse to the moment it reaches a customer, while also improving the efficiency of operations with automation.

Using OptimoRoute, warehouse dispatchers know precisely where delivery trucks are and if they're running late. So, they can schedule picking and packing to match up perfectly with the time each vehicle arrives. The "Return to Depot" feature enables dispatchers to easily create driver shifts with multiple loads, and each vehicle's unique capacity can be entered in to make sure each load is at maximum capacity.
Warehouse Audit Checklist
Use this checklist as a starting point for your audit and expand or adjust sections based on your unique warehouse layout. This is not a comprehensive checklist but is intended to be used as a starting point for creating your own audit checklist.
Warehouse inventory
Does the physical inventory on your shelves match the numbers in your inventory management software?
Are products stored safely and securely?
Are hazardous materials properly labeled and stored according to federal guidelines?
Are storage areas clean and free of pests?
Are heavy items stored near the bottom of racks?
Warehouse equipment
Are forklifts being properly maintained and inspected, and do you have supporting documentation?
Are ladders fully functional and stored safely out of the way?
Are storage racks in good standing, free of rust, and assembled with all proper nuts, bolts, etc.?
Are loading bay doors fully functional and well maintained?
Are all cords and electrical components properly covered and secured?
Are conveyors fully functional, and do you have documentation of regular inspections?
Warehouse space
Do you have adequate cleaning stations?
Are walkways clean, clearly marked, and wide enough for people, pallets, and machinery to navigate?
Are lighting fixtures fully operational?
Are dock plates secure?
Are dock edges clearly marked?
Safety compliance protocols
Are all employees wearing proper safety gear and identification?
Are walkways free of debris?
Are eye-washing stations and cleanup stations fully functional and properly inspected?
Are fire extinguishers appropriately placed and maintained/inspected?
Are spill cleanup kits available where chemicals are stored?
Are chemicals stored safely where forklifts and other equipment can't knock them over?
Are chemicals properly marked?
Are emergency exits and other safety features clearly marked?
Are proper security measures in place to restrict warehouse access to fully vetted personnel only?
Do dock ladders and stairs meet OSHA specifications?
Employee performance
Does the worker consistently meet or exceed goals and benchmarks?
Do they work well with their teammates?
Are they proactive in addressing issues or concerns if/when they arise?
Do they follow proper safety protocols?
Do they document maintenance work and inspections as needed?
Do they consistently clock in and out on time?
Warehouse operations
Receiving/product intake
Are operations running smoothly and on time?
Are products arriving in good condition and matching purchase orders?
Note observations and areas of concern:________________________________________________
Put-away
Are operations running smoothly and on time?
Is inventory moving out of receiving quickly and efficiently?
Do put-away teams place stock in appropriate locations within the warehouse and on racks?
Note observations and areas of concern:________________________________________________
Picking
Are operations running smoothly and on time?
Do pickers receive picklists in an easy-to-understand format?
Are pickers able to gather products quickly and efficiently?
Are pickers able to gather products without running into traffic on the warehouse floor?
Note observations and areas of concern:________________________________________________
Packing
Are operations running smoothly and on time?
Do packers have ample space?
Are packing supplies organized by courier?
Do products move easily from pickers to packers?
Note observations and areas of concern:________________________________________________

Transfer to last mile delivery/vehicle loading
Is inventory moved to vehicles quickly and efficiently?
Are warehouse teams and delivery teams working cohesively?
Note observations and areas of concern:________________________________________________
Are operations running smoothly and on time?
Are products being properly inspected before being returned to warehouse shelves?
Note observations and areas of concern:________________________________________________

Operations audits often take the most time because you need to observe each operation as a whole. You must look at analytics and documentation and observe operations in action. Speak with the workers who carry out each task. Ask them if they have noticed any inefficiencies, holdups, or areas where your processes could be improved.

The questions in these checklists are designed to help you find small problems before they turn into giant issues. You can design your own internal audit for any area of your business—accounting, bookkeeping, and even marketing.

Key stakeholders may require financial data audit reports depending on the size and scope of your warehouse. It's also a good idea to share audit results with your team. Praise workers in areas where they are excelling and help them understand how to improve in areas where they may be falling short.
Learn More About Warehouse Management
Audits are just one facet of effective warehouse management. Want to learn more? Check out our warehouse management guide. Our support team is also here to answer your questions about coordinating warehouse management with last mile delivery. We also put together a useful collection of warehouse vocabulary terms that you can use to get a better grasp of warehouse processes.

Just give us a call or send us a message. We've helped warehouses of all sizes improve the inventory transition from warehouse to last mile delivery through live tracking, automated route optimization, and other advanced OptimoRoute features.
Try OptimoRoute
™

for Free

No installation or credit card required