Transport Management Systems: What You Need to Know
Most enterprises already use a transportation management system (TMS). And, on average, they save 8% on freight transport when they do.
But for businesses that don't manage their whole supply chain directly (and definitely no freight), a TMS may seem unnecessary.
Why would you invest hundreds of dollars every month for a service you can't use to its full potential?
Luckily, there's more than one type of TMS, including options that are more suitable for small and medium-sized businesses.
In this article, we'll give you an in-depth walkthrough to transportation management systems and help you find the right solution for your unique business, no matter your size or industry (check out our guide to transportation terms for a walkthrough of any relevant terms you don't recognize) .
Let's get started.
To navigate to the section which interests you the most, click below:
What Is a Transport Management System (TMS)?
A transportation management system, or TMS, is a supply chain platform designed to streamline the shipping process.
A TMS helps shippers optimize their shipping spend and track shipments through every stage of delivery. Managers can compare prices from different carriers when planning a shipment. Then, they can follow the package from their suppliers to their warehouses or distribution centers.
The main goal of a TMS is to reduce the cost of freight and, as such, it has historically been associated with enterprise-level businesses.
But, in 2020, companies of all sizes can see benefits from a good TMS — things like improving warehousing and manufacturing workflows as well as optimization for last mile delivery.

TMS software is a crucial tool for businesses of all sizes to maintain high profit margins.
Why TMSs Are Crucial for Large Businesses and Enterprises
According to the 2020 State of Logistics Report, US businesses spend over $1.63 trillion on logistics each year. And large companies (those that ship products nationwide) make up most of this spend.
Mid-sized businesses and enterprises have more control over their supply chains. They often directly order shipping containers from freight companies and carriers.
As a result, they spend a large chunk of their budgets on freight and transport. So potential savings are important for maintaining a healthy profit margin.
Plus, delays can disrupt the assembly or production of products. So it's essential to plan and track all deliveries from supplier to factory.
There's more, of course. Let's explore a few more potential benefits your business can see by adopting a TMS.
5 Main Benefits of Using a Transport Management System
There are many reasons for a company to use TMS software to manage their shipments. But let's take a closer look at the five most significant.
Find the best rates and save on freight
With real-time access to different prices from multiple carriers, you can easily pick the best rates. That leads to 8% savings on transportation, on average, as we covered in the introduction.
But if your current method is inefficient, you could save a lot more.
For instance, Green Circle Growers saves $815,000 per year by using data to make better carrier choices. They now choose individual carriers for different routes and shipments based on price:
One of the leading TMS providers for enterprises, 3G TMS made this possible. The TMS replaced their old system which required them to manually manage a spreadsheet of rates.
But carrier fees are only the tip of the iceberg.
Better trailer and load optimization
You can also save a lot of money by better utilizing your trailers through optimization of the loads you pack into them.
For instance, Green Circle Growers now saves over $600,000 per year by moving more cargo with each truck and trailer.
Track packages from multiple carriers in the same dashboard
You no longer have to go back and forth between different carriers, manually updating a spreadsheet or your ERP. You can track packages from multiple carriers in the same dashboard.
Your logistics managers can predict any potential supply chain supply at a glance.
All major TMS software (3G, Kuebix, and Oracle Cloud Logistics, etc) offer this capability.
Optimize delivery timing of supplies to keep up production
You can also work to optimize the delivery timing of different supplies to keep up the production of products in high demand.
This is particularly important if you manufacture products with a backward scheduling process.
Nurture relationships with carriers
A TMS can help you identify if a specific carrier is the best choice for a lot of your routes and shipments, enabling you to be intentional in developing a relationship with them.
Over time, you can start to negotiate unique deals and lock down cost savings in the long run.
The benefits of a TMS system can transform your business. They reduce costs, improve supply chain visibility, and give you more control over your inventory.
But there's one area where TMS systems fall short.
Most transportation management software isn't designed with last mile delivery in mind. The focus is on long-haul transport like truckload and LTL or even air or maritime freight.
Last Mile Delivery: Where Most TMSs Fail
Getting the product from your warehouse to the customer's doorstep offers many unique challenges that a TMS can't handle.
Here's why…
Unique addresses and customer locations
Instead of delivering truckloads to a warehouse, you have a long list of unique destinations every single day.
This means you need to manage a fleet of drivers through complex routes through the city or service area.
Lots of smaller deliveries
Routes for last mile delivery also get complicated simply because of the sheer number of deliveries a driver has to make every day.
Instead of two stops, they need to drop off dozens of smaller packages and deliveries every day.
Wide delivery areas
Even a driver handling a 10-mile radius may need to drive very long distances because of the stops.
Unless you're a local business, you probably service a much larger geographic area, which can be a big logistical problem.
Time-sensitive
According to UPS, 81% of US e-commerce shoppers expect orders placed after noon to be eligible for next-day delivery.
Shippers don't have any room for error when delivering straight to customers. You need to get the right package to the right address as quickly as possible.
Offering real-time tracking to customers
Major third-party logistics providers like FedEx and UPS offer real-time delivery tracking. It's part of the experience customers expect when ordering packages online.
That means you need to offer some sort of real-time tracking or reliable ETAs as well. Doing this manually will typically lead to a lot of extra work for your dispatchers, and a lot of broken promises and disappointed customers.
This might seem too complicated to handle yourself. But it doesn't have to be that way.
OptimoRoute: The Perfect Software for Managing Last Mile Deliveries
If you handle fulfillment and deliveries in-house, getting each package to the customer on time is the most important thing.
With OptimoRoute, you can schedule and route deliveries at scale with our smart software solution.
Handle more deliveries with the same fleet and improve your margins
Route optimization helps you cut down on inefficiencies in your routes. Not only do you get more deliveries done, faster, you save on fuel and overtime costs.
Hardie's Fresh Foods was able to handle 14% more deliveries (without hiring), reduced their mileage by 20%, and driver-related costs by 12%.
This change led to healthier profit margins in the competitive food distribution industry. Because price plays such a big role, efficiency is key to success.
Plan and route deliveries at scale with smart software
Trying to handle the deliveries with spreadsheets, Google Maps, and an old-fashioned ERP is a recipe for disaster.
Instead, you can use OptimoRoute to import orders in bulk and plan deliveries for up to 5 weeks in advance.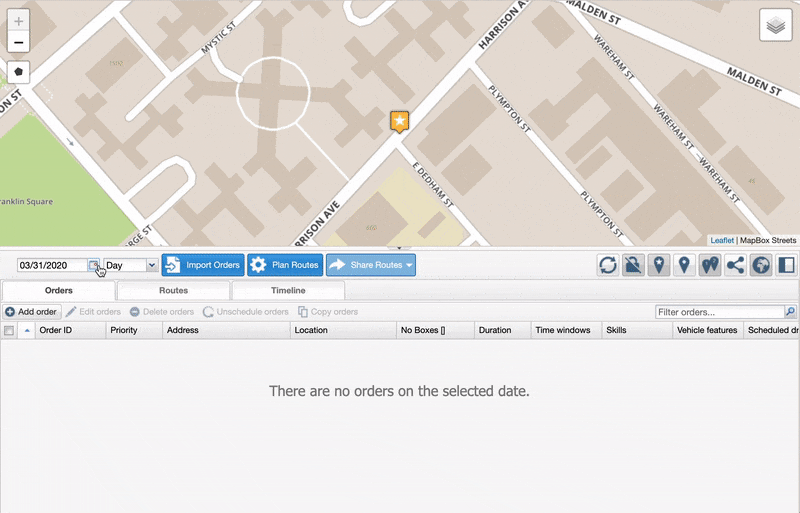 Reduce failed deliveries by eliminating human errors
Improve shipping accuracy by eliminating human errors. With our mobile app for drivers, there's no need to manually type in each address to make a delivery.
The app shows them a delivery checklist with every delivery in a logical order. They can just click a button that will open the correct destination in the map application of their choice.
Deliver a better customer experience with Realtime Order Tracking
Your customers want to know where their package is and when they should be expecting it. With Realtime Order Tracking and text or email notifications, you can keep your customers up to speed, and drastically reduce customer service calls and complaints.
TMS FAQs
How does a transport management system work?
A TMS is connected directly to multiple carriers and shows freight quotes and availability in real time. This data means you can make much smarter choices when it comes to which routes and shipments you assign to which carriers.
How do you manage a transport management system?
The TMS is essentially your control center for managing all your shipments throughout every stage of the supply chain.
A logistics or operations manager will have access to the main dashboards, where they can choose carriers for different shipments, and track orders through every stage from multiple carriers in real time.
TMS technology may sound complicated, but it's a lot easier to manage your shipments with it than without it.
What is order management in the supply chain?
Order management is the process of tracking sales orders, from sale through every stage of fulfillment. This includes making sure the inventory is available in the WMS before confirming a sale, and tracking the package from the warehouse to the door of your customer.
Conclusion
A dedicated, enterprise-grade TMS will help you manage the inbound logistics supply chain and reduce freight costs.
But your business may have more to gain by improving your last mile delivery. With OptimoRoute, you can boost your efficiency and your bottom line with route optimization. Easily plan hundreds of deliveries, and keep track of every truck and driver in real time.
You can offer a better customer experience with faster, more accurate deliveries, and reap the rewards.
Start your 30-day free trial today and use OptimoRoute to transform your customer experience.
Try OptimoRoute
™

for Free

No installation or credit card required